We are saddened to report SABR member Dick Raymo, a native of Wilmington, Vermont, was tragically killed as a pedestrian on March 10, 2014, in Tampa, Florida.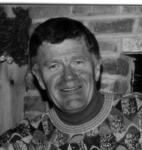 Born on June 24, 1938, Richard Arthur Raymo Sr. was the oldest son of Richard Paul Raymo and Dorothy Alicia Day. He was a graduate of the University of Vermont in 1965 and Valedictorian of Wilmington High School. He owned W.W. Building Supplies, Inc. in Newfane and Wilmington, Vermont for more than 35 years.
Dick lived for his passion as a true baseball fan, always cheering on his beloved New York Yankees in the sea of surrounding Boston Red Sox fans. His annual spring sojourn to Florida marking the beginning of the baseball season filled him with anticipation of the upcoming season. He was a member of the Society for Baseball Research since 1992 and active within the Negro Leagues Committee in the study of the historic black baseball clubs celebrating many silent players not recognized in today's popular game. Dick was never conventional and supported "unsung" baseball heroes whenever he could. He was also an active member of the Baseball Hall of Fame in Cooperstown, New York.
Dick served 28 continuous years of service on the Board of Trustees of Grace Cottage Hospital in Townsend, Vermont. He stands out as one of the most faithful volunteers and supporters serving on many committees that provided steady growth and continual success of the hospital. He was an outstanding citizen in the town of his birth, always returning to his roots to provide support and help to serve his community through membership in the Lions Club, Chamber of Commerce, and United Way. Dick also volunteered in community activities, supported local arts as well as the theater, and was always generous in his support of food and heating banks for local Wilmington citizens in need. Dick was a generous supporter of the Families First Vermont Organization in memory of his beloved daughter, Kimberly Raymo.
Dick Raymo is survived by his wife, Diane Clouthier Raymo, and their beloved blended family of children: Richard Raymo Jr. of Florum Park, New Jersey; Robin Smith of Woodbridge, Virginia; Stephanie Del Corso of Treasurer Island, Florida; by his former wife, Nancy Livingston of North Carolina and Amy Shea Hatinen of Wesley Chapel, North Carolina, along with his grandchildren Ashleigh and Lucas Hansen, Jack Raymo, Alexa and Dominique Del Corso, and Rowan and Teigan Hatinen. He is also survived by his siblings James Raymo of East Dover, Vermont; Bartley Raymo, of Wilmington, Vermont; and Isabel Raymo Rice of Portland, Maine. His wonderful family included numerous nieces and nephews, all of whom he was very proud.
He was predeceased by his father Richard Paul Raymo, mother Dorothy Alicia Day, and brother Michael Alan Raymo (U.S. Army), and by his first and last daughters, Kimberly Janeway Raymo and Jennifer Alicia Raymo.
A memorial service will be announced at a later date to be held in Wilmington, Vermont. Dick Raymo will be interred with his two daughters, Kimberly and Jennifer, as well as his parents and grandparents in Riverview Cemetery in Wilmington, Vermont. To celebrate his life of volunteerism, donations may be made to Grace Cottage Hospital in Townsend, Vermont in Dick Raymo's name.
---
Originally published: March 13, 2014. Last Updated: March 13, 2014.
https://h2j7w4j4.stackpathcdn.com/wp-content/uploads/2020/03/research-collection4_350x300.jpg
300
350
jpomrenke
/wp-content/uploads/2020/02/sabr_logo.png
jpomrenke
2014-03-13 11:07:09
2014-03-13 11:07:09
In Memoriam: Dick Raymo