By Maxwell Kates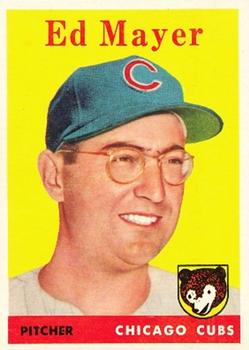 Whatever our area of interest — sports, music, theatre — there are many ways in which the fans and spectators can relate to the players. For me, it was baseball. Some of us can remember watching the players on TV or listening to the radio. Some of us met the players after games or at public appearances. Some of us are Facebook friends.
Ed Mayer was a pitcher for the Chicago Cubs and somebody I actually knew. Ed died on December 29, 2015, after a battle with cancer, age 84. In addition to his time with the Cubs, Mayer was known as a teacher in the San Francisco public school system, an avid birdwatcher, collector of Betty Boop memorabilia, father, and grandfather.
Edwin David Mayer was born in San Francisco on November 30, 1931. A graduate of Lowell High School, he pitched in parts of two seasons with the Cubs in 1957 and 1958. His lifetime record was 2-2 but, as Ed beamed with pride, "one of them was against Sandy Koufax." A year later, he retired after eight professional seasons and went on to begin his second career.
When I was 10 or 11, my father and I met former Brooklyn Dodgers outfielder Cal Abrams while shopping at a mall in Coral Springs, Florida. After talking to Cal for about 15 minutes, my father bought a book entitled The Jewish Baseball Hall of Fame. It was reading the index that I first learned about Ed Mayer. While his own sons were collecting baseball cards of their own, my father started to purchase cards of all the Jewish players, including Ed's 1958 Topps card.
"I always hated that card," Mayer reminisced years later. "It didn't look like me. And because it's my rookie card, it's the one everyone wants me to sign." Until the release of the Jewish Major Leaguers set in 2003, it was actually Ed's only card, and it was one Ed signed for me when I wrote for his autograph at the age of 16.
One year after the Jewish Major Leaguers set, I wrote "Of Horsehides and Hexagrams" for SABR to be published in The National Pastime, an annual journal of historical articles. Here's what I didn't know. Ed Mayer was a SABR member, having joined in 1995, and he read the article. There was an e-mail from Ed inviting me to look him up in the phone book on my next visit to San Francisco.
That next visit was in 2006. I don't know if Ed thought I was going to take him up on his offer but I certainly did. He met me at my hotel in his car with a blue California license plate, "OLD CUB." He was wearing a Cubs cap and apart from the greying of his hair including white sideburns, I did actually recognize him from his rookie card. We drove over the Golden Gate Bridge to Marin County for lunch at Max's and then visited his house embedded into a mountain slope in Corte Madera.
Ed's passion was birdwatching. In the main room of the house, there was a map of the world highlighting all the countries where Ed went to watch birds. The red pegs were Ed's and the green ones belonged to his wife, Younga, also a former schoolteacher. Ed maintained a catalogue of all the birds he saw by kingdom, by species, and by geographic area. He also kept a scrapbook of his mementoes with the Cubs, along with some of his fan letters. Looking through the letters, I took one and separated it. "See this letter?" I asked, "I wrote that one!"
The next year, 2007, I went on a trip to Europe, where I periodically photographed a bird, turned it into a postcard, and mailed it to Ed in California. A few weeks later, he would reply with the name of the bird. Over the years I lost touch with Ed and Younga, but in 2013, they renewed contact when they were planning a summer trip that involved Toronto.
Younga grew up in Batavia, New York, and was returning home to attend her 60th high school reunion. She and Ed drove across the continent, visiting people they knew along the way. In Toronto, they stayed at a hotel in Chinatown. I suggested a particular Chinese restaurant, not knowing if it was any good, but because of its historical significance. Only after we sat down did I tell them that 338 Spadina Avenue was originally the United Bakers Dairy Restaurant, a Jewish dairy restaurant opened in 1912 and still an institution today in its uptown location.
The following night, we saw the Blue Jays play the New York Yankees. It was my first game with a baseball player. It was a certain Yankee catcher who once said that you can observe a lot by watching. Watching Ed watch the game, particularly in his analysis of the pitchers, I gained a new appreciation for the mechanics and physics of the game. Ed shared stories about his Cubs teammates. A Cubs fan all his life, Ed was now adopting the Blue Jays as his American League team. Nobody booed the Yankees louder the entire game, especially when Alex Rodriguez hit a home run.
I remained in closer contact with Ed and Younga after their visit to Toronto. Ed threw out the first pitch at Wrigley Field in 2014 as part of the centennial celebration of the Friendly Confines. In 2015, Ed was truly anticipating the real possibility of a Cubs-Blue Jays World Series. Sadly, he was also dying of cancer.
My final e-mail from Ed was written about a month ago. He was celebrating his 84th birthday in the hospital surrounded by 28 relatives. Ed sent me a photograph wearing his favourite present, a Cubs baseball cap with the lettering in Hebrew. I replied that Ed would be in good company, because his shortstop and captain Ernie Banks also wore a Hebrew Cubs cap.
Ed Mayer's last request was that his friends and loved ones make a donation to Doctors Without Borders in his memory. As I conveyed in a letter I wrote to Younga upon learning that Ed passed away, he was an avid world traveler who shared his compassion wherever he went. He was also a good friend.
MAXWELL KATES is a chartered accountant in Toronto and the former Director of Marketing for SABR's Hanlan's Point Chapter.

---
Originally published: January 13, 2016. Last Updated: January 13, 2016.
https://sabr.org/wp-content/uploads/2012/01/MayerEd.jpg
350
249
admin
/wp-content/uploads/2020/02/sabr_logo.png
admin
2016-01-13 09:39:53
2016-01-13 09:39:53
In Memoriam: Ed Mayer