In Memoriam: Frank Ceresi
By Jacob Pomrenke
When Frank J. Ceresi received a surprise phone call from an associate of Washington, D.C., sports owner Abe Pollin in 1996, he remembered some advice he had received years earlier: "There are only a handful of times that opportunities knock in a life-altering and significant way."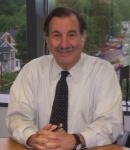 After spending nearly a quarter-century in the legal world, in private practice as an attorney and then as a Family Court Judge in Arlington, Virginia, the longtime sports history buff made the life-altering decision to, in his words, "meld his avocation into a vocation" by accepting a position as the Curator and Executive Director of Collections for the MCI National Sports Gallery, the country's first all-sports museum.
Ceresi's contagious enthusiasm and his passion for historical artifacts led him down a fulfilling new career path.
Over the next two decades, until his death of pancreatic cancer at age 64 on January 14, 2014, Frank Ceresi became a respected expert in sports memorabilia and appraisals, consulting and acquiring artifacts for museums and auction houses, and authoring many articles on baseball history. He also acquired for himself many "national treasures" — as he liked to call them — including a Shoeless Joe Jackson "Black Betsy" bat, Mickey Mantle's first home run baseball, and a vast collection of scorecards dating back to the 19th century.
"You need the artifacts to tell the story," he said in 2008. "Otherwise it's just myth. The artifacts bring everything together."
When the National Sports Gallery closed in 2001, he and longtime partner Carol McMains established FC Associates, a business specializing in museum consulting, appraisals, and legal services. He also co-authored and contributed to several books, including Baseball Americana: Treasures at the Library of Congress; Baseball in Washington, D.C.; The Washington Nationals and Their Grand Tour of 1867; When Baseball Went to War; and Deadball Stars of the National League, where he and McMains wrote the SABR biography of catcher and World War I veteran Hank Gowdy.
Ceresi's latest venture was serving as curator of The National Pastime Museum, launched in 2013 as a one-of-its-kind 501(c)3 online museum that showcases historical baseball artifacts, photographs, and memorabilia, along with articles by leading baseball historians. His enthusiasm for baseball history was matched only by his extensive knowledge of his favorite subject, and he served as a mentor and friend to many in the research and memorabilia communities.
A SABR member since 1992, Ceresi wrote extensively on the history of sports and the value of sports artifacts for publications including Sports Collectors Digest and The Vintage & Classic Baseball Collector. His columns appeared regularly at Slate.com, BaseballLibrary.com, Baseball-Almanac.com, AuctionWatch.com, and Black Memorabilia Newsletter. He was also a member of the American Society of Appraisers.
Born March 30, 1949, to Katherine and Anthony Ceresi, from whom he inherited his love of baseball and history, Frank attended Fort Hunt High School in Alexandria and spent time as a youngster helping at his father's antiques store, the Delightful Muddle. He often attended Washington Senators games at Griffith Stadium and later RFK Stadium, and was excited when baseball finally returned to the nation's capital again in the 21st century.
In 1971, Ceresi graduated with a degree in political science from Virginia Polytechnic Institute and he received his Juris Doctorate from the University of Richmond's T.C. Williams School of Law in 1974.
After being admitted to the Virginia Bar in May 1975, he went into general practice in Arlington, handling both civil and criminal cases. He also served as a special judge in civil commitment cases, which later led to his appointment in 1987 as a Family Court Judge in Arlington. He spent 10 years on the bench, where he prided himself on his knowledge of the law, patience, ability to listen and desire to help people, before taking a fortuitous phone call that led him to a "wealth of rewarding opportunities."
Ceresi recently spoke about the late ballplayer and World War II veteran Lou Brissie, whom he had come to know well.
"He may be in a better place now, but his influence and spirit will be with us forever," Ceresi said.
Frank Ceresi is survived by his wife, Barbara Phillips Ceresi; his son, Dan Ceresi; his daughter, Nicole Ceresi-Friedrich; stepdaughters Austin Kupke and Lane Phillips; and sister Pamela Lemmonds.
A memorial service will take place at 1:30 p.m. on Monday, January 20, 2014, at the American Horticultural Society, River Farm, 7931 E. Boulevard Drive, Alexandria, Virginia (located off the George Washington Parkway.)
---
Originally published: January 14, 2014. Last Updated: January 14, 2014.
https://h2j7w4j4.stackpathcdn.com/wp-content/uploads/2020/03/research-collection4_350x300.jpg
300
350
jpomrenke
/wp-content/uploads/2020/02/sabr_logo.png
jpomrenke
2014-01-14 13:41:58
2014-01-14 13:41:58
In Memoriam: Frank Ceresi