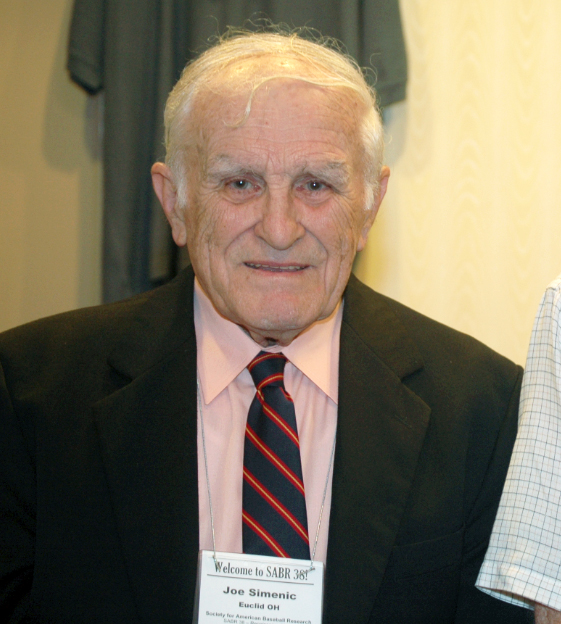 Joe Simenic, 91, one of SABR's founding members and an expert on biographical research and Cleveland Indians history, passed away on Saturday, February 7, 2015, at the Mount Carmel Hospital in Columbus, Ohio.
A longtime secretary to the publisher at first the Cleveland News and then the Plain Dealer, Simenic — along with 15 other researchers led by SABR founder L. Robert "Bob" Davids — attended the Society's first organizational meeting on August 10, 1971, at the National Baseball Hall of Fame Library in Cooperstown, New York.
Simenic was "one of the true giants in baseball research," Peter Morris wrote in his SABR Baseball Biography Project essay on Simenic.
"If you spend much time at the Hall of Fame perusing the files of obscure players, it will not be long before you find a note written by Joe Simenic," Morris wrote. "In particular, if you think you've found a promising new lead on one of the approximately 250 mystery major leaguers whose death information is unknown, it will not be long before you discover that Joe Simenic has been there before you. For more than four decades, Joe was at the forefront of biographical research for major league ballplayers."
Before co-founding SABR, Simenic spent more than two decades working with National Baseball Hall of Fame Historian Lee Allen in researching and obtaining player questionnaires. He served as SABR vice president in 1973 and Biographical Research Committee chairman in 1983-84. In 1985 SABR established the Bob Davids Award to honor members "whose contributions to SABR and baseball reflect the ingenuity, integrity, and self-sacrifice of the founder and past president of SABR, L. Robert 'Bob' Davids." Fittingly, Joe Simenic was the second recipient of the award in 1986. He was co-author of The Cleveland Indians Encyclopedia and contributed to SABR's 1997 publication All-Star Baseball in Cleveland.
Born in Kostanjevac, Croatia, on August 4, 1923, Joseph E. Simenic and his mother set sail on the S.S. Berengaria from Cherbourg on May 31, 1924, to join Joe's father in the United States. Upon arrival the family settled in Cleveland, where (with the exception of his military service) Joe Simenic lived ever since.
When he became a teenager, Joe Simenic took an after-school job as a page at one of Cleveland's branch libraries. He soon discovered more editions of the Reach and Spalding guides and spent every spare minute immersed in them. It was the start of a lifelong passion.
Duty interrupted on January 14, 1943, when Simenic was drafted into the U.S. Army Air Corps. He served as a Staff Sergeant in England, France, and Germany for the next three years.
Upon his discharge in 1946, Simenic returned to Cleveland and soon "came across a copy of the Baseball Register published by The Sporting News, found a lot of mistakes in the book and sent them to publisher J.G. Taylor Spink. "He sent me a check for $50 and asked if I would consider working in St. Louis but I decided to stay in Cleveland."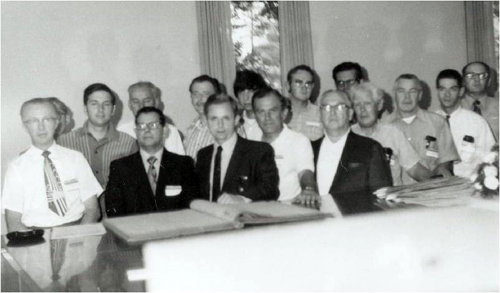 In 1950, he married Katie Novosel and they soon welcomed two sons, Steve and Tom. Joe worked as secretary to the general manager of the Cleveland News for the next decade. Even during these busy years, Joe's love of baseball found an outlet. His office at the News was two doors away from that of Ed Bang, who had been sports editor since 1907 and had accumulated a gold mine of baseball books. Bang began calling on Simenic to research stories for him, and Simenic began availing himself of Bang's immense library. Shortly before Bang died in 1968, he passed his entire collection of baseball guides on to Simenic.
In 1960, the Cleveland News folded and he moved over to the Plain Dealer, where he remained until his retirement on January 1, 1992.
Soon afterward, he began corresponding with Baseball Hall of Fame historian Lee Allen, feeding him a steady diet of leads in tracking down missing players. "I wish I had a man in every state like Joe," Allen exclaimed in 1969. Allen's Sporting News columns during the 1960s included regular references to the value of Simenic's assistance, and in one on December 30, 1967, Allen marveled that Simenic must have "risked conjunctivitis or astigmatism or whatever it is you risk when you glower at too many phone books."
Lee Allen's successor, Cliff Kachline, continued work on the project and the progress continued. On August 10, 1971, Simenic and fifteen other baseball researchers traveled to Cooperstown, New York, to form the Society for American Baseball Research. Biographical research was the hallmark of many SABR founders, with Simenic, Kachline, Bill Haber, Tom Shea, Bob McConnell, Tom Hufford, Bill Gustafson, Bob Davids, and Ray Nemec all making this a main focus of their efforts. As a result, the once staggering number of unidentified players drops each year, and today there are fewer than 300 "missing" players.
Joe was predeceased by his beloved wife, Katie, in 1988. He is survived by his two sons and three grandchildren.
A viewing will be held from 2-4 p.m. and 6-8 p.m. on Wednesday, February 11 at Brickman Bros. Funeral Home, 37433 Euclid Ave., Willoughby, OH 44094. A funeral Mass will be held at 10 a.m. on Thursday, February 12 at Saints Robert and William Parish, 367 E. 260th St., Euclid, OH 44132.
Related links
---
Originally published: February 9, 2015. Last Updated: February 9, 2015.
https://sabr.org/wp-content/uploads/2015/02/Simenic-Joe-2008.jpg
624
561
jpomrenke
/wp-content/uploads/2020/02/sabr_logo.png
jpomrenke
2015-02-09 11:29:10
2015-02-09 11:29:10
In Memoriam: Joe Simenic