In Memoriam: Minnie Minoso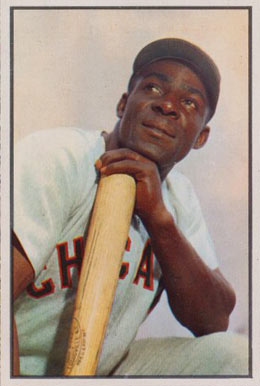 Baseball's first black Latino star, Minnie Minoso, died last weekend at age 89 (or thereabouts) on March 1, 2015, just a few months after the Chicago White Sox great was passed over for Hall of Fame induction by the Golden Era Committee.
Born Saturnino Orestes Armas Minoso Arrieta, the veteran of his native Cuban baseball leagues and the U.S. Negro Leagues made his major-league debut with the Cleveland Indians in 1949 and broke the color barrier for Chicago's baseball teams when he was traded to the White Sox two years later, homering in his first at-bat with the Sox at Comiskey Park. He was arguably the best player of the 1950s not named Mickey Mantle or Ted Williams.
Minoso was a seven-time All-Star and a three-time Gold Glove left fielder who led the American League in triples and stolen bases three times apiece. He finished in the top five in MVP voting in 1951 (as a rookie), '53, '54, and '60.
"In addition to his performance on the field, his legacy is about how he carried himself off the field," SABR member and Latin American baseball historian Adrian Burgos Jr. told WTTW's "Chicago Tonight."
"He experienced hostilities that he did not speak of at the time," Burgos said. "It wasn't that he couldn't talk about them. He just knew that giving voice to that hatred would give it more credence. He did his talking with his hitting and running. Nobody outplayed him. That's how he built his legacy of the Go-Go Sox. He always gave it his all and he always fought. That's what drew working-class white people of the South Side to him. Many others throughout baseball came to appreciate his joy for living, his love of the game, and his reminder of the importance of human dignity."
Minoso is famously the only player to make a major-league appearance in five different decades, suiting up for Bill Veeck's White Sox in 1976 — when he got a single at age 50 — and again in 1980. The trivial feat might have overshadowed both his greatness as a player and his important role in serving as a pioneer for both black-skinned players and Latino players.
Despite these credentials, he was never seriously considered for the Hall of Fame by the baseball writers and he fell just a few votes shy of induction in the special Negro League election in 2006 and again in the Golden Era Committee elections in 2011 and 2014.
"We can get caught up with making his Hall of Fame case. There are so many more important things," SABR member Joe Posnanski wrote at NBC Sports. "Minoso was the first black Major League player in Chicago, he would never become too comfortable with English … and yet people of Chicago loved him instantly. He loved them back. In his rookie year, they held a special "Minnie Minoso Day." He became perhaps the most beloved player in White Sox history. They called him "Mr. White Sox," in the same way that his friend and crosstown star Ernie Banks became known as "Mr. Cub."
We pay tribute to one of baseball's great stars and one of its greatest ambassadors.
Related links:
---
Originally published: March 3, 2015. Last Updated: March 3, 2015.
https://sabr.org/wp-content/uploads/2020/03/research-collection4_350x300.jpg
300
350
jpomrenke
/wp-content/uploads/2020/02/sabr_logo.png
jpomrenke
2015-03-03 16:55:52
2015-03-03 16:55:52
In Memoriam: Minnie Minoso