In Memoriam: Peter C. Bjarkman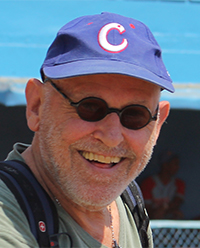 Peter C. Bjarkman, 77, of Lafayette, Indiana, the leading authority on Cuban baseball history and a Henry Chadwick Award recipient for his contributions to baseball research, died of a heart attack on October 1, 2018, at the airport in Havana, Cuba. His death was confirmed by his wife, Ronnie B. Wilbur.
A SABR member since 1983, Bjarkman was the author of more than 40 books on sports history, including academic histories, coffee-table pictorials, and biographies for young adults. He helped to shape our understanding of the long, often difficult interaction between baseball in Latin America and Major League Baseball. His 2007 book, A History of Cuban Baseball, 1864-2006, was considered the definitive work on the subject. His most recent work was Cuba's Baseball Defectors: The Inside Story.
"His unique ability to tell the story of Cuban baseball without fear or favor has been the hallmark of his career," John Thorn wrote in a 2017 Chadwick Award profile of Bjarkman for the SABR Baseball Research Journal.
Nowhere was that trait more evident than in Bjarkman's comprehensive debunking of myths related to Cuban dictator Fidel Castro's baseball prowess for the SABR BioProject. Bjarkman also wrote detailed discourses on the post-revolutionary Cuban League and prominent Cuban players from Cristóbal Torriente to Livan and Orlando Hernandez, and edited bilingual editions of SABR's Cuban Baseball Legends: Baseball's Alternative Universe.
Bjarkman was born on May 19, 1941, and grew up in Hartford, Connecticut. After graduating from the University of Hartford — where he played varsity basketball and baseball — he stayed in town to teach high-school English. Going on to teach in Ecuador and Colombia, he became fluent in Spanish and went on to earn a doctorate from the University of Florida in linguistics, with a specialty in Cuban Spanish. His collegiate teaching career included positions at George Mason, Butler, Ball State, the University of Colorado, and Purdue.
As Thorn wrote, "A siren song pulled Peter away from academia to baseball and a second, improbable career — that of baseball historian and writer for hire. Retiring from linguistics and its constant comparisons between cultures, he brought that unique perspective to baseball. In America everyone fancies himself a baseball expert; perhaps in Cuba too. But no American has joined the past, present, and future of each nation's view of the game as Bjarkman has."
He made his first trip to Cuba in 1997 and produced a book, Smoke: The Romance and Lore of Cuban Baseball, with pictorial archivist Mark Rucker and designer Todd Radom. More visits to the island nation followed, and his work began to sharpen its focus to other aspects of baseball and life there, with books such as Baseball with a Latin Beat: A History of the Latin American Game. He made many media appearances in the United States and Cuba to talk about his beloved "second home," including a memorable visit with Anthony Bourdain for his television show "No Reservations."
"Cuban baseball was a mystery for most fans in the United States," Adrian Burgos Jr. wrote for La Vida Baseball. "Peter Bjarkman's work over the past 30 years unraveled much of that mystery and enhanced our understanding of Cuban baseball."
Funeral services are pending.
Related links:
More tributes:
---
Originally published: October 5, 2018. Last Updated: October 5, 2018.
https://sabr.org/wp-content/uploads/2020/03/research-collection4_350x300.jpg
300
350
admin
/wp-content/uploads/2020/02/sabr_logo.png
admin
2018-10-05 14:12:09
2018-10-05 14:12:09
In Memoriam: Peter C. Bjarkman