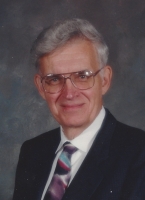 Ray Nemec, 85, one of SABR's founding members and the first chairman of SABR's Minor Leagues Research Committee, died on April 17, 2015, in Naperville, Illinois.
Honored with the Henry Chadwick Award in 2012, Nemec was a pioneer in compiling and correcting the lifetime records of more than 100,000 professional players at all levels. Hall of Fame historian Lee Allen called him "the foremost authority on minor league players." He served as an invaluable resource for three generations of baseball researchers, and he was always willing to provide statistical information to anyone who asked. His work was cited in countless books and articles. He enjoyed compiling statistics for minor or independent leagues that never included their information in the annual Spalding or Reach baseball guides that served as the official league record books for most of the 20th century.
At the time of SABR's founding in 1971, Nemec had already spent 30 years tracking minor league statistics and box scores, often traveling throughout the Midwest to do so. He was one of the first people that SABR founder L. Robert Davids contacted about setting up the Society's first meeting on August 10, 1971, at the National Baseball Hall of Fame in Cooperstown, which Nemec attended with 15 other researchers. Nemec was instrumental in the 1978 publication of SABR's Minor League Stars, the first comprehensive listing of career records for minor league players, and two other volumes after that. He also tracked down dozens of players of African-American descent who played professional baseball in the 19th century, greatly enhancing our knowledge of a then-overlooked area of baseball research.
Raymond J. Nemec was born to Anton and Anastasia Nemec in Chicago on June 19, 1929, which coincidentally was Lou Gehrig's 26th birthday. The doctor declared the baby "a future ballplayer." A Cubs fan from birth, by age 11 Nemec knew he had more of a knack at keeping statistics than recording them as a player. He purchased his first Reach Guide in 1939 in order to keep track of his favorite player, Dizzy Dean, and began reading The Sporting News soon afterward. In high school, he compiled statistics for his favorite minor-league teams in the lower classifications, a practice he continued for the rest of his life.
"When I talked to people, everybody was a major-league expert," he told the Daily Herald (Arlington Heights, Illinois) in 2004. "I decided that maybe nobody seemed to know much about the minor leagues."
He served in the Army and fostered a lifelong interest in radio by hosting live talent shows on Armed Forces Radio; in the 1970s, he also hosted a music and news show on WDGC-FM in Downers Grove, Illinois, where he settled with his wife of 60 years, Loretta (Majerczyk), and raised their four children, Thomas, Allen, Alice, and Jennifer.
His love of numbers led him to a successful 45-year career working in logistics and planning for Corn Products Co. International, now Ingredion Inc. He coached Little League baseball and worked as an official scorer and statistician for local minor-league teams, including the Cook County Cheetahs (Frontier League) and Kane County Cougars (Midwest League). His other interests included railroading and antiques. With his wife Loretta, he was a charter member of the Antique Doorknob Collectors of America and edited its newsletter for many years. At one point, they had amassed more than 2,000 doorknobs in their collection.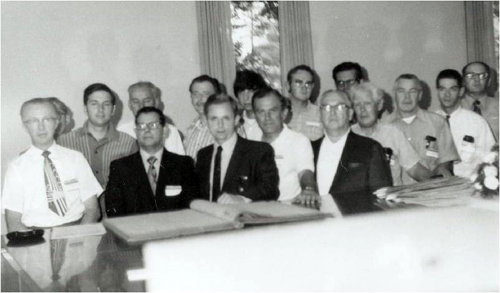 In the meantime, he kept compiling elusive minor-league statistics and contributing to The Sporting News, Baseball America, the Howe News Bureau, and many other sources. His files eventually consumed the basement office of his home. He focused on leagues from the Midwest, traveling to nearby libraries to dig through newspapers. He told the Chicago Tribune in 1969: "I've been in almost every library of every town that's had a minor league team in Iowa, Illinois, Indiana, Michigan, and Wisconsin. I covered more than 2,000 miles compiling statistics of the 1884 Northwestern League."
Nemec's research helped lay the groundwork for SABR's Minor Leagues Database, which now can be accessed online at Baseball-Reference.com. When he first began researching the minor leagues, he told the Joliet Herald in 1997, he thought he might one day be able to compile "all records for all players." That ambitious goal might never be attainable, since so much information from long ago remains lost to history. But we're a lot closer to that goal than we once were, thanks to one of the most significant figures in the baseball research community.
A visitation for Ray Nemec is scheduled for 3-9 p.m. on Tuesday, April 21 at Friedrich-Jones Funeral Home & Cremation Services, 44 S. Mill Street in Naperville. A Mass of Christian Burial will be celebrated at 11 a.m. on Wednesday, April 22 at SS. Peter & Paul Catholic Church, 36 N. Ellsworth in Naperville. Interment will be private. In lieu of Flowers, donations can made to Sisters of the Holy Family of Nazareth, 310 N River Road, Des Plaines, IL 60016, Attn.: Sister M. Phyllis.
Related links:
---
Originally published: April 19, 2015. Last Updated: April 19, 2015.
https://sabr.org/wp-content/uploads/2015/04/NemecRay.jpg
200
145
jpomrenke
/wp-content/uploads/2020/02/sabr_logo.png
jpomrenke
2015-04-19 17:40:57
2015-04-19 17:40:57
In Memoriam: Ray Nemec