By Jacob Pomrenke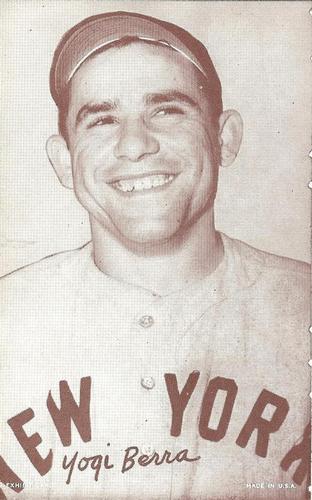 Baseball lost one of its most iconic figures this week, when Hall of Famer Yogi Berra, 90, died in his sleep on September 22, 2015 — the 69th anniversary of his major-league debut with the New York Yankees — at an assisted-living facility near his longtime home in Montclair, New Jersey.
Berra's status as one of baseball's greatest players was validated by his election to the Baseball Hall of Fame in 1972 after a decorated 19-season career. As SABR biographer Dave Williams writes, "Berra won three American League Most Valuable Player awards and appeared in fourteen World Series as a player and another five as a manager or a coach. He won thirteen championship rings and holds several Series records. Berra met with numerous roadblocks on his journey to fame, but he overcame them with grit and dedication and went on to become one of the more beloved figures in American sports history."
Berra's legacy transcended the game in a way that few other ballplayers ever have. His timeless Yogi-isms, such as "It ain't over 'til it's over" and "It's like déjà vu all over again" have become ingrained in American pop culture, even if, as he once admitted, "I never said most of the things I said." The cartoon character Yogi Bear was named after him, too. But the sage, sometimes nonsensical, lines of wisdom that made him a celebrity off the field often overshadowed just how great he was on the field.
By the numbers, Berra ranks as one of the top catchers of all-time. As SABR member Jay Jaffe explained, Yogi was a lot better than your average catcher. When he retired, Berra held the records for the most plate appearances (8,359), hits (2,150), home runs (358), runs (1,175) and runs batted in (1,430) by a catcher. He also worked hard to become one of the sport's premier signal-callers, establishing major-league marks for most consecutive errorless games (148) and for accepting the most chances in a row without an error (950) behind the plate.
The Yankees have had many postseason heroes in their illustrious history, but Berra is perhaps the most celebrated of them all. He won more World Series rings as a player (10) than anyone else. He hit the first pinch-hit homer in World Series history in 1947. He caught Don Larsen's perfect game in 1956. He set all-time records for most hits (71) and games played (75) in the fall classic. He even managed two teams to the World Series, the 1964 Yankees and the 1973 Mets.
Few expected such lofty accolades when Berra, the son of Italian immigrants who quit school after the eighth grade, left "The Hill" in St. Louis and began his baseball career in 1943. His lifelong friend, Joe Garagiola, a longtime SABR member, was offered a $500 bonus by the Cardinals after a local tryout — Berra was not. Berra signed with the Yankees instead and found a mentor in Hall of Fame catcher Bill Dickey, who "learned me all his experience," as Yogi once put it, and shared his uniform No. 8, which was retired twice by the Yankees to honor both men.
Berra absorbed the lessons well and, long after his own playing days ended, continued passing on his astute knowledge as a manager and coach to Ron Guidry, Don Mattingly, Craig Biggio, Derek Jeter, and many others. His integrity and loyalty were traits that endeared him to his players, and also to his friends and family, including his wife of 65 years, Carmen, who died in 2014, and their three sons, Larry, Tim, and Dale, the latter of whom played under his father in the major leagues. Hall of Fame Yankees manager Joe Torre said, "What you saw with Yogi is what you got."
What we got was an American original and a baseball legend. Thank you, Yogi, for making it all necessary.
Related links:
---
Originally published: September 24, 2015. Last Updated: September 24, 2015.
https://sabr.org/wp-content/uploads/2015/09/BerraYogi-portrait.jpg
500
312
jpomrenke
/wp-content/uploads/2020/02/sabr_logo.png
jpomrenke
2015-09-24 20:47:54
2015-09-24 20:47:54
In Memoriam: Yogi Berra