Jerald Podair's 'City of Dreams' wins 2018 SABR Seymour Medal
City of Dreams: Dodger Stadium and the Birth of Modern Los Angeles, written by Jerald Podair and published by Princeton University Press, is the winner of the 2018 Dr. Harold and Dorothy Seymour Medal, which honors the best book of baseball history or biography published during the preceding calendar year.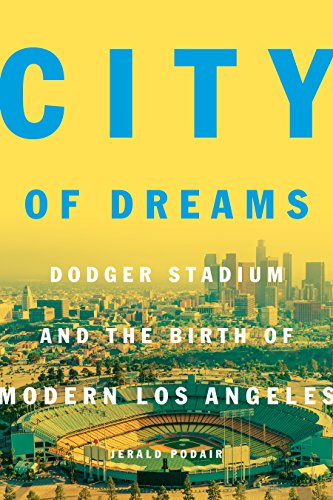 Podair will receive his award at the banquet of the 25th annual NINE Spring Training Conference on Saturday, March 3, 2018, at the DoubleTree by Hilton Hotel in Tempe, Arizona.
The banquet includes the Seymour Medal ceremony with Dorothy Seymour Mills, dinner, and the NINE keynote address by SABR member Jane Leavy, author of Sandy Koufax: A Lefty's Legacy; The Last Boy: Mickey Mantle and the End of America's Childhood; and the baseball novel Squeeze Play. To register for the NINE conference, visit nineconference.com.
The Seymour Medal Selection Committee of Kenneth Fenster (chair), Leslie Heaphy, and Trey Strecker released the following statement:
Jerald Podair's City of Dreams: Dodger Stadium and the Birth of Modern Los Angeles is a superb historical monograph based on extensive, original research and brilliantly written. Podair delineates clearly the connection between the decision to build Dodger Stadium and the intricate machinations and alliances of urban politics. This decision ultimately determined that Los Angeles would henceforth develop economically and culturally from a centralized downtown core radiating outward rather than a decentralized conglomeration of independent neighborhoods. The result was the creation of modern Los Angeles.
Podair, a SABR member and professor of history at Lawrence University in Appleton, Wisconsin, said there has been a lot written about the Dodgers' move to Los Angeles, but "comparatively little" about what happened to the team after they decided to move. He said his book is "part of a growing body of work" that lays much of the blame for the Dodgers leaving Brooklyn at the feet of Robert Moses, the influential New York City power broker who controlled access to public funding during the 1950s.
"I grew up in New York and heard all about (team owner) Walter O'Malley having planned this move all along, how he schemed and schemed to get to L.A.," Podair said. "But he went to L.A. only as a last resort. If he had gotten what he wanted from New York, the land to build a new ballpark in downtown Brooklyn, there's no question he would have stayed. He fought to the very end, until the last couple of weeks, to get that land.
"As historians, we're always trained to look at these great, grand forces that change the course of events. But sometimes it's just chance. And it just so happens that Robert Moses didn't like spectator sports. He thought people should be out at the parks, playing tennis or something, and he was left cold by Walter O'Malley's efforts to get funding in order to build a new stadium in Brooklyn. If Moses wanted something to get done, it got done. So I think O'Malley's decision to leave was the only decision he could have made."
For this book Podair gained access to the O'Malley family archives, which shed a new light on the owner's mind-set during the move and the building of Dodger Stadium — and also his naïveté regarding the Los Angeles political scene.
"In public, he presented a calm, confident image, trying to reassure everyone this was all going to work out," said Podair, whose other books include The Strike That Changed New York and Bayard Rustin: American Dreamer. "But behind the scenes, he was really nerve-wracked. He had only been to Los Angeles three times (before the agreement to move was approved in October 1957.) He didn't know anything about the referendum process in California, that his contract with Chavez Ravine could be subject to the voters' will and potentially voided. If he had lost the referendum (in June 1958), it would have cost him millions of dollars and he basically would have had to start over.
"We view history retrospectively as being inevitable. I had been led to believe everything was fine: O'Malley built this big, beautiful stadium, he made lots of money, and lived happily ever after. But things can go in many different directions … and what surprised me most was how close this all came to not working out. That first year (1958), he was questioning whether he ever should have done it. He easily could have had to go back to New York with his tail between his legs."
The other finalists for the 2018 Seymour Medal were:
Casey Stengel: Baseball's Greatest Character, by Marty Appel (Doubleday)
The Streak: Lou Gehrig, Cal Ripken Jr., and Baseball's Most Historic Record, by John Eisenberg (Houghton Mifflin Harcourt)
Home Team: The Turbulent History of the San Francisco Giants, by Robert Garratt (University of Nebraska Press)
Bloomer Girls: Women Baseball Pioneers, by Debra Shattuck (University of Illinois Press)
The Seymour Medal, named in honor of Dr. Harold Seymour and Mrs. Dorothy (Seymour) Mills, was first awarded by SABR in 1996. To be considered for the medal, a work must be the product of original research or analysis. The winning book shall significantly advance our knowledge of baseball and shall be characterized by understanding, factual accuracy, profound insight and distinguished writing.
To see a list of previous Seymour Medal winners, click here.
---
Originally published: January 22, 2018. Last Updated: April 4, 2022.
https://sabr.org/wp-content/uploads/2020/03/research-collection4_350x300.jpg
300
350
admin
/wp-content/uploads/2020/02/sabr_logo.png
admin
2018-01-22 15:26:58
2022-04-04 11:48:15
Jerald Podair's 'City of Dreams' wins 2018 SABR Seymour Medal