Joe Garagiola named recipient of 2014 Buck O'Neil Lifetime Achievement Award
Congratulations to longtime SABR member Joe Garagiola, who was named Wednesday as the recipient of the 2014 Buck O'Neil Lifetime Achievement Award by the National Baseball Hall of Fame and Museum's Board of Directors.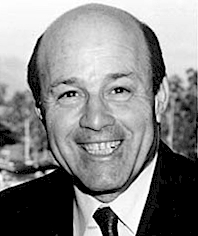 The Buck O'Neil Award is presented to an individual for extraordinary efforts to enhance baseball's positive impact on society. SABR member Roland Hemond, a three-time MLB Executive of the Year and founder of the Arizona Fall League, received the award in 2011. O'Neil, the late Negro Leagues ambassador, was the first recipient of the award in 2008.
The Award will be presented to Garagiola on Saturday, July 26, 2014, in Cooperstown, New York, as part of Hall of Fame Weekend. Following a nine-year major league career that started in 1946, Garagiola, 87, has dedicated his life to helping others in the game, through his role in founding two organizations to impact baseball in a positive manner: The Baseball Assistance Team (B.A.T.) and the National Spit Tobacco Education Program.
Here is an excerpt from the Hall of Fame's press release:
"Joe Garagiola has spent eight decades in and around baseball, and has enhanced the lives of so many fans and players," said Jane Forbes Clark, Chairman of the National Baseball Hall of Fame and Museum. "He has promoted the positive impact of baseball on society and embodies the spirit of the Buck O'Neil Award. The Board is recognizing Joe's character, integrity and dignity; and his countless hours of tireless work with B.A.T. and the Spit Tobacco Education Program, for the sole benefit of those in need of assistance and education. He gained national fame as a broadcaster who went beyond baseball to use his celebrity platform to make a difference for others. We are extremely honored to present him with the Buck O'Neil Lifetime Achievement Award."

The Buck O'Neil Lifetime Achievement Award is presented by the Board of the Directors of the National Baseball Hall of Fame and Museum at its discretion, though not more frequently than every three years. A permanent, life-size bronze statue of O'Neil is located at the Hall of Fame on the Museum's first floor and serves as the home for the Award. The statue of O'Neil was created by nationally renowned sculptor Williams Behrends.

"Supposedly I made a career out of putting words together, but at this moment, I cannot express what it means to me to receive this honor," Garagiola said. "I think of the great Tug McGraw line, when he said, 'Two years out of baseball, you are a trivia question.' Well now, to be recognized for the Hall of Fame for my lifetime achievement, is just tremendous. I wish I could find the words to say thank you to the Board of Directors for this honor. What a thrill!"

As one of the founders of B.A.T., Garagiola was the foundational leader in helping to build an organization dedicated to helping the baseball community in need, helping secure the first $1 million endowment for an organization that today has distributed over $28 million in grants to over 3,000 individuals since 1986. Garagiola also has worked tirelessly for education on tobacco, helping to found the National Spit Tobacco Education Program, helping the game create a Smokeless Tobacco Policy and testifying before Congress on multiple occasions on the harmful effects of tobacco.

A renowned national broadcasting voice following his playing career, Garagiola was previously presented with the 1991 Ford C. Frick Award by the Baseball Hall of Fame for broadcasting excellence. As an announcer who transcended the sport by hosting game shows, parades, dog shows and morning television programs, Garagiola has also dedicated countless hours to charitable work for the St. Peter's Indian Mission on the Pima Reservation in Arizona. The author of three baseball books, including a New York Times' best-seller, Baseball is a Funny Game, Garagiola has been a popular and beloved personality throughout the game for nearly 60 years.
Read the full release here: http://baseballhall.org/news/press-releases/joe-garagiola-named-buck-o%27neil-award-winner
---
Originally published: December 4, 2013. Last Updated: December 4, 2013.
https://sabr.org/wp-content/uploads/2013/12/Garagiola_Joe.jpg
236
198
jpomrenke
/wp-content/uploads/2020/02/sabr_logo.png
jpomrenke
2013-12-04 14:25:35
2013-12-04 14:25:35
Joe Garagiola named recipient of 2014 Buck O'Neil Lifetime Achievement Award