Join us for SABR Day on January 25, 2014
Please note: The SABR Day meetings in Louisville, Kentucky and Nashville, Tennessee have been postponed due to inclement weather; those meetings will be rescheduled at a later date. The SABR Day meeting in Charlotte, North Carolina, has also been postponed. Please check the SABR Events Calendar at SABR.org/events for more information.
---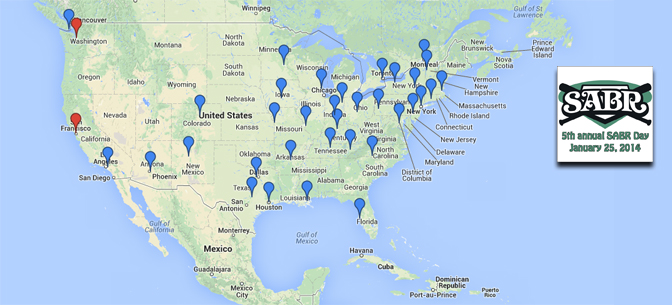 Baseball fans, you're not going to want to miss the fifth annual SABR Day on Saturday, January 25, 2014!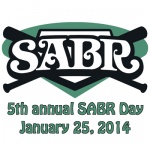 SABR Day is our annual Hot Stove gathering to celebrate the beginning of a new baseball season. It's always held on the weekend between the NFL championship games and the Super Bowl. On that day, SABR's regional chapters organize baseball events around the globe, and you're all invited to attend.
SABR Day meetings can include premier guest speakers, such as National Baseball Hall of Fame President Jeff Idelson, who's speaking at our New York City SABR Day meeting this year, or former Pirates pitcher and World Series champion Bob Friend, who's speaking at our Pittsburgh SABR Day event.
Other guest speakers for SABR Day include former major league player Johnny Antonelli and manager Joe Altobelli (both speaking in Rochester, N.Y.); front office executives John Vuch (St. Louis), John Dittrich (Phoenix), and Ned Rice (Washington, D.C.); and authors Ed Achorn (Philadelphia), Jane Leavy (New York), Josh Suchon (Albuquerque), J.B. Hogan (Little Rock), and Danny Gallagher (Toronto.)
Some SABR chapters, such as those in Austin, Des Moines, Indianapolis, Montreal and Victoria, are meeting informally at a restaurant or library just to talk baseball or present their new research. Other chapters, such as Houston, Minneapolis and Dallas-Fort Worth, will participate in their local MLB team FanFests scheduled for Saturday.
In Boston, we'll have a book signing and discussion with the authors of SABR's newest Digital Library publication, New Century, New Team: The 1901 Boston Americans.
In Cooperstown, we'll listen to some great research presentations from Jim Gates, Tom Shieber, Bruce Markusen and Mike Piazzi at the Baseball Hall of Fame's Bullpen Theater.
In Denver, we'll follow up the SABR Day Media Panel with our traditional mass game of catch in the parking lot at nearby Coors Field.
The Chicago and Milwaukee chapters plan to meet in the middle — at the Brat Stop in Kenosha, Wisconsin — for a meeting with guest speakers Christopher Kamka of Comcast Sportsnet, Kane County Cougars announcer Wayne Randazzo, and Jake McGhee, General Manager of the Kenosha Kingfish.
In Central Florida, SABR members and guests will tour the St. Petersburg Museum of History's "Little Cooperstown" exhibit.
All baseball fans are welcome on SABR Day; you don't have to be a SABR member to attend, although if you like what you see we hope you'll sign up.
You can find details of all 30+ SABR Day 2014 meetings at SABR.org/sabrday. Find one near you and join us!
Sunday, January 26: SABR Day doesn't end at midnight! The Lefty O'Doul Chapter in San Francisco and the Northwest Chapter in Seattle have scheduled their SABR Day events for Sunday afternoon. In San Francisco, we'll celebrate the history of women in baseball at the Linedrives and Lipsticks exhibit at the San Francisco Public Library on Larkin Street. Be among the first to visit this wonderful exhibit honoring the All-American Girls Professional Baseball League and enjoy an afternoon learning more about the many roles that women have played in America's pastime. We have a special lineup of speakers including Dorothy Mills, Jean Ardell, Leslie Heaphy, Monica Nucciarone, and David Block. And in Seattle, we'll have our own private suite at the Mariners' FanFest with special guest speakers from the Mariners front office. Find details at SABR.org/sabrday. Hope to see you there!
To view all SABR Day 2014 events on a map, click here or click the image at the top of this page.
---
Originally published: January 20, 2014. Last Updated: January 20, 2014.
https://sabr.org/wp-content/uploads/2020/03/research-collection4_350x300.jpg
300
350
jpomrenke
/wp-content/uploads/2020/02/sabr_logo.png
jpomrenke
2014-01-20 16:48:14
2014-01-20 16:48:14
Join us for SABR Day on January 25, 2014