Join us in Philadelphia for baseball pioneer Hicks Hayhurst's grave marker dedication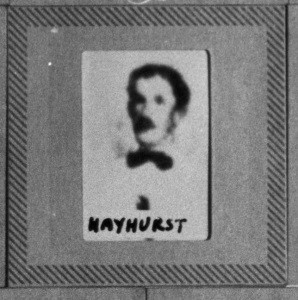 Save the date! The SABR Nineteenth Century Grave Marker Project will hold a dedication ceremony for Hicks Hayhurst, and his wife Elizabeth, on Saturday, September 14, 2019, in Philadelphia.
In addition to the grave marker dedication, there will be a special program to mark the 150th anniversary of the early interracial baseball game played by Octavius Catto's Philadephia Pythian Club (African American) and the all-white Olympic Club of Philadelphia, managed by Hayhurst.
Complete details for the September 14 ceremony will be announced later this summer. All baseball fans are welcome to attend.
Previously, the committee has placed stones at the final resting places of James Davis Whyte at Green-Wood Cemetery in Brooklyn, NY; Pud Galvin at Calvary Cemetery, Pittsburgh, PA; Andy Leonard at New Calvary Cemetery, Mattapan, MA; and Bob Caruthers at Graceland Cemetery, Chicago, IL. Click here to learn more about the project.
Suggestions on other candidates can be send to Ralph Carhart at thehallballproject@gmail.com.
This page was last updated July 1, 2019 at 11:50 am MST.