Killebrew's Road to Cooperstown Was Anything But Smooth
Harmon Killebrew left the safe grasp of small-town Idaho in 1954 and overnight found himself on first base in Chicago, a big-leaguer at age 17. That's where the whirlwind ended.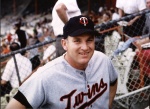 Killebrew's rudimentary baseball skills — "he was horribly inept as he worked at third base" a journalist wrote at the time — were first smothered by the post-World War II "bonus baby" rule, and his talents were later chiseled by injuries.
Unimaginably, Harmon Killebrew became the corner lot on which owner Calvin Griffith built the Minnesota Twins.
Inducted into the National Baseball Hall of Fame in 1984, it wasn't until 2009 that a right-handed batter eclipsed Killebrew's 573 career home runs.
Developing such skills was tough for a 17-year-old kid from Payette, Idaho, who had signed a contract as the Washington Senators first "bonus baby." The rule was instituted in 1947 to prevent teams from stockpiling players in the minor leagues: sign a contract for more than $4,000 and you spent two full seasons on the big-league roster.
After Killebrew's brief debut for the Senators in Chicago in '54, he didn't play again for nearly a month. But when asked to name his most memorable game late in his career he said that nothing could replace being on first base that night.
Killebrew had never even seen a big-league game, but here he was, a teenager pinch-running in the bottom of the second inning as the Senators were rallying for three runs after trailing 5-0 in the first.
Killebrew trotted from the dugout, planted his foot on first base and found himself standing next to two-time batting champion Ferris Fain, almost twice Killebrew's age at 33. The White Sox first baseman stood 5-feet-11 — the same as Killebrew.
"He looked nine feet tall to me," Killebrew recalled.
The interesting juxtaposition there was that Killebrew was a quiet Mormon who never drank or smoked. Fain was a hot-tempered drinker who was arrested at age 65 for growing marijuana in his backyard.
Although Fain was just a man with a lively personality, baseball could still be a hard game with tough men in 1954. But Killebrew recalled his teammates with kindness. Lacking even a sweatshirt when he arrived in Chicago, Killebrew was given one by catcher Joe Tipton, a World War II veteran once traded from the Chicago White Sox to Philadelphia for Nellie Fox.
---
Discussion: Share your favorite memories of Harmon Killebrew at SABRNation.
---
Despite his self-professed ignorance of life outside of his hometown of 4,000, Killebrew claimed to have never endured hazing or difficulty from his teammates.
The bonus rule was another matter.
Killebrew's $30,000 contract called for the big-league minimum of $6,000 over three years, and a bonus of $4,000 for each. He recalled in 2004 that was a big price to pay for both him and the Senators, noting the bonus rule benefited neither. He made 104 plate appearances during his first two years.
When his bonus baby "sentence" ended, he went to the minor leagues and flourished. He was promoted to the Senators again in 1957, demoted, and in 1958 struggled so badly in AAA that The Sporting News wrote that he "failed to hit his hat size." One year later, "baseball's Bible" was calling Killebrew "the most exciting personality since Willie Mays."
By then, Killebrew and his wife were accustomed to the fickle nature of the game. They tried to ignore the national acclaim he received early in 1959, en route to his first home run title. They barely furnished the apartment they settled into that spring in Alexandria, Virginia.
Soon, news coverage of the most exciting personality since Willie Mays was overwhelming, and word about the apartment reached furniture dealers, who began contacting the Senators to offer the couple free furnishings. The Killebrews couldn't take a phone call, because they hadn't bothered to install a phone.
Those nomadic days were well behind the Killebrews when Griffith relocated the Senators to Minnesota in 1961. Fifty years later, Killebrew was still known as the franchise's iconic star. His compact swing delivered 475 of his 573 career home runs in a Twins' uniform. On the Twins' list of top 10 single-season home run leaders, Killebrew occupies the top eight spots.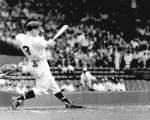 A 13-time All-Star, he became the Twins' first MVP in 1969, and its first Hall of Famer in 1984, which maddened his fans. Despite being the No. 1 right-handed home run hitter in baseball history, Killebrew waited through four Cooperstown roll calls before he was inducted. The knock on him at the time was that he didn't hit for high average, field or run well.
Unspoken was that he was considered to have decent speed when he signed with the Senators, and he did hit seven triples during his first season with the Twins in symmetrical Metropolitan Stadium.
As a first baseman he was about league average, and had his defenders as an infielder. They included Frank Quilici, Killebrew's teammate and later manager, who said that Killebrew had soft hands, quick reactions, and an accurate arm. "It was easy to turn a double play with his throw."
In further defense of his defense, Killebrew played almost as many games at third base and in the outfield as he did at first base. Often, the moves were made because of a teammate. For example, he played third base in 1965 because first baseman Don Mincher could play no other position, and the Twins coveted Mincher's left-handed power.
Yet it was the injuries that were his biggest obstacle to the Hall of Fame — and to 600 career home runs.
They began with a shoulder injury at Chattanooga in 1957, shoulder and hamstring injuries in 1960, leg injuries in 1961 and 1962, and a serious knee injury in 1963. He played through that one, led the league in home runs, and had surgery in the offseason.
More notably, he dislocated his left elbow in 1965, which almost cost him his only trip to the World Series. A torn hamstring suffered in the 1968 All-Star Game left him with his worst statistical season since he established himself in the big leagues in 1959. At age 33, Killebrew came back in 1969 to win the American League Most Valuable Player Award.
It was the following season when shortstop Danny Thompson became a teammate, a meeting which helped to spark Killebrew's many charitable efforts and the Harmon Killebrew Foundation — for which he became known in retirement.
Thompson, a six-footer from Oklahoma State University, died of leukemia at age 29 in 1976. As Killebrew sat at Thompson's funeral in Capron, Oklahoma, he looked at Thompson's widow and small children and recalled how his mother once told him that "we're put on this earth to help others." He started a golf tournament in Thompson's name, which has now raised $8 million for cancer research.
In 1990, his own health was in jeopardy. Killebrew lost dozens of pounds because of an illness and deadly staph infection, and was coaxed back to good health through hospice care. He championed that end-of-life choice for more than a decade, and turned to hospice care again days before his death from his esophageal cancer on May 17, 2011.
SABR member Jim Thielman covered the Minnesota Twins as a journalist from 1977 to 1993, and is the author of "Cool of the Evening: The 1965 Minnesota Twins." He is currently a communications manager at General Mills.
SOURCES
Baseball-Reference.com
"The Harmon Killebrew Story," Francis Stann, Baseball Digest, July 1959.
The Sporting News, March 7, 1964.
"The Game I'll Never Forget," Harmon Killebrew, as told to George Vaas, Baseball Digest, February 1972.
"Ex-Seals star Fain dies; 2-time AL batting champ was 80," San Francisco Chronicle, October 20, 2001.
Killebrew interview with Jim Thielman, 1984.
Killebrew interview with Jim Thielman, 2005.
---
Originally published: May 18, 2011. Last Updated: May 18, 2011.
https://sabr.org/wp-content/uploads/2020/03/research-collection4_350x300.jpg
300
350
jpomrenke
/wp-content/uploads/2020/02/sabr_logo.png
jpomrenke
2011-05-18 10:28:21
2011-05-18 10:28:21
Killebrew's Road to Cooperstown Was Anything But Smooth