Leeke, Steinberg, Young win 2018 SABR Baseball Research Awards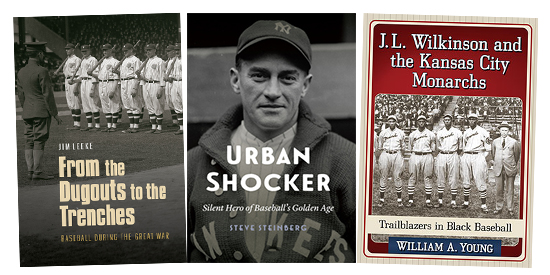 The 2018 SABR Baseball Research Awards, which honor outstanding research projects completed during the preceding calendar year that have significantly expanded our knowledge or understanding of baseball, have been awarded to
Jim Leeke, From the Dugouts to the Trenches: Baseball During The Great War, published by University of Nebraska Press

Steve Steinberg, Urban Shocker: Silent Hero of Baseball's Golden Age, published by University of Nebraska Press

William A. Young, J.L. Wilkinson and the Kansas City Monarchs: Trailblazers in Black Baseball, published by McFarland & Co.
The authors will receive their awards at the SABR 48 national convention, June 20-24, 2018, in Pittsburgh.
The selection committee of Bill Felber (chair), Tara Krieger, and Larry Levine released the following statements about the winning books:
On Young's J.L. Wilkinson and the Kansas City Monarchs: A solid job of describing the birth and life of the Monarchs as well as the politics and economics of all of Negro league baseball. The book contained numerous revelatory nuggets, among them new insights into the relationship between the Negro Leagues and Judge Landis and the leagues' role in Jackie Robinson's ascension. Most important, it highlighted the central role played by Wilkinson in maintaining the institution of Negro League baseball.
On Leeke's From The Dugouts To The Trenches: An illuminating and thorough examination of one of the least understood periods of baseball. Rich in context, this book provides badly needed insight into the factors shaping baseball's survival during the First World War. It is also well-researched and well-written.
On Steinberg's Urban Shocker: Biography as it ought to be done. Steinberg takes us inside the life of a man far better appreciated in his own time than he is today. Urban Shocker's was a life full of struggle, first for deserved recognition and then — when that recognition finally came — for health. The book combines attention to detail with feeling.
Leeke, a former news journalist and US Navy veteran, is also the author of Nine Innings for the King: The Day Wartime London Stopped for Baseball, July 4, 1918 and Ballplayers in the Great War: Newspaper Accounts of Major Leaguers in World War I Military Service.
Steinberg is a baseball historian and co-author with Lyle Spatz of 1921: The Yankees, the Giants, and the Battle for Baseball Supremacy in New York, which won SABR's Seymour Medal in 2011. Steinberg is a two-time winner of the SABR Baseball Research Award, having been honored with co-author Spatz in 2016 for The Colonel and Hug: The Partnership That Transformed the New York Yankees
Young is an emeritus professor of religious studies at Westminster College in Fulton, Missouri, and the author of John Tortes "Chief" Meyers: A Baseball Biography and several books on world religions.
The SABR Baseball Research Award is designed to honor projects that do not fit the criteria for the Seymour Medal or the McFarland-SABR Baseball Research Award.
The selection committee consists of: Bill Felber (chair), Tara Krieger, and Larry Levine.
To see a complete list of SABR Baseball Research Award winners, click here.
---
Originally published: March 14, 2018. Last Updated: March 14, 2018.
https://h2j7w4j4.stackpathcdn.com/wp-content/uploads/2020/03/research-collection4_350x300.jpg
300
350
admin
/wp-content/uploads/2020/02/sabr_logo.png
admin
2018-03-14 22:07:32
2018-03-14 22:07:32
Leeke, Steinberg, Young win 2018 SABR Baseball Research Awards