Lou Criger monument dedication held in Elkhart, Indiana
Editor's note: This article was originally published at Seamheads.com.
By David Stalker
Sunday, June 3, 1912 marked the 100-year anniversary of Lou Criger's final baseball game — the perfect day to honor him on a monument in his hometown of Elkhart, Indiana. His family, some coming from as far away as Arizona, Louisiana and North Carolina, admiring fans and Elkhart residents traveled to Riverview Park for the dedication ceremony.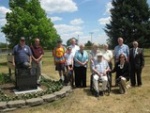 After handing out pins that commemorated the event, SABR member and baseball historian Steve Krah, sports writer for the Elkhart Truth, led off the event. He spoke about Lou's time in Elkhart and his professional career.
Tying Lou into Elkhart's history, Steve told about Criger playing for the Elkhart Lakeviews, Elkhart Truths and later returning to his hometown for an exhibition game as a member of Boston's 1903 World Series championship team. The game took place on June 17, 1904, against a local team named the Colts. Criger scored twice and Cy Young stepped out after throwing four no-hit innings. The event took place just across the railroad tracks from Riverview Park, in front of 2,000 fans, with Boston winning 10 to 0.
---
BioProject: Read Steve Krah's SABR BioProject biography of Lou Criger, who spent 16 years in the big leagues
---
Dick Moore, the mayor of Elkhart, spoke about Cy Young's many achievements. He brought to everyone's attention that Lou Criger was right there with him, helping him along the way to his outstanding career. Criger's granddaughter, Jeanette Criger Done, followed, telling stories about his personal life.
"Through family members who did know him, Done said, "I learned that he became a devoted Christian in his later years and was not afraid to share his feelings. While ballplayers could often appear to be rather 'macho' in their demeanor, I was told that Grandpa was not hesitant to express his gratitude for what he viewed to be the many good things he had experienced in his life in spite of the physical trials he went through.
"He lost his leg and developed tuberculosis, which eventually took his life but he obviously had a sense of humor about losing his leg and wearing an artificial one. I was told was about Grandpa going for walks in Tucson, and sitting on a bench in a park near the downtown library. Grandpa could unhinge his wooden artificial leg and when someone walked down the sidewalk by him, he would put his leg up around his head, which was both startling and then funny to those who witnessed this. But it backfired on him one time … he had his leg up around his head and the hinge locked and he could not get his leg back down. A family member had to run back to the house and tell Grandma Belle Criger what had happened and she came and rescued her husband.
"I deeply regret not having had the chance to know my grandfather personally but am grateful for the heritage he left his family. I can honestly say I grew to love him through doing research about his life and talking with family members who did know him, including my own father. He is much more than a great baseball player to me; he is an honored part of our family who gave us an example to live up to."
Jeanette also shared a quote on how their family feels about the game of baseball.
"Some people think that baseball is just a game. They are wrong. Baseball is about reaching deep inside yourself to catch the ball that can't be caught and hit the pitch that can't be hit.

It is about the soul. Baseball is about bad hops, bad breaks, bad throws and bad calls. It is about striking out and making errors. It is about overcoming all of those things.

Baseball is about kids who become stars, stars who become heroes, and heroes who become legends." ("Heroes Baseball" – Source Unknown)
Elkhart Park and Board President Betty Kegerreif gave thanks to all who made the memorial possible. I concluded the event giving thanks to the Criger family, Steve Krah, the city of Elkhart and Archie Monuments. I told how the Early Baseball through Deadball Era Memorial Series began in 2005, beginning with Fred Merkle in my hometown of Watertown, Wisconsin. This series has now spread out into five states, with Lou Criger becoming the fourteenth player.
Other honors for Criger include SABR's Michiana-area chapter being named for Criger in 1998. He was named to the Michiana Sports Hall of Fame in 1999 and the Indiana High School Baseball Coaches Association Hall of Fame in 2004. After his death in 1934, Criger received consideration for the National Baseball Hall of Fame in Cooperstown, New York, in 1936, 1937, 1938, 1939 and 1946.
Roughly two years ago, when Steve Krah asked me if we could do a memorial for Lou Criger, my instant reaction was "Yes, of course." Lou Criger had always been one of my favorite players. However, after learning more about Mr. Criger's personal life, I can now say that he is to be admired equally, or more, for his off-the-field character. I agree with Jeanette that Lou Criger is a hero.
Honoring Mr. Lou Criger on June 3, 2012, will forever remain a treasured day in my life. I will always do anything I can to honor him. I would love to see an annual Lou Criger Day, Lou Criger Field or possibly Lou Criger Street in Elkhart.
As I write this on Father's Day, I take a moment to realize how a successful a father's hard work and love for his family, trickles down through generations to follow.
David Stalker is a member of SABR's Deadball Era Research Committee. He lives in Watertown, Wisconsin.
Related links:
---
Originally published: June 18, 2012. Last Updated: June 18, 2012.
https://sabr.org/wp-content/uploads/2020/03/research-collection4_350x300.jpg
300
350
jpomrenke
/wp-content/uploads/2020/02/sabr_logo.png
jpomrenke
2012-06-18 14:25:01
2012-06-18 14:25:01
Lou Criger monument dedication held in Elkhart, Indiana