Mannis: SABR Analytics Technology Panel discusses challenges of bringing players, colleges on board
The seventh annual SABR Analytics Conference concluded on Sunday, March 11, 2018, in Phoenix, Arizona, with more interesting panels and research presentations. Among the highlights was the Technology Panel with Jeremy Booth of the New Balance Baseball Future Stars Series, Matt Reiland of Power Alley Analytics, and Jarett Sims of Monsterful VR.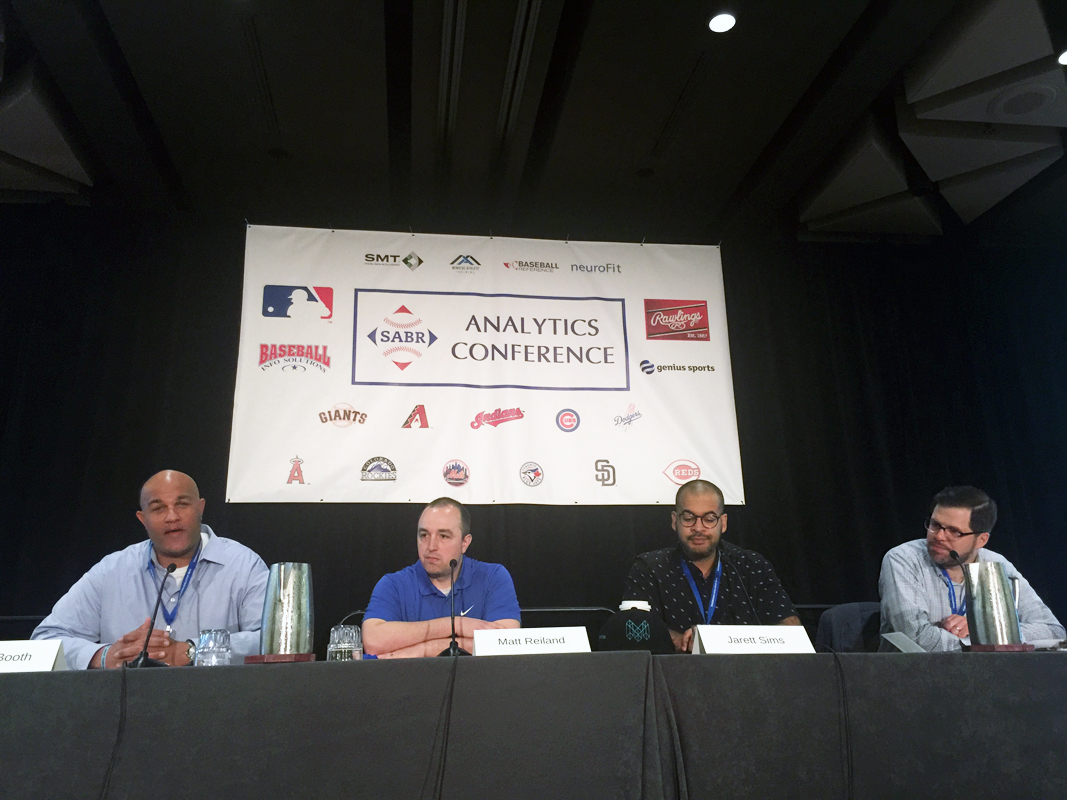 The panel was moderated by Arizona State University journalism professor Brett Kurland and included a special guest panelist, former major-league outfielder Chris Dickerson.
From the start, Reiland and Booth both emphasized the importance of not only presenting data to young players, but teaching them what it means and what to do with it. Reiland emphasized that this can be just as apparent in coaches.
"Coaches know they want the data," Reiland said. "But they don't always know what to do with it."
Sims said he has taken note of exactly what it is that players struggle with and what analytics could help with — and that's what Monsterful VR focuses on. "An integrated system is ultimately what's going to win the day," Sims said.
Booth explained that "unifying the amateur ranks" is one thing that the Future Stars Series is focused on. That means helping athletes at every stage of their careers, from high school and college to the professional level.
Reiland explained that one issue he has encountered with getting colleges on board with their technology is that "not all colleges have the budget" to install Trackman's system or other pieces of technology that could help their players. However, "all it takes is one donor" to change that, Reiland said. If one player from a low-ranking school gets drafted and starts making it up the ranks and that player advises his school to get a Trackman, Reiland said, other colleges could be swayed to do the same.
Booth explained that getting veteran major-league players on board with technology is much more difficult than getting young players who are in college or the minors on board. One reason why, Booth said, is "one of the hardest things with them is getting them to understand it and getting them to understand why they need it."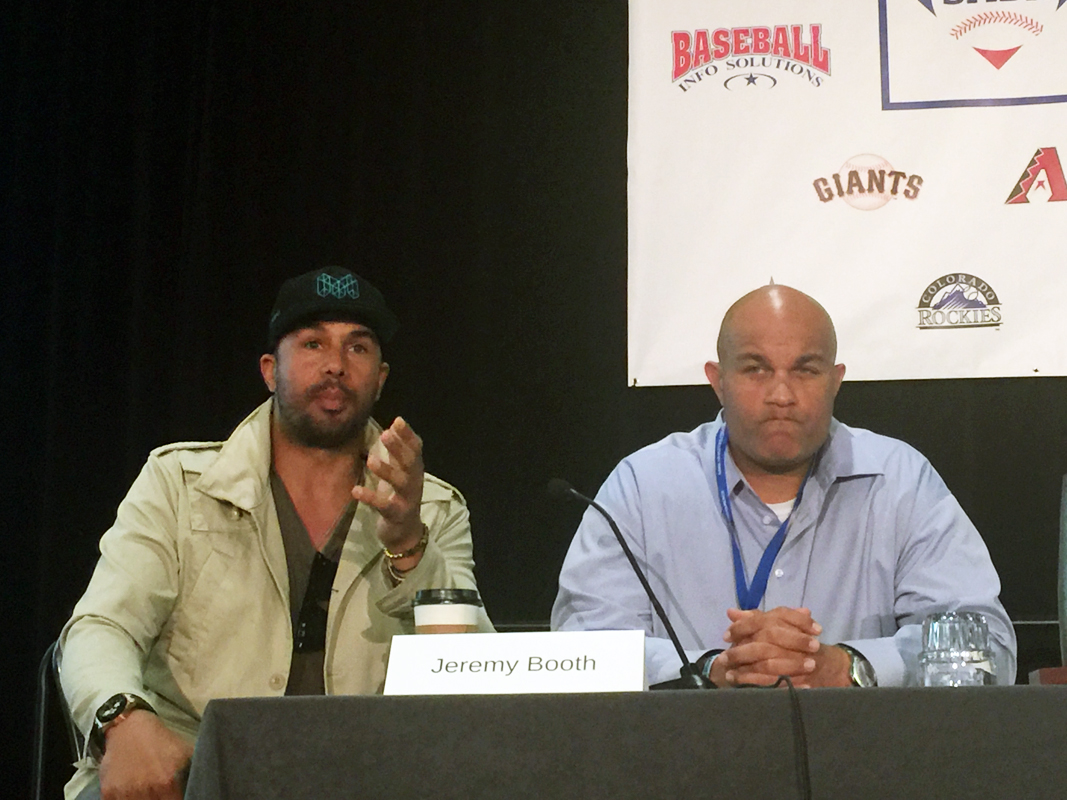 However, Booth said some former major-leaguers have learned to embrace this technology and have begun to work with the Future Stars series, including Chad Moeller and Chris Dickerson, who joined the group on stage for a few minutes to talk about his perspective.
Booth said even teaching young kids about sabermetrics and technology is important. His group has people teaching young kids about such innovative concepts as launch angles. "We have people taking kids who are eight or nine years old and who just love playing baseball, and we're teaching them to hit the ball to the top of the cage," he said.
Booth concluded the panel with one statement which encompassed much of how technology is used in the game today: "There's no one-size-fits-all." Different players will get different help from technology, and the technology has to accommodate that, he said.
For more coverage of the 2018 SABR Analytics Conference, visit SABR.org/analytics.
---
Originally published: March 11, 2018. Last Updated: March 11, 2018.
https://sabr.org/wp-content/uploads/2020/03/research-collection4_350x300.jpg
300
350
admin
/wp-content/uploads/2020/02/sabr_logo.png
admin
2018-03-11 13:25:32
2018-03-11 13:25:32
Mannis: SABR Analytics Technology Panel discusses challenges of bringing players, colleges on board