Mannis: Slow market, 'tanking' on the table for SABR Analytics Team Approach Panel
By Max Mannis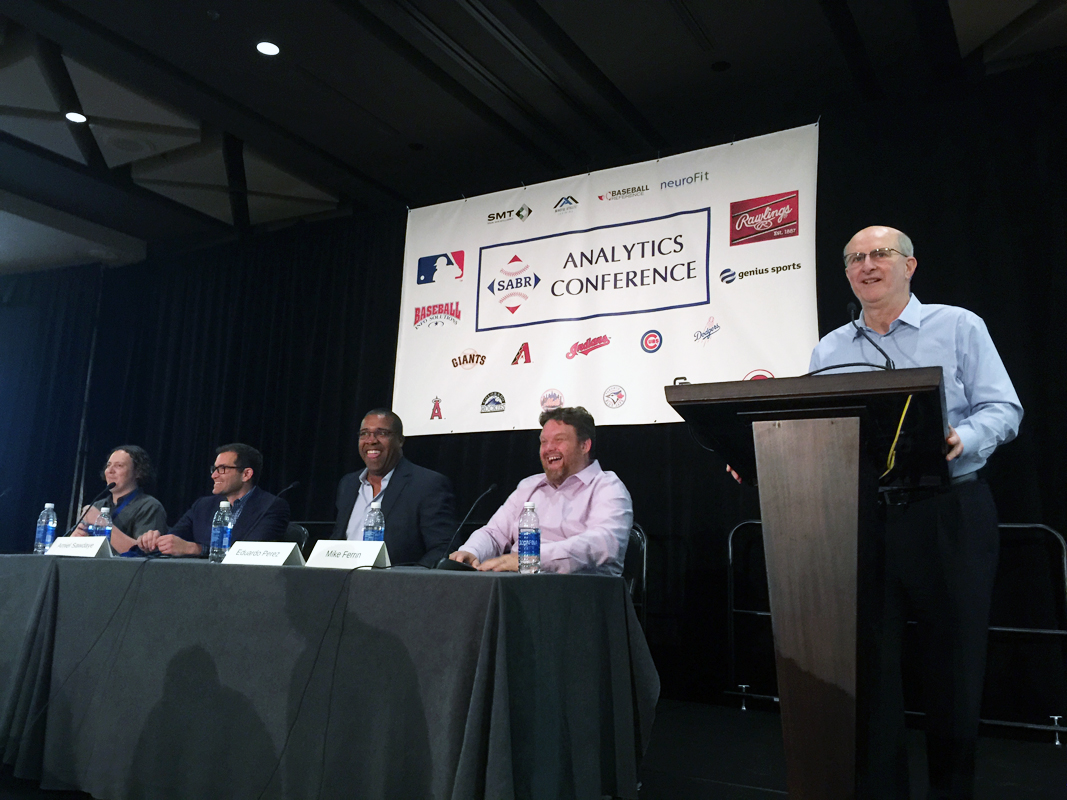 The first day of the seventh annual SABR Analytics Conference on March 9, 2018, in Phoenix, Arizona, was packed with panels, research presentations, and much more.
One highlight was the MLB Team Approach to Analytics Panel, moderated by SABR President Vince Gennaro, with Arizona Diamondbacks Sr. Vice President/Assistant GM Amiel Sawdaye, former MLB player and current ESPN analyst Eduardo Perez, The Athletic's Eno Sarris, and Mike Ferrin of the Arizona Diamondbacks and MLB Network Radio.
Ferrin began the panel by discussing why it makes no sense to him that so many teams backed off Mike Moustakas as a free agent, given that the penalty of a loss of a draft pick pales in comparison to how much Moustakas could help many teams. Perez agreed, saying that a 1 year, $5.5 million contract seemed very low for a player of Moustakas' caliber.
"I was very surprised with Mike Moustakas getting what he got," he said. "It's just the way that the teams right now are battling the players."
Sawdaye, who played a role in the Diamondbacks' trade for Steven Souza Jr., credited the slow free agent market this offseason to the equally slow trade market. "There was a bit of that, where everybody expected that (Christian) Yelich, (Marcell) Ozuna, and (Giancarlo) Stanton were going to get traded (by the Miami Marlins), but there were some other guys that were also movable targets."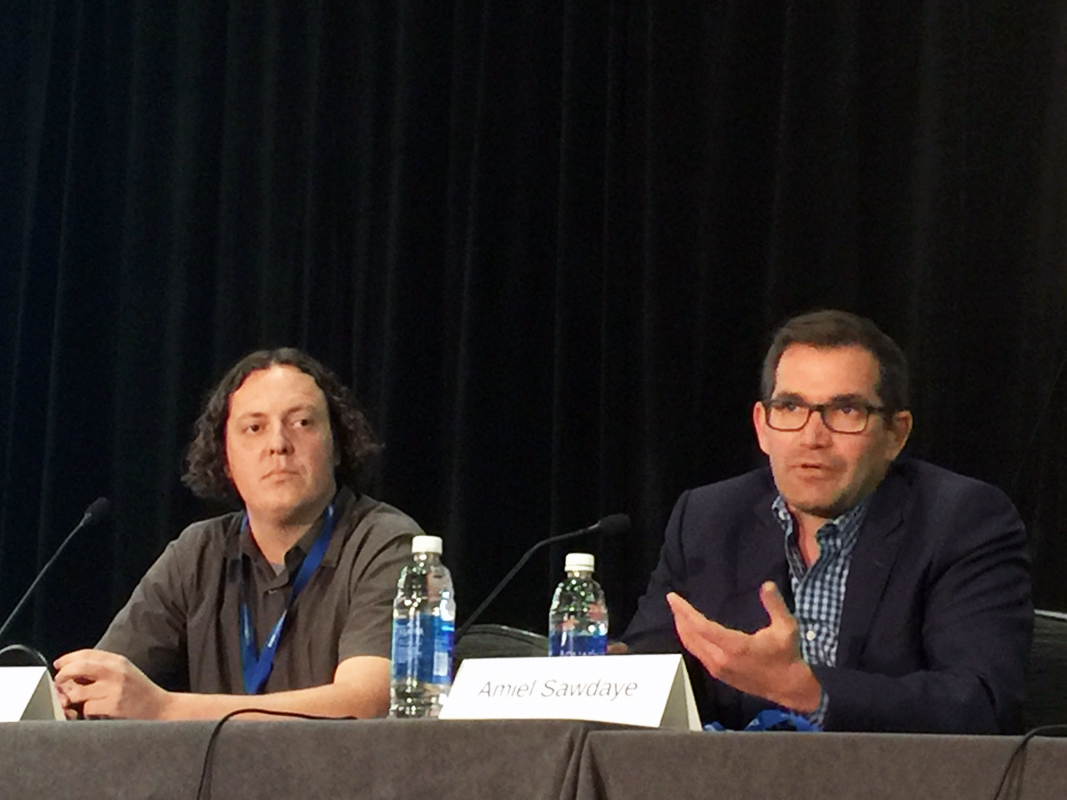 As Sawdaye explained, teams wanted to wait to see what players could be available on the trade market before spending more than $100 million on players such as J.D. Martinez or Eric Hosmer.
Another topic that the panelists discussed was tanking — the idea that a team should lose games on purpose in an effort to have higher picks in the draft and add more young prospects who might eventually develop into stars in the future.
"There are certain teams that are building high-variance, .500 teams, the Billy Beane approach," Sarris said. When asked what could be done in response to tanking, Sarris said, "I don't have an answer for you. I don't know if it's broken, I definitely don't know how to fix it."
Perez said when he was on the coaching staff of the 111-loss Houston Astros team in 2013, "I was on a team that was tanking." He remembered one game that season against the New York Yankees, Perez and everyone else in the Astros' dugout "looked to the right, we looked to the left, we said, 'Boys, we don't have a chance.' That to me is tanking."
Ferrin said that while each team wants to field a competitive roster, "Everyone wants to win championships, but not everyone wants to go into a season winning." Essentially, a smart organization will recognize that if they simply won't be in contention in a certain year, they should use that year to rebuild for the future so that they can have contending teams in the future instead of more lackluster teams.
Stay tuned to SABR.org/analytics for more updates from the 2018 SABR Analytics Conference in Phoenix.
---
Originally published: March 9, 2018. Last Updated: March 9, 2018.
https://sabr.org/wp-content/uploads/2020/03/research-collection4_350x300.jpg
300
350
admin
/wp-content/uploads/2020/02/sabr_logo.png
admin
2018-03-09 20:02:35
2018-03-09 20:02:35
Mannis: Slow market, 'tanking' on the table for SABR Analytics Team Approach Panel