'Not Exactly Cooperstown' DVD available at Baseball Reliquary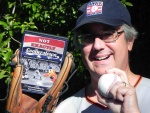 The Baseball Reliquary, run by SABR member Terry Cannon, is pleased to announce that the DVD of Jon Leonoudakis's 2012 documentary, Not Exactly Cooperstown, is now available for purchase through the organization. Leonoudakis's 69-minute film, described as "an unorthodox look at baseball's most orthodox game" and "a star-spangled journey into the heart and soul of baseball," recently received its world premiere in Pasadena, California, followed by several screenings in the San Francisco Bay Area. The film has also been entered in a number of film festivals.
Not Exactly Cooperstown is the story of how the film's producer/director rediscovered his love for the national pastime through the Baseball Reliquary, an eclectic, fan-based think tank founded in 1996. The organization's grassroots, anti-establishment approach to baseball history resonated with Leonoudakis, who decided to spend a year following the organization, documenting its activities, seeing what makes it tick, and then sharing the results. The film is full of surprises. "This isn't your father's baseball documentary," Leonoudakis said. "My film is a bold stew of Americana, folklore, sex, religion, scandal, fandom, poetry, sport, and art." Included are clips from past ceremonies for the Shrine of the Eternals, and a rendition of the National Anthem that will guarantee to have you standing and smiling.
Leonoudakis also features commentaries and insights by a cavalcade of experts, fans, free-thinkers, and non-conformists, including former major league pitchers Jim Bouton and Bill "Spaceman" Lee; the San Diego Chicken; filmmaker Ron Shelton (Bull Durham); author Arnold Hano (A Day in the Bleachers); journalists John Schulian, Ron Rapoport, and David Kipen; and artist and activist Tomas Benitez.
The Not Exactly Cooperstown DVD is available for $20.00 plus $3.00 shipping and handling through the Baseball Reliquary. If you would like to order more than one copy, the shipping and handling charge is $5.00. Send check or money order (sorry, no credit cards) payable to: The Baseball Reliquary, P.O. Box 1850, Monrovia, CA 91017. All orders are shipped by First-Class Mail.
For further information, contact the Baseball Reliquary by phone at (626) 791-7647 or by e-mail at terymar@earthlink.net. You may also visit the Not Exactly Cooperstown website at http://www.notexactlycooperstown.com.
---
Originally published: September 27, 2012. Last Updated: September 27, 2012.
https://sabr.org/wp-content/uploads/2020/03/research-collection4_350x300.jpg
300
350
jpomrenke
/wp-content/uploads/2020/02/sabr_logo.png
jpomrenke
2012-09-27 18:42:29
2012-09-27 18:42:29
'Not Exactly Cooperstown' DVD available at Baseball Reliquary