Ozzie Guillen entertains SABR crowd at Rocky Mountain Chapter luncheon
By Matt Mitchell
Ozzie Guillen, manager for the Miami (nee Florida) Marlins, was the headline attraction for a SABR Rocky Mountain Chapter luncheon on August 18, 2012, in Denver, Colorado. In front of 91 SABR attendees, the colorful manager of the team with baseball's most colorful uniforms regaled the crowd with a multitude of stories and commentary and won over a few new fans in the process.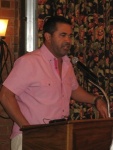 The meeting opened with a few announcements and chapter business items as many in the audience began to enjoy a buffet meal at the Denver ChopHouse in downtown Denver. Chapter board member and past president Paul Parker emceed the affair, introducing chapter president Matthew Repplinger to handle this first part of the meeting. Announcements were made about upcoming Games of the Month (with two games in September, on the 22nd and the 27th) and upcoming dates for the Monthly Luncheons, held at the Wynkoop Brewery in Denver on the third Wednesday of each month. A note was also made about the 15th annual Rocky Mountain SABR Banquet, announcing Maury Wills as our keynote speaker and Roland Hemond as the featured speaker.
---
---
To introduce Ozzie Guillen, the emcee posed a trivia question for the crowd: Who was the last manager traded prior to Ozzie? (Answer at the end of this post). Ozzie, who attended with his son Ozzie Jr., then took to the podium and began to recall stories about how he got into baseball and what the game was like while he played, mused about what he likes and dislikes about the game today, and commented on his thoughts about aspects of modern life. The Caracas native talked about being scouted and coming to America as a 16-year-old, and compared how he had to cope compared to today's players. He jested how when he was scouted there was one scout for 30-40 kids, whereas now there are 70 scouts for one kid, yet also noted how his parents didn't know how he was doing until he came home in the winter and didn't understand the hardships of trying to reach the major leagues. He lamented about the travel involved in being a baseball player and manager and how it caused him to miss a lot of moments in his children's lives, as well as how front offices in the modern game treat baseball more as a business and lack a high level of passion for the game.
He said winning the World Series with the White Sox in 2005 was a dream come true, and expressed his appreciation for Davey Concepcion, Harold Baines and longtime SABR member Roland Hemond. He didn't even swear once. The general impression from the crowd was that of a different man than the image created via the sports media.
(Answer to the trivia question: Lou Piniella)
Matt Mitchell is the secretary of the Rocky Mountain Chapter. Learn more at RMSABR.org.
---
Originally published: August 21, 2012. Last Updated: August 21, 2012.
https://sabr.org/wp-content/uploads/2020/03/research-collection4_350x300.jpg
300
350
jpomrenke
/wp-content/uploads/2020/02/sabr_logo.png
jpomrenke
2012-08-21 15:02:11
2012-08-21 15:02:11
Ozzie Guillen entertains SABR crowd at Rocky Mountain Chapter luncheon