SABR 19th Century Grave Marker Project unveils first plaque for James Whyte Davis
SABR's 19th Century Baseball Grave Marker Project held a special ceremony on Saturday, May 14, 2016, to dedicate the newly installed marker for New York Knickerbocker pioneer James Whyte Davis.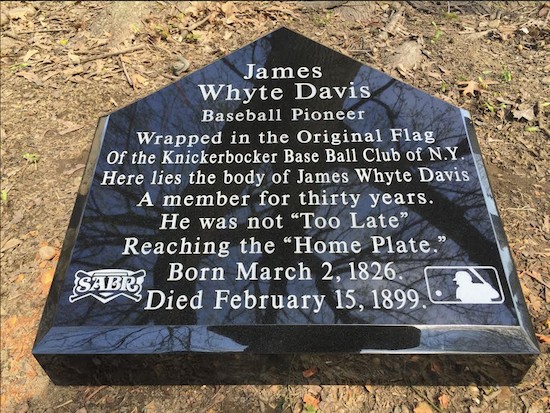 The ceremony was held in Brooklyn's historic Green-Wood Cemetery followed by a trolley tour hosted by historian Tom Gilbert, which began at the burial site of "Too Late" Davis, where the first marker installed by the young Project was unveiled.
Inspired by an idea proposed by official Major League Baseball historian John Thorn at SABR's 2015 Frederick Ivor-Campbell 19th Century Base Ball Conference, the committee was formed last year in an effort to correct some of the slights of history. The game's pioneers spent their early working lives dedicated to a sport that, even at the highest level, had not yet become the lucrative opportunity we think of today. Many of them died without the funds to mark the ground where they were laid to rest. With the help of donations from SABR members as well as a generous grant from Major League Baseball, the Project intends that James Whyte Davis — pictured at right, with Doc Adams — is just the first of many afforded the honor they were denied at the times of their deaths.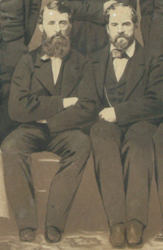 While not an original Knickerbocker, Davis was an early and longtime member. A stockbroker and volunteer firefighter, Davis was club secretary. He played a role during some of the most seminal moments in baseball history, including as a delegate to the 1867 convention of the National Association of Amateur Base Ball Players. Davis was a rabid fan of the game, and had the Knick pennant draped across his dresser for years. If his final wishes were complied with, he is currently wrapped inside that flag in his grave. In a letter to New York Giants owner and friend Edward Talcott, Davis even had the foresight to write his own epitaph. The Project made sure the engraving on his stone matches his words precisely, with the addition of the year of his death, 1899.
To learn more about James Whyte Davis at John Thorn's "Our Game" blog, click here.
Before the ceremony, guests took a tour of the most famous final resting place in New York City. Through the Gothic spires of Green-Wood Cemetery lie more than 200 of the game's early players, managers, executives, and notables. Hall of Famer Henry Chadwick and baseball's first superstar, Jim Creighton, spend eternity not far from Davis, as do other former Knick teammates Louis F. Wadsworth, Duncan Curry, and William Tucker. The history of the early game is told in the stone of Green-Wood.
Graveside speeches by noted baseball historians told the story of Davis, a man that Doc Adams referred to as baseball's first "fiend." This historic event celebrated the life of one of the men whose largely unknown history played such an important role in America's Pastime.
For more information about the project, please contact Ralph Carhart at thehallballproject@gmail.com.
Related coverage:
---
Originally published: May 19, 2016. Last Updated: May 19, 2016.
https://h2j7w4j4.stackpathcdn.com/wp-content/uploads/2020/03/research-collection4_350x300.jpg
300
350
admin
/wp-content/uploads/2020/02/sabr_logo.png
admin
2016-05-19 18:35:19
2016-05-19 18:35:19
SABR 19th Century Grave Marker Project unveils first plaque for James Whyte Davis