SABR 48: Listen to highlights from the Roberto Clemente Panel
At SABR 48, our panel discussion, The Great One: The Life and Legacy of Roberto Clemente, on June 21, 2018, at the Wyndham Grand Pittsburgh Downtown, focused on the life and legacy of Puerto Rican and Pittsburgh Pirates icon Roberto Clemente.
Our panelists included Duane Rieder, Executive Director and Curator of the Roberto Clemente Museum; Danny Torres, LatinoSports.com and LaVidaBaseball.com writer; and moderator Adrian Burgos Jr., Editor-in-Chief of La Vida Baseball and author of Playing America's Game: Baseball, Latinos, and the Color Line.
---
---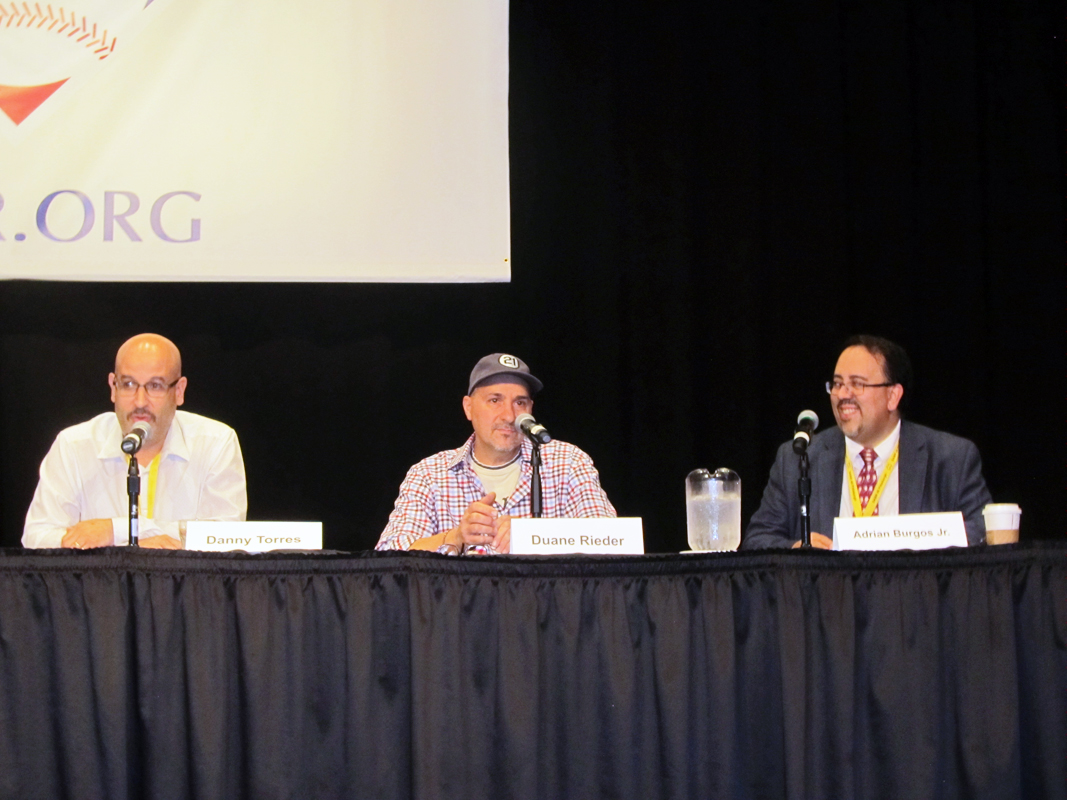 Here are some highlights:
ON WHAT ROBERTO CLEMENTE MEANS TO ME
Torres: "I asked myself what is the definition of the word legacy? … You're going to see something along the lines of 'money or property left to someone,' [like] in a will. … Clemente left us the ultimate treasure — and that treasure was for each and every one of us, the selfless act that he did on December 31, 1972 … that's what Roberto left us … to all be genuine individuals, to in essence help out the less fortunate, especially children."
Burgos: "We can get to know the stories of Clemente the player, but [his] legacy goes beyond the playing field. The legacy that we can carry is, in fact, knowing about those stories and the actions he did, being inspired and carrying those out."
ON CURRENT EFFORTS TO PRESERVE CLEMENTE'S LEGACY
Torres: "I think the biggest effort that we experience in the United States … is of what the Pirates did and even what Duane did after the hurricane in Puerto Rico. If there was ever a time that everyone … did something after the hurricane which, sadly, destroyed the island. I can only imagine the tears, the worries. … So many tragic stories came out of this. But where did we see Clemente touch the hearts of many? … That was probably the biggest example, the beauty of that … [seeing] those that really stepped up, 24-48 hours afterward, saying, 'I have to do something,' and they attached Roberto's name to it. … Those actions that Roberto Clemente, without a doubt, if he was still with us, that he would have done for his island. … He [would have said], 'This is what we're gonna do.' Can more be done? Absolutely. All you have to do is hold that door, say something nice, [say] thank you, I love you. That's something we take for granted, but those actions speak volumes. And that to me is a Clemente action that we should do each and every day."
Rieder: "By doing what we're doing, we're all telling the story of Roberto Clemente. He's grown in stature, he's bigger now than he ever was. We get visitors from Japan and Australia, they're not really baseball fans, but they know his story. … His name and what he did is inspiring millions and millions of people. If we can just be a little, tiny thread, even in just the city of Pittsburgh, it's something. … We're putting into action right now, a virtual website so kids in Puerto Rico can visit the museum. … There's so many kids in Puerto Rico that can't get to Pittsburgh. So we're finally going to try to get outside of our little building and try to get the word out to the rest of the world."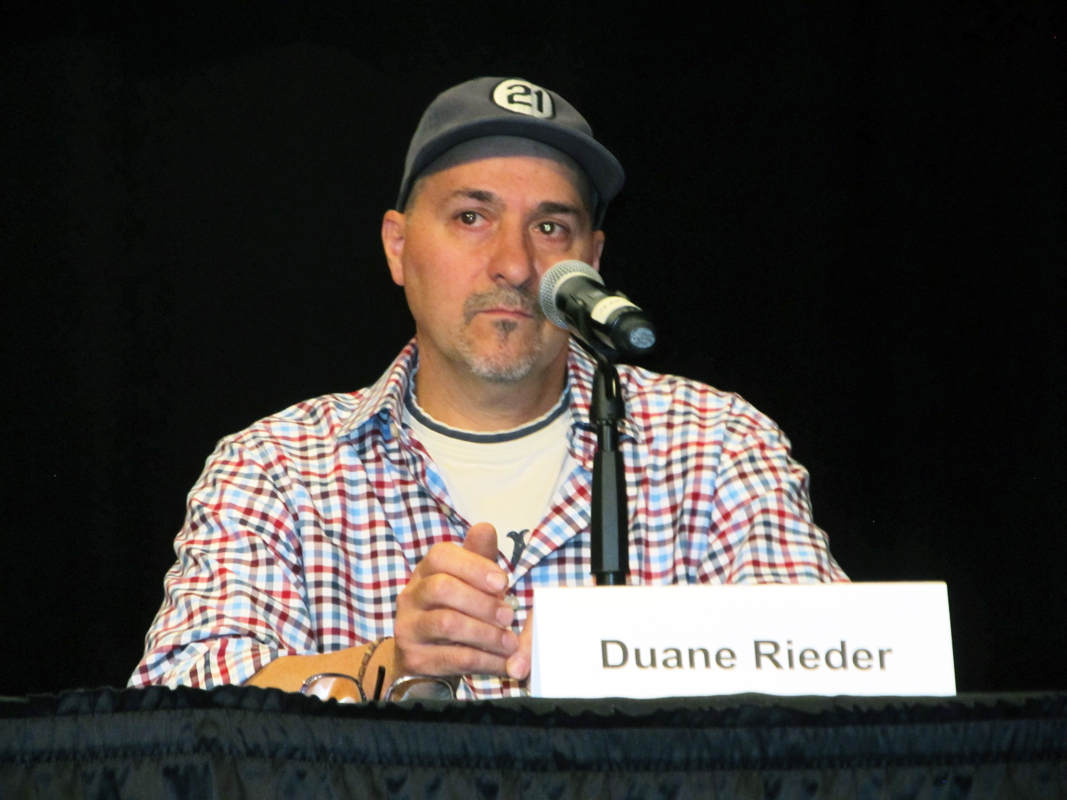 ON THE IDEA TO RETIRE CLEMENTE'S NO. 21 ACROSS MAJOR LEAGUE BASEBALL
Torres: "What I would like to see that you can start immediately next year … that each Roberto Clemente Award nominee on each major-league club, before they play that game, to wear that No. 21 jersey and go and do some community service. If MLB is going to put a jersey up and say it's going to this charity, I would rather bid on a jersey that was (made) dirty by Anthony Rizzo because I know that particular player was painting the side of a shed, he was in the sand playing with children. That jersey I'll bid on, because I know that player was doing a Clemente act. … If you can't retire the number, let's start something where each major-league team is going to their respective charity, or a local hospital or a local park, and do something with the children. That was exactly what Roberto had planned … show how sports can be a vehicle … to give to the less fortunate."
Burgos: "If Major League Baseball is not going to go the route that it did with (Jackie Robinson's} No. 42, how do we honor No. 21? … I was speaking with Luis Tiant about Clemente and one of the things Luis shared was: it does something to a ballplayer when you go to a children's hospital and see these kids facing cancer, facing serious illness. They see you as a ballplayer and they light up, they smile, they joke, they have joy. And Luis said, 'That changed my life.' … Connecting with children, you inspire other people with their families. You want to be that inspiration, to give them hope, to give them the desire to continue their fight. And that is very much something we can think about — I'm not saying to give up on retiring No. 21 — but think about what Roberto Clemente might say about how to honor him. And he might just say, 'Live the life I live. Be an example. Help others.' "
Rieder: "If baseball is not going to do it, I've been telling the … leaders on a team, like Albert Pujols or Miguel Cabrera, you (should) go to the clubhouse guy and say, 'Hey, no one's wearing No. 21 on this team.' They can hang it on a locker, go by it, touch it, pray in front of it, do whatever you want, but no one wears it on the field. … They could definitely do it. Who's going to mess with Albert Pujols? Maybe Mike Trout. … But if the players retire No. 21 on their own, that would be pretty amazing."
For more coverage of the SABR 48 convention, visit SABR.org/convention.
---
Originally published: June 21, 2018. Last Updated: July 27, 2020.
https://sabr.org/wp-content/uploads/2020/03/research-collection4_350x300.jpg
300
350
admin
/wp-content/uploads/2020/02/sabr_logo.png
admin
2018-06-21 21:13:23
2020-07-27 16:11:21
SABR 48: Listen to highlights from the Roberto Clemente Panel