SABR 49: Listen to highlights from our 1984 San Diego Padres panel
At SABR 49 on Thursday, June 27, 2019, our 1984 San Diego Padres Panel discussed San Diego's first National League championship team, the memorable moments from that season, and the World Series against the Detroit Tigers.
The panel included Kurt Bevacqua, San Diego Padres infielder and 1984 World Series hero; Ron Rapoport, sports columnist and author; Ballard Smith, President of the San Diego Padres from 1979 to 1987; Bill Center, San Diego Union-Tribune sports columnist; and moderator Bob Chandler, San Diego Padres broadcaster from 1970-2003.
---
---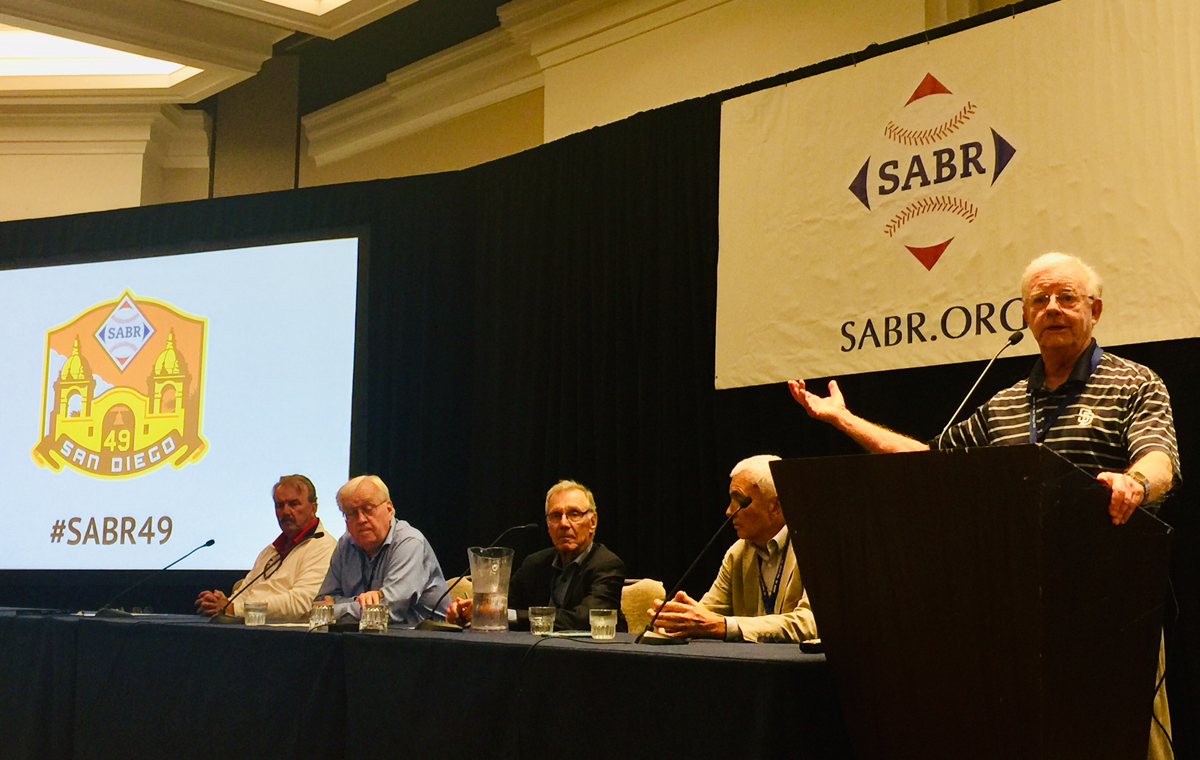 Here are some highlights:
ON HIRING DICK WILLIAMS AS MANAGER
Smith: "Jack [McKeon, the GM] was not thrilled about Dick Williams being hired as manager. One of his goals in Jack's life was he wanted to be the manager. Dick was a pretty controversial guy. Even though he had tremendous success with Montreal, the Red Sox, and with the A's, his modus operandi was to leave not necessarily on good terms. Shortly before we made the decision to hire him, I got a call from Charles Bronfman with the Expos … and he said, 'He's probably the best manager I've ever seen and you're going to have some success. But I don't care if you go to the World Series, you're going to call me back someday and say you wish you hadn't hired him!' … I wouldn't go so far as to say I'm sorry we hired him, but we certainly ran into rough waters at the end of his time with the Padres."
ON THE INFAMOUS BRAWL IN ATLANTA ON AUGUST 12
Chandler: "On the mound for the Braves was Pascual Perez and the first pitch he threw was a fastball buried right in the ribs to our leadoff hitter, Alan Wiggins. The Padres felt [Braves manager] Joe Torre was trying to send a message, trying to intimidate the [first-place] Padres, and this was his way of starting it. So they spent the next nine innings trying to hit Perez in return. They ended up with at least four different managers that day because they kept getting the pitcher and the manager kicked out of the game. … It was the biggest brawl I've ever seen in baseball."
Bevacqua: "It gave me an opportunity to get on the field! People ask me about that all the time and that was one of the better days of my career. I spent almost the whole game on the field. It was so much fun, and the reason it was is because no one got seriously hurt. But when we left the ballpark that day, we knew we were going to win the National League West. We knew it. We knew we had what Bob called good chemistry going into spring training, and I think that proved it."
Bevacqua: "We started right away on the bench with [talking about] retaliation. And Dick Williams was not in on the conversation. I was right there. It was Terry Kennedy, it was Ed Whitson, Flan [Tim Flannery] scooted over on the bench, and I walked down there because I knew what they were talking about. So the decision was made to wait for Pascual Perez. By that time, two and a half innings later, the Atlanta Braves had no idea there was going to be any retaliation. … And that's when it all started. He went down like soft mud in the rain. Both benches went out on the field, Perez did his little dance around with his bat. … But we didn't get to him then. … The next thing I know, Dick starts calling over all the coaches. 'Ozzie [Virgil], you're the next manager. Jack [Krol], you're the manager after him.' … And this was the best part, he goes, 'Get the bullpen up.' Everyone knew what was going to happen. And every time Perez came up to the plate, there was some kind of altercation on the field."
Smith: "Kurt and I are great friends, but that day, I wanted to kill him. I was at Disneyland with my four young daughters, standing in line for the Jungle Cruise, listening to my transistor radio, as they're talking about Kurt Bevacqua going up in the stands. … Obviously, the concern from my standpoint was we're in a pennant race and someone is going to get hurt."
Bevacqua: "I actually saw Gwynn and Garvey get down and dirty during the fight. Gwynn body-slammed one of the players. And Garv's uniform actually got dirty! He had an amazing ability to slide on the brown stripe, so the white part of the pants wouldn't get dirty."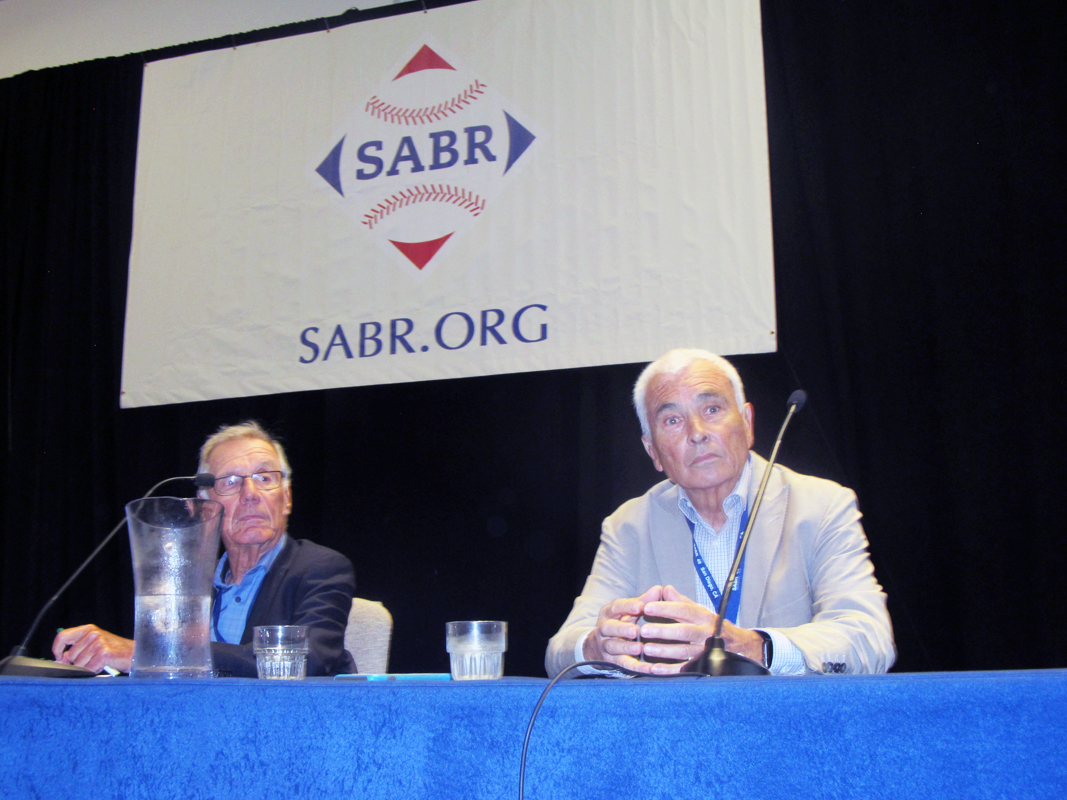 ON THE EXCITEMENT FOR THE NLCS
Rapoport: "The Cubs clinched early … and their final home game was a victory lap against the Cardinals. It was the first playoff they'd been in for 39 years. The fans would not leave the ballpark. They stayed and cheered and cheered and cheered. … It was an amazing moment."
Center: "In San Diego, it was magical. … Radio ruled back then. You could walk through a mall or Mission Valley, and you'd have people with radios on listening to Padres game. That always struck me because for the first decade of the franchise's history, there was absolutely no interest in the Padres. I was at Opening Day in 1969, and there were only 21,000 people for the first game ever. And it was all downhill from there."
Bevacqua: "Ray [Kroc, the Padres owner who died before the season] was a crotchety old guy, but he was the one guy I wish had been there to see that with us shocking Chicago, and bringing the city of San Diego together in a way I don't think it's been brought together before or since. 1998 was a great year here, but that celebration and those wins weren't nearly up to where 1984 was."
ON THE CUBS SAVING RICK SUTCLIFFE FOR NLCS GAME 5
Bevacqua: "I feel that was the decision that almost gave us the National League Championship Series, when [Cubs manager] Jim Frey decided to hold Sutcliffe back."
Rapoport: "Sutcliffe had won [16] games in a row, he'd beaten the Padres twice in the regular season, he had shut them out through five innings, but he was gassed. … And here's the other thing: The game was going too fast. It was over in 2 hours, 41 minutes. The Cubs couldn't slow it down. There were some 7-pitch innings, 10-pitch innings, after the Padres came to bat. They were swinging at everything. They didn't know what to do. Now it seems inevitable, after Sutcliffe blew the lead: Did they leave him in too long? Should they have pitched him in Game 4? All of a sudden, it goes from 'We're definitely going to win' to 'These guys are going to beat us.' "
ON THE PIVOTAL PLAY OF THE WORLD SERIES
Bevacqua: "As good as the Tigers were, I believe that series could have been turned around if I hadn't gotten thrown out at third base in Game 1. We were losing that game 3-2 and I got thrown out at third base with no outs. … In my defense, if there is any, we had just gone over what we were going to do if we had the opportunity to run on Kirk Gibson in right field. Because he never hit the cutoff man. That was the book on him. … But he threw a perfect strike to Lou Whitaker at second base, and Lou just turned and threw me out. … Naturally, I'm the goat of the game. And when I left the ballpark that night, I was upset and I vowed to my wife that I was going to do something. And you know what, I lived up to my word. I had a pretty good Series."
ON BEVACQUA'S GO-AHEAD HOME RUN IN GAME 2 AGAINST THE TIGERS
Bevacqua: "It took several minutes because I had to retouch the bases four times! … I don't remember approaching second base and touching second base until I got almost to third and I remember reaching out to [coach] Ozzie Virgil to give him a high-five. It was like there was nobody there but me. Funny things happen to funny people."
For more coverage of SABR 49, visit SABR.org/convention.
---
Originally published: July 1, 2019. Last Updated: July 27, 2020.
https://sabr.org/wp-content/uploads/2020/03/research-collection4_350x300.jpg
300
350
admin
/wp-content/uploads/2020/02/sabr_logo.png
admin
2019-07-01 18:24:27
2020-07-27 16:10:15
SABR 49: Listen to highlights from our 1984 San Diego Padres panel