SABR 49: Join us for the Women in Baseball panel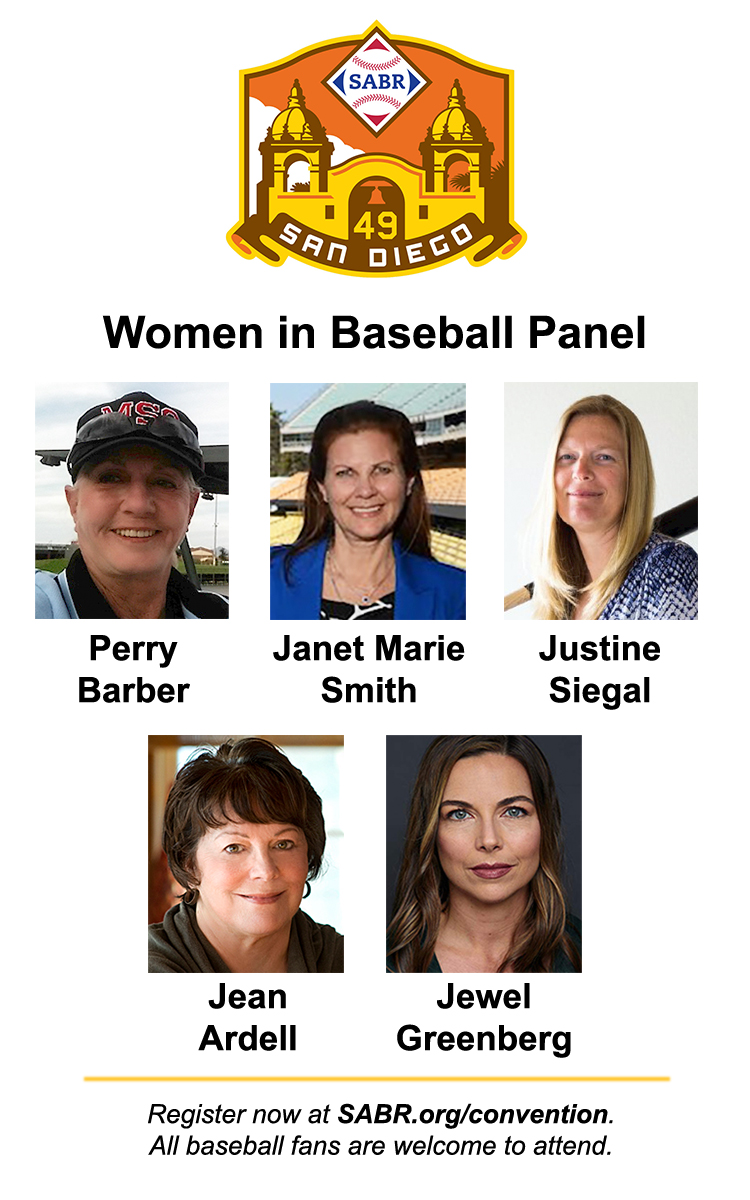 We are pleased to announce the Women in Baseball Panel for the SABR 49 convention this summer in San Diego.
Join us on June 26-30, 2019, at the Manchester Grand Hyatt hotel in downtown San Diego. The conference is open to all baseball fans, and early registration is now available online. Click here to register!
Here is some more information about our featured panelists:
Perry Barber, professional baseball umpire for more than 30 years and 2018 recipient of SABR's Dorothy Seymour Mills Lifetime Achievement Award
Jewel Greenberg, producer of Girls of Summer: Big Diamond Dreams, a documentary film about the girls and women who play baseball throughout the world
Justine Siegal, founder of Baseball For All and the first female coach in Major League Baseball
Janet Marie Smith, Senior Vice President of Planning and Development for the Los Angeles Dodgers, who oversaw construction and renovations to Oriole Park at Camden Yards, Fenway Park, Turner Field, and Dodger Stadium 

Moderator: Jean Ardell, author of Breaking into Baseball: Women and the National Pastime and co-author with Ila Borders of Making My Pitch: A Woman's Baseball Odyssey
Please note: All speakers are subject to change depending on availability.
The annual SABR convention, which is open to all baseball fans, includes top featured speakers from around the baseball world — front office executives, players, managers, scouts, journalists, historians, and analysts — innovative panel discussions, groundbreaking research presentations, major and minor league games, tours of historic ballparks, the SABR Trivia Contest, the Awards Luncheon, and most of all, the opportunity to make and renew baseball friendships over the course of this exciting and memorable event.
For more information, visit SABR.org/convention.
This page was last updated April 24, 2019 at 6:47 pm MST.