SABR 49: Listen to highlights from the Early California Baseball History Panel
At SABR 49 on June 29, 2019, in San Diego, our Early Calfornia Baseball History Panel discussed the introduction of the game to the Golden State, the prowess of California's independent minor leagues, and winter league integration decades before Jackie Robinson's debut.
The panel included Carlos Bauer, a former chair of the SABR Minor Leagues Committee whose specialities include early California baseball; Angus Macfarlane, a San Francisco-based "baseball treasure hunter" who focuses on the pre-history of the game in the Bay Area; and moderator Bill Swank, the "Baseball Santa" and an award-winning author of the Baseball in San Diego series and other books.
---
---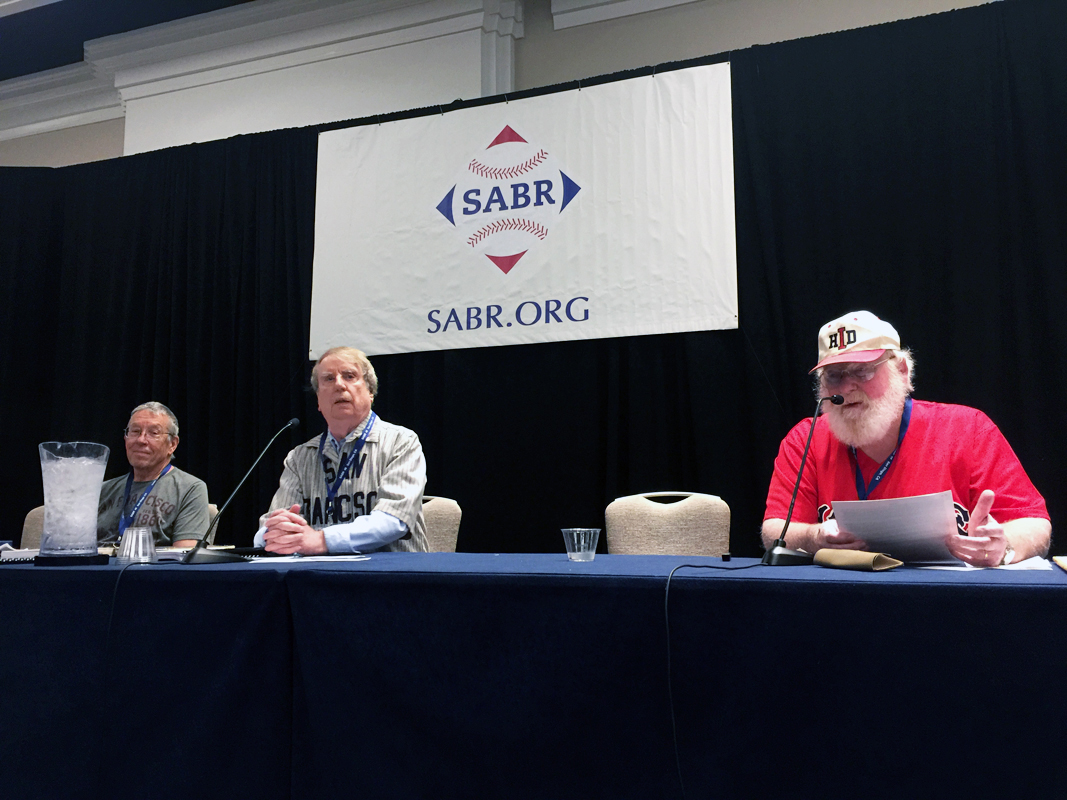 Here are some highlights:
ON BASEBALL'S INTRODUCTION IN CALIFORNIA:
Macfarlane: "Alexander Cartwright's Hall of Fame plaque … credits him with carrying baseball to the Pacific coast, meaning California. That simply isn't true. But if not Cartwright, then who? It took a military battalion to introduce baseball to California … In 1846, President [James] Polk declared an unlosable war against Mexico to justify seizing California. But there was no military force in California to capture and control the territory. In a complicated arrangement between President Polk and the Mormon Church, 500 men were organized into a military battalion for one-year enlistment. One of the members was 18-year-old Azariah Smith. His journal that he kept during the Mormon Battalion period of his life contains the equivalent of California baseball history in the beginning."
ON CALIFORNIA'S INDEPENDENT MINOR LEAGUES IN THE EARLY 1900s
Bauer: "How good were these leagues? Some were better than the Pacific Coast League. John Spalding makes a good argument for the 1907 and 1908 Outlaw California State League. The San Joaquin Valley of the early '20s, I think, was better than the Pacific Coast. They recruited major-leaguers like Dutch Leonard, who held the record for earned run average in the American League."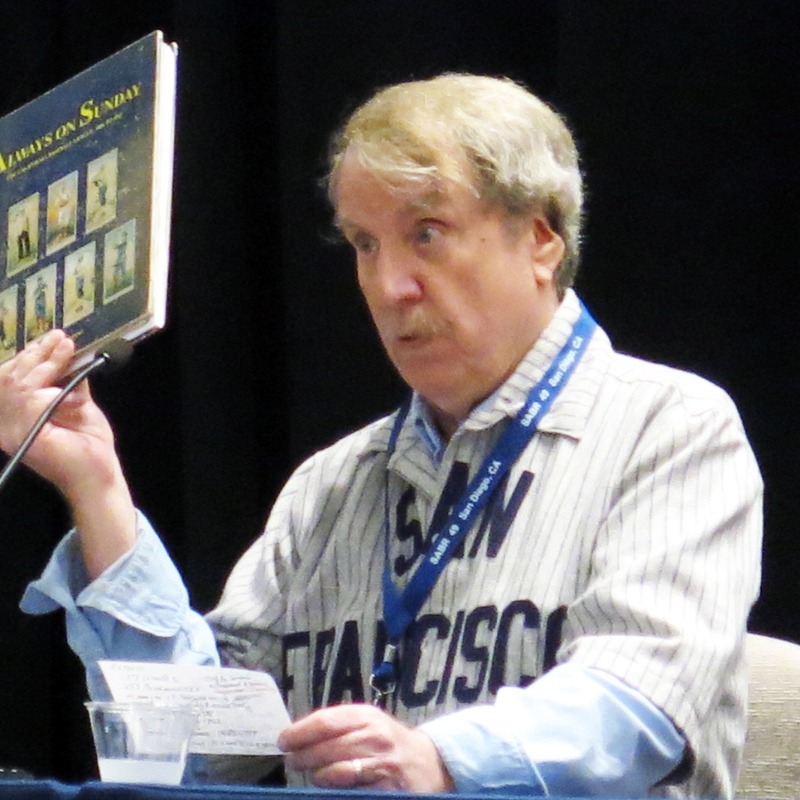 ON THE SAN JOAQUIN VALLEY LEAGUE AND SAILOR STROUD
Bauer: "In 1919, Stroud won 26 games in the Pacific Coast League. Bill Lane — who came to San Diego and was the owner of the Padres in '36 — was the owner of the Salt Lake City team and Stroud pitched for him. … When Lane, who was notoriously cheap, figured out that he couldn't sign Stroud for 1920, he sold the contract to another famous Coast Leaguer who owned the San Francisco Seals, Charlie Graham. In the meantime, Stroud signed with Hanford to pitch. When Charlie Graham couldn't sign him he sold Stroud's contract to the New York Yankees and the Hanford newspaper asked Stroud, 'Are you going to the Yankees?' Stroud said, 'What do you mean go to the Yankees … and take a cut in pay?" There was big money in the San Joaquin Valley League. The San Joaquin Valley League had their own minor league called the Raisin Belt League."
ON INTEGRATED BASEBALL IN CALIFORNIA'S WINTER LEAGUES
Swank: "What happened in 1912 and 1913 … California winter leagues were baseball's first integrated leagues. So black teams would come out and Rube Foster brought out his Leland Giants out of Chicago. In 1912, they just weren't getting enough competition up in L.A. so Rube Foster's Giants spent the winter in San Diego and they played 24 games. Black baseball played a very important role in San Diego. That was one of the few teams we were willing to go pay to watch them play."
ON THE PACIFIC COAST LEAGUE OF THE 1940s AND '50s
Swank: "I moved here when I was 15 and (the Pacific Coast League) was big-time baseball. I think we'd have been better off if the Pacific Coast League had become a third major league."
For more coverage of SABR 49, visit SABR.org/convention.
---
Originally published: July 24, 2019. Last Updated: July 27, 2020.
https://sabr.org/wp-content/uploads/2020/03/research-collection4_350x300.jpg
300
350
admin
/wp-content/uploads/2020/02/sabr_logo.png
admin
2019-07-24 00:55:27
2020-07-27 16:10:15
SABR 49: Listen to highlights from the Early California Baseball History Panel