SABR 49: Listen to highlights from Josh Stein's welcoming remarks in San Diego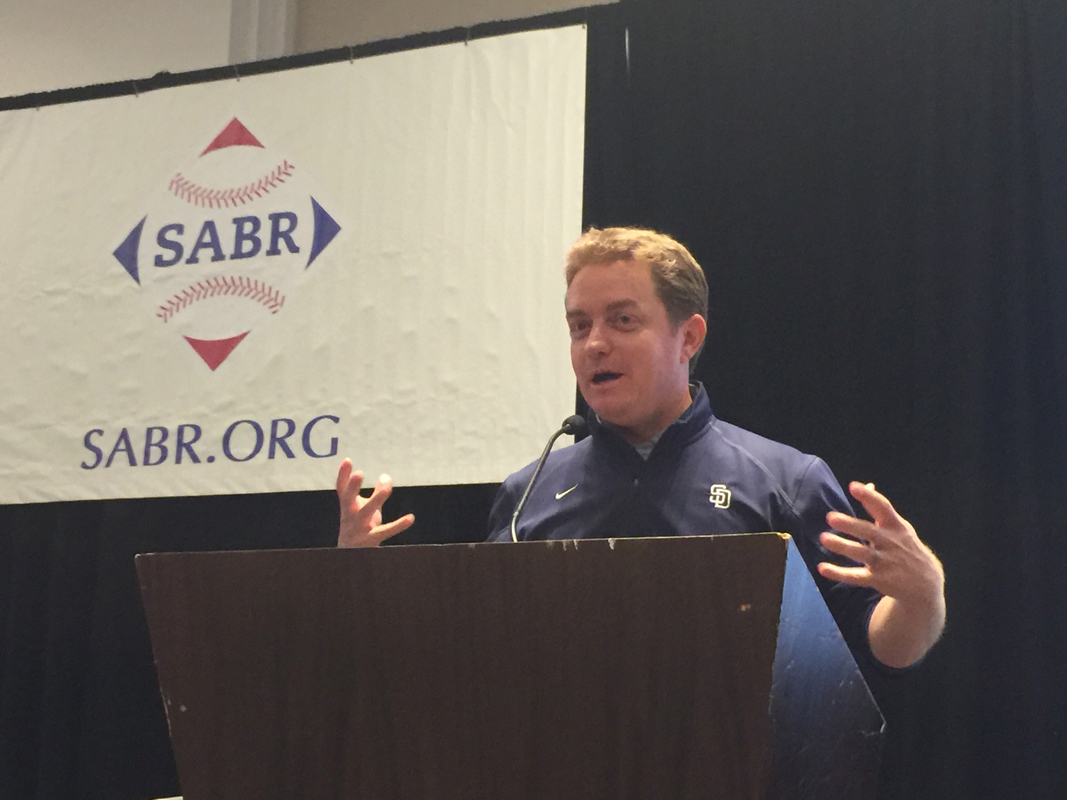 At SABR 49, San Diego Padres Assistant General Manager Josh Stein delivered the welcoming remarks at our 2019 national convention on Thursday, June 27, 2019, at the Manchester Grand Hyatt in downtown San Diego.
Stein is in his sixth season as the San Diego Padres' Assistant General Manager, where he assists in all player acquisitions as well as roster, payroll and budget management. He is involved in all contract negotiations, including coordinating the club's salary arbitration efforts, while also managing the Padres' statistical analysis and video scouting systems.
He first joined the Padres' front office in 2003 as a baseball operations intern and rose through the ranks to become Advance Scouting Coordinator in 2006 and Director of Baseball Operations in 2009 before taking on his current role in 2013. He graduated from the University of California, Berkeley, with a degree in psychology and holds a JD from the University of California's Hastings College of Law.
---
---
Here are some highlights:
ON SAN DIEGO'S AFFINITY FOR BASEBALL
"It's definitely been a blessing. I'm a native San Diegan and the chance to work for your hometown team is a dream come true in many ways. It hasn't been the easiest 17 years. … But San Diego is a great climate for baseball. There's a reason so many great players grew up here. This [local SABR] chapter is named after Ted Williams. … Between Ted and Tony Gwynn, the Boone family, Alan Trammell, Troy Glaus, Eric Chavez, Mark Prior, Cole Hamels … this [place] is a hotbed for a reason. There's a lot of great instruction that happens here in San Diego. All the youth camps and clinics, the San Diego School of Baseball. … It's really popular on the youth level and when we the Padres give the fans something to cheer for, it's fun."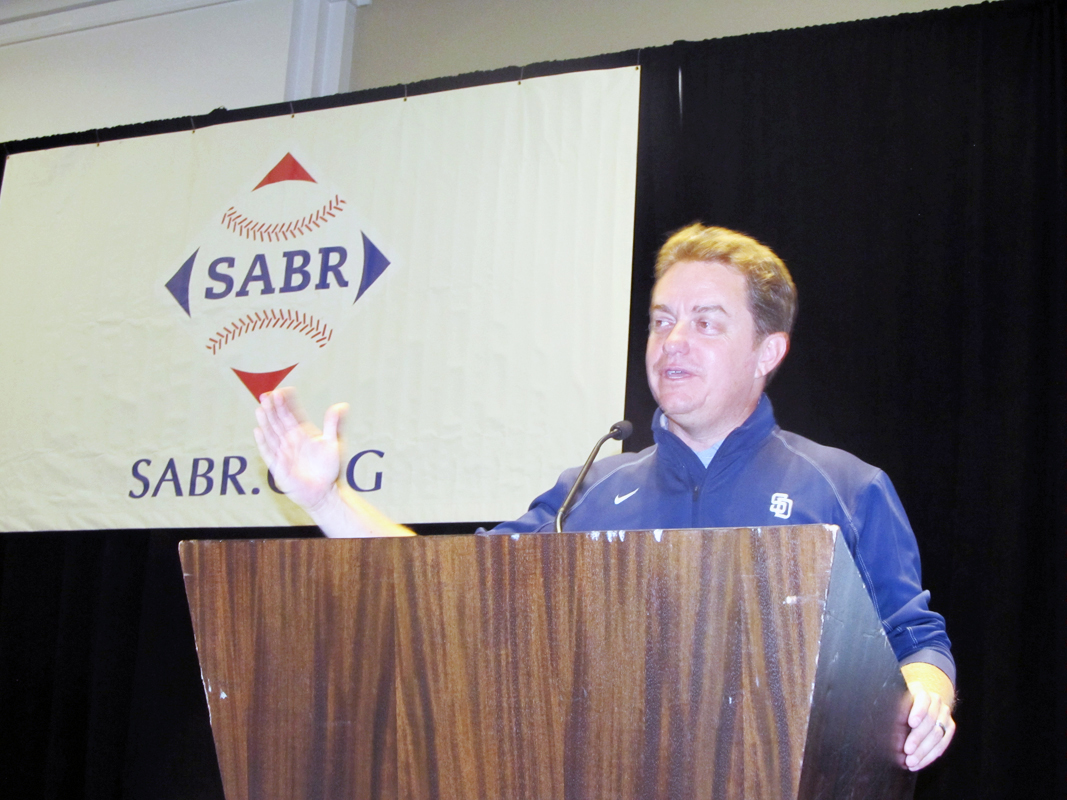 ON THE PADRES' REBUILDING EFFORTS
"The analogy I like to draw sometimes is we're like a large ship. We're a Navy town here, and if you think about an aircraft carrier, if you're going to turn that thing around, you can't just jam that wheel to the left and turn it around in 30 seconds. It's going to take a while. … We've turned the ship around and we're going in the right direction, but we aren't full steam ahead. We recognize what the Dodgers have built and how successful they've been. We play in a very competitive division and we're playing .500 ball right now. That comes with some great play, some dynamic, young, interesting players on the field, but it also comes with inconsistency and going through some of the growing pains that come with breaking into the major leagues."
ON THE PADRES' APPROACH TO TEAM-BUILDING
"Sometimes it gets asked where we fall on the stats vs. scouting spectrum. Probably one of my favorite articles ever written was by Dayn Perry and someone was bashing sabermetrics and getting away from traditional scouting, and Dayn analogized it to beer and tacos. Which one do you want? Well, you're a fool if you don't want both! That's the way we've viewed it in San Diego throughout, and I think the analogy fits. By the way, for those of you visiting, we've always been a great taco town and we've also become a great beer town, too. … We're information hounds, we want as much information as possible. Some of it it's going to be very objective, things we can quantify, and that's getting more complex and detailed and interesting. Some of it's going to be subjective. And if you can take that and put it in its proper context, there's incredibly rich information that goes into decision-making and evaluation."
ON WATCHING FERNANDO TATIS JR.
"To me, he's the most dynamic player this organization has had in a long time. … As a young kid, I remember watching Roberto Alomar in the short time he played for the Padres and thinking, 'Wow, this guy's different.' He was always in the right place in the right time, always hit the baseball with the barrel, and that's how I feel about Fernando Tatis Jr. … He's an exciting player. He tagged up on a popup to second base [to score] from third the other day, I'd never seen that before. It's like Cirque du Soleil, the body contortionism, the way he goes into some of these slides. He's got exceptional ability and feel and instincts for the game."
ON SIGNING MANNY MACHADO TO A $300 MILLION CONTRACT
"We kind of have this identity as a small market. We have a border to the south, an ocean to the west, a desert to the east, and whatever you want to call that big metropolis starting after Camp Pendleton to the north. It's a unique little pocket. … The notion of the San Diego Padres signing what at the time was the largest contract in the history of North American sports, on its face that sounds insane. … We did not circle Manny Machado and say, 'That's our primary target.' … We were at the winter meetings and we broke around midnight from our meetings and the phone rings at 5 a.m. and it's A.J. [Preller, the Padres' GM] and I was very groggy. All I remember him saying was, 'Screw it, let's just sign Manny Machado.' … For us, it was kind of a no-brainer to want to add him. … But especially coming off last October, he was seen as a polarizing player. … And I do think that affected some decision-makers in baseball. But that was an opportunity for the Padres to ask questions and dig deeper. For us, we started talking to people who knew him with the Orioles and knew him in high school. … To a man, it kept coming back as very, very positive. Teammates really liked this guy, they respected how he played. That's more important than a slip of the tongue in an interview or if he goes 110 percent on a hard ground ball to second base. The respect he had for a lot of people in the game, his involvement in the Baltimore community. … As a player, this was a no-brainer. To find a player that young [at age 26) in his prime, that's unique in free agency. All that was already there and all this other stuff kept coming back positive, too. Talking about an investment of this caliber, I don't want to say it was easy, but it gave us a lot more comfort as an organization about him as a person."
For more coverage of SABR 49, visit SABR.org/convention.
---
Originally published: July 3, 2019. Last Updated: July 27, 2020.
https://sabr.org/wp-content/uploads/2020/03/research-collection4_350x300.jpg
300
350
admin
/wp-content/uploads/2020/02/sabr_logo.png
admin
2019-07-03 07:53:32
2020-07-27 16:10:15
SABR 49: Listen to highlights from Josh Stein's welcoming remarks in San Diego