SABR Day Attendance Nearly Doubles in Size in 2011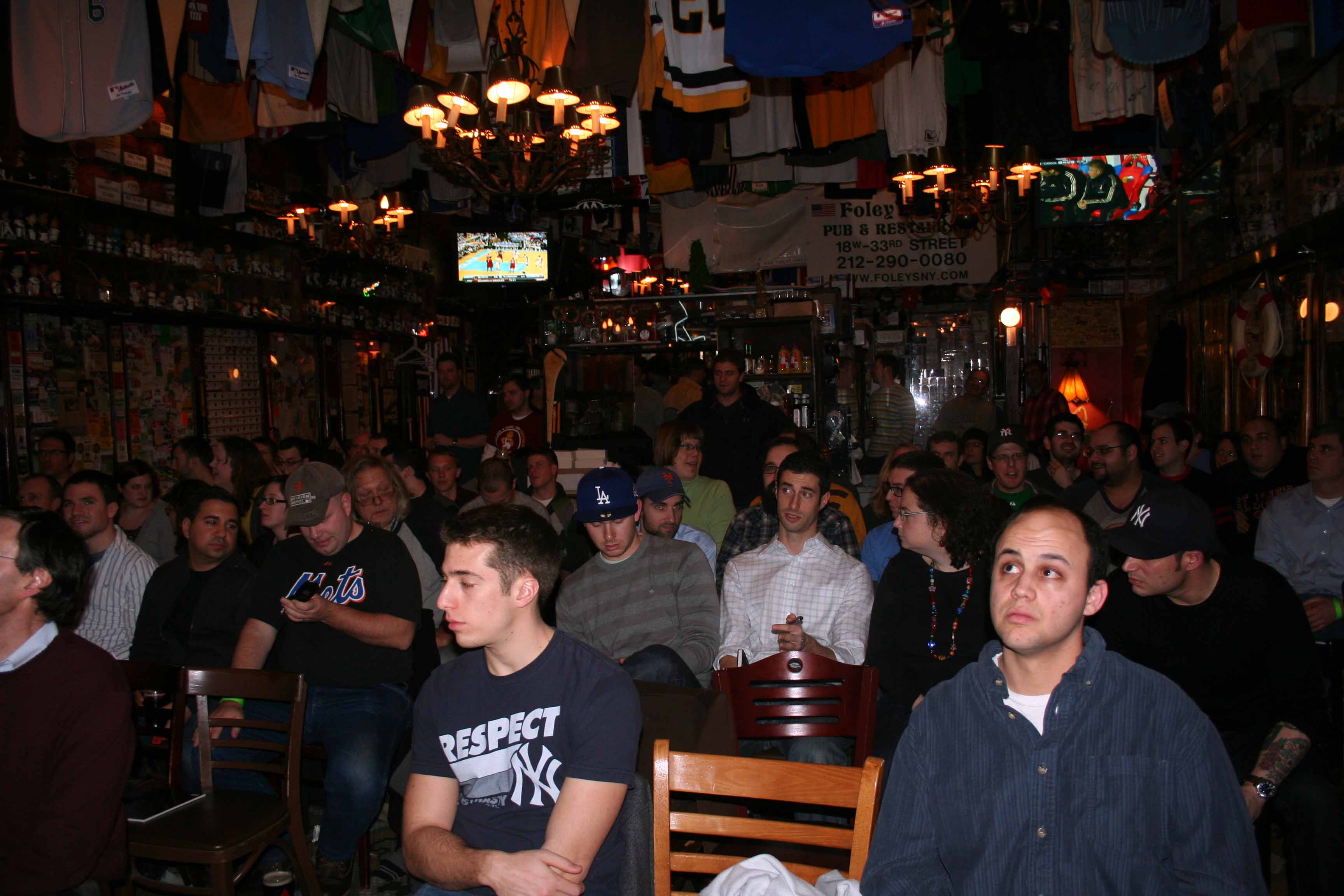 One week before the Super Bowl, before pitchers and catchers even reported to spring training, Society for American Baseball Research members worldwide made it clear they were ready for baseball season.
On January 29, 2011, more than 1,200 people gathered for the second annual SABR Day. The idea was conceived in 2010 as a way to have members come together on the same day regardless of where they live.
---
Videos: To see clips from the Baseball Prospectus 2011 SABR Day Summit, click here.
---
In 40 regional events from New York to San Diego and London to Montreal, SABR members and guests participated in Hot Stove League discussions, delivered research presentations and listened to former major leaguers give talks about their playing days. At Coors Field in Denver, members even played catch with snow on the ground nearby. Like the convention, all SABR Day gatherings are open to the public.
SABR Day attendance in 2011 nearly doubled in size from the inaugural event last year, when more than 600 people gathered in 33 cities.
"SABR Day 2011 was a special Saturday for our members and prospective members," said Marc Appleman, SABR's executive director. "More than 1,200 baseball fans around the world got together at stadiums, restaurants and bars, and the Hall of Fame, to talk baseball, share research presentations and hear from top insiders just weeks before the start of spring training.
"Our second SABR Day was a great success and we're looking forward to making it bigger and better every year."
Appleman spoke at the New York City gathering, the Baseball Prospectus SABR Day Summit, held at Foley's Pub in midtown Manhattan. A packed house listened to panel discussions including SABR members Vince Gennaro, Doug Lyons and Dan Schlossberg; BP writers Kevin Goldstein, Steven Goldman, Jay Jaffe and Ben Lindbergh; Mets announcer Gary Cohen, Royals scouting supervisor Dennis Sheehan, Newsday writer Ken Davidoff, and Cory Schwartz, MLB.com's director of stats.
Five SABR chapters — San Francisco, Sacramento, Pittsburgh, Cleveland and Cooperstown — collaborated on a video conference meeting for a virtual tour of AT&T Park and treasures from the Hall of Fame collection, including a look at Joe DiMaggio's 1936 contract and the Giants' first media guide and yearbook after moving to the West Coast in 1958. (Read full recaps here and here.)
In Arlington, Virginia, more than 150 people gathered for an all-day event featuring Nationals Park architect Marshall Purnell and best-selling author Jane Leavy. Purnell discussed the give-and-take political process when trying to build a $611 million project. Leavy and physicist Alan Nathan, chairman of SABR's Science of Baseball Research Committee, talked about their research into Mickey Mantle's famous 1953 home run out of Griffith Stadium. (Read the full recap here.)
Here are some other highlights from SABR Day 2011:
AGUADILLA, Puerto Rico (Orlando Cepeda Chapter): Nearly 100 members and guests turned out at Colon Stadium, the old home of the Tiburones de Aguadillo in the 1940s, to see a panel of ex-ballplayers that included Jose Cruz Sr. and Juan Beniquez. The players talked for 2.5 hours and it was broadcast live on WHOY radio as the chapter celebrated its fifth anniversary. Angel Colon created a commemorative baseball card set of the guest players that was distributed among the crowd. Jossie Alvarado made a presentation on his book, "Puerto Rico en las Grandes Ligas."
ALBUQUERQUE, New Mexico: Enthusiasm was high as 41 people, including members of the Albuquerque Professional Baseball Hall of Fame Selection Committee, gathered to form SABR's newest regional chapter in a preliminary meeting at Isotopes Park. Presentations were given by SABR members Michael Bassow, Larry Bonura, Craig Eberhart, Jeffrey Laing , along with Gary Herron, a member of the Albuquerque Professional Baseball Hall of Fame Selection Committee. Organizer Kris Shepard said the New Mexico chapter — which was approved by the SABR Board in mid-February — will meet again soon to select officers and talk more baseball.
ANN ARBOR, Michigan (Don Lund, Wally Pipp, Detroit Chapters): Members of the three Michigan-based chapters gathered for lunch at Banfield's West Side Grill and then on to the Gladwin Center. They offered remembrances of all the baseball people with Michigan connections who passed away in 2010, including Sparky Anderson, Ernie Harwell, Steve Boros and Bill Lajoie. Kerrie Ferrell, daughter of Hall of Fame catcher Rick Ferrell, showed off many photographs from her father's career. Dan D'Addona and Rich Newhouse had the top two scores in Peter Morris' trivia quiz. Jon Frankel talked about his continuing research on batter strikeouts from 1897 to 1909. Steve Weingarden talked about the trials of George VanDerbeck, the Tigers owner who lost ownership of the team to his ex-wife.
ARKADELPHIA, Arkansas (Robinson-Kell Chapter): Members gathered at Henderson State University, where former major leaguer Reggie Ritter spoke about his career in baseball and Fred Worth discussed his latest trip to visit ballplayers' graves.
ATLANTA, Georgia (Magnolia Chapter): 21 members got together and enjoyed a meal, some baseball banter and a trivia quiz provided by our friends at Horsehide Trivia.
AUSTIN, Texas (Rogers Hornsby Chapter): A dozen members and guests gathered at the home of Jan and Connie Larson for a pot-luck dinner and baseball talk. Craig Lukshin distributed unopened packs of 1987 Topps cards as "party favors." The group also enjoyed a screening of "Field of Dreams" — which included Mystery Science Theater 3000-style commentary by Jim Baker, a stickler for historical accuracy — and "The Natural."
BOSTON, Massachusetts (SABR Boston Chapter): Attendees found Fenway Park under more than a foot of snow, but that didn't stop Peter Schiller from climbing up to the top of the Green Monster and tossing a ball down to Jim Wyman's waiting hand to the crowd's delight. On the ballpark tour, members were able to view construction on the new electronic scoreboard, as well as offseason repairs to the right-field seats, then they headed off to the warmth of the Bleacher Bar under the center field stands. Wyman attended the Boston and Connecticut events for the second SABR Day in a row.
CHARLOTTE, North Carolina (Charlotte Chapter): Nearly two dozen members gathered at Villa Francesca for an afternoon of lunch and baseball. Ted Reid discussed his recently published book, "Carl Furillo, Brooklyn Dodger All Star" and Francis Kinlaw complemented that presentation by distributing copies of images of Furillo and other players from past Dodgers yearbooks.
CHICAGO, Illinois (Emil Rothe Chapter): Jim Callis of Baseball America spoke extensively on how the MLB draft might be impacted by changes to the collective bargaining agreement, Dan Helpingstine talked about the Cubs-White Sox rivalry from the fans' and players' perspective, and Doak Ewing of Rare Sportsfilms Inc. showed a 1949 White Sox promotional film, featuring color footage of White Sox minor leaguers.
CINCINNATI, Ohio (Hoyt-Allen Chapter): A dozen members and guests met at Xavier University's A.B. Cohen Center, where Doug Wilson discussed his book, "Fred Hutchinson and the 1964 Reds," John Snyder discussed Reds Hall of Famers as ranked by WAR, and Richard Jones made a presentation on his historical project, "Angel Sleeves".
COLCHESTER, Vermont (Gardner Waterman Chapter): Check out a video of Bill Nowlin's presentation on the Boston Red Sox's 1911 spring training tour. Tom Simon also presented on the 1893 University of Vermont baseball team and Ron Anderson talked about Deadball Era-Red Sox outfielder Olaf Henriksen. (See more photos of the event at Duckshots.)
COLUMBUS, Ohio (Hank Gowdy Chapter): International League president Randy Mobley spoke to a group at the Westerville Public Library, and research presentations were given on foul territory and strikeouts; a 1920 Cubs exhibition game in Marion, Ohio, during Warren Harding's presidential campaign; baseball in non-baseball movies; and the 1871 season.
DENVER, Colorado (Rocky Mountain Chapter): A record-setting 66 members attended this event at Coors Field, which culminated in a massive game of catch outside the stadium. Kyle Banister made a poster presentation on Jerry Coleman, the only major leaguer to see combat in World War II and Korea. David Fogel talked extensively about Ted Williams and Rockies insider Walter Sylvester delivered his "Sylvester Report" on the state of the team's minor league system.
FORT LAUDERDALE, Florida (South Florida Chapter): Members took in the Joe DiMaggio Legends Game, featuring more than 50 baseball stars, including Brooks Robinson, Orlando Cepeda, Bill Lee and Minnie Minoso. (See more photos here.)
HAVANA, Florida (Buck O'Neil Chapter): Members gathered for a cookout at the home of Matthew Keelean, and discussed stories, research ideas and chapter business while dining on burgers, hot dogs and brownies.
HOUSTON, Texas (Larry Dierker Chapter): Former major leaguers Larry Dierker (a longtime SABR member), Jimmy Wynn and Monte Irvin spoke to a group of about 90 people at the Houston Sports Museum. (Read the full recap here.)
KANSAS CITY, Missouri (Monarchs Chapter): Justin Bopp of Beyond the Box Score learned that SABR is a lot more than sabermetrics during a meeting at the Trailside Center. Jeff Passan of Yahoo! Sports led a panel discussion on the Royals, while Phil Dixon delivered a rousing presentation on the subject of his new book, Negro Leagues great Rube Foster.
LOS ANGELES, California (Allan Roth Chapter): 1969 Mets outfielder Rod Gaspar spoke to about 30 people at the Second Harvest Food Bank in Orange County, and host Robert Wright recorded members talking about their most memorable baseball moments.
LOUISVILLE, Kentucky (Pee Wee Reese Chapter): Visiting SABR member Andy Strasberg gave his "legendary" presentation on befriending Roger Maris and family — he says he plans to deliver the talk 50 times in 2011, for the 50th anniversary of Maris breaking Babe Ruth's home run record in 1961.
MILWAUKEE, Wisconsin (Ken Keltner Chapter): More than 50 members gathered as Brewers GM Doug Melvin spoke and answered questions, while Larry Granillo delivered a reprise of his "Peanuts Baseball" presentation on Charlie Brown that he gave at last year's SABR convention in Atlanta.
MONTREAL, Quebec (Quebec Chapter): Members met in the offices of Baseball Quebec at Olympic Stadium. Patrick Carpentier and Bill Young made a presentation on Joseph Page, the father of baseball in Quebec.
NASHVILLE, Tennessee (Grantland Rice-Fred Russell Chapter): Farrell Owens, the former Nashville Sounds general manager, stopped by for breakfast for breakfast and so did 1985 Cy Young Award winner Dwight Gooden, in town for a Nashville Old Timers Baseball Association event the night before.
NORWAY, Iowa (Field of Dreams Chapter): Members gathered at the Norway Baseball Museum, about 15 miles west of Cedar Rapids, to watch Steve Ellsberry's DVD of Game 7 of the 1960 World Series — a broadcast that was recently uncovered in Bing Crosby's basement. John Liepa showed off memorabilia from his current research project on Babe Ruth and Lou Gehrig's 1927 barnstorming trip to Iowa. Darrell Hanson brought a DVD of 1953 season highlights, including footage of Iowan Jack Dittmar of the Milwaukee Braves. Mike Coveyou provided a challenging trivia quiz, which was won by R.J. Lesch.
ORLANDO, Florida (Auker-Seminick Chapter): Former Associated Press diplomatic correspondent George Gedda described the state of Cuban baseball, based on his 26 trips to Cuba during his journalistic career. Jim Slattery led a lively discussion about the evolution of bullpen roles and Bob Schaefer traced the evolution of the ball and bat.
PHILADELPHIA, Pennsylvania (Connie Mack Chapter): Former major league pitchers Curt Simmons and Bobby Shantz highlighted the panel at a Philadelphia Athletics Historical Society function in nearby Horsham. Afterward, members repaired next door to Otto's Restaurant for more baseball talk and chapter business. The highlight of the meeting was the Horsehide Trivia quiz, won by Andrew Milner.
ST. LOUIS, Missouri (Bob Broeg Chapter): Nearly four dozen people showed up at Mike Shannon's downtown restaurant to hear broadcaster John Rooney discuss the nuances of TV vs. radio announcing during his 18-year career with the White Sox and Cardinals. Bob Wiesler, a St. Louis native who pitched for the Yankees and Senators in the 1950s, spoke about rooming with Hall of Famer Mickey Mantle. Outgoing chapter president Jim Rygelski gave a presentation on the Cardinals' pennant years, covering streaks and high/low points, and new officers were elected for 2011: Norm Richards, president; Mark Stangl, vice president; Fred Heger, treasurer; Jim Rygelski, secretary. Dwayne Isgrig and Kris Lokemoen were appointed to the chapter's board. Joan Thomas spoke about the chapter's project of putting historical markers at the sites of the city's four major league ballparks. Jon Daniels won the 30-question trivia quiz on St. Louis baseball history, with Mark Antonacci and Bob Meyer tying for second place.
ST. PAUL, Minnesota (Halsey Hall Chapter): Members met at the residence of Kevin Hennessey, where two DVDS were viewed: one was on official scoring plays and the other was the deciding game of the 1967 American League pennant between the Twins and Red Sox.
SAN DIEGO, California (Ted Williams Chapter): Padres assistant general manager Jason McLeod showed off his World Series rings from his days with the Boston Red Sox, while Dave Nuffer combined his two passions, Ernest Hemingway and baseball, into one entertaining presentation. (Sadly, Dave passed away five days after the event.) Geoff Young of Ducksnorts.com discussed the greatest pitching duels of the 20th century, John Ingham made a presentation on the 1967 Pirates and Jim Smith talked about three memorable umpires, Honest John Kelly, Chet Chadbourne and Emmett Ashford. In addition, Dan Boyle, Bob Hicks and David Kinney presented the chapter's "Umpires at Work" project.
SEATTLE, Washington (Northwest Regional Chapter): Five members of the Mariners front office — including GM Jack Zdurenciek and manager Eric Wedge — spoke to a group of SABR members during the Mariners FanFest at Safeco Field. Longtime SABR member Tony Blengino, now a special assistant to Zdurenciek, also spoke about the farm system and the team's expectations for 2011. (Read the full recap here.)
TEMPE, Arizona (Flame Delhi Chapter): Bill Staples talked about the significance of Hank Greenberg's role as a civil rights pioneer in baseball, while Lowell Bailey offered a slightly different perspective: He pitched to the future Hall of Famer in a spring training game while he was at the University of Arizona in the late 1940s. (Bailey said: "He was a little heavy and out of shape, but he could still swing that bat.") Dan Heidel presented his research on sign-stealing by the 1951 Giants, Bob Flynn shared visions of a century past, and Rodney Johnson talked about his job as official scorer for the Arizona Diamondbacks. (Read the full recap here.)
TORONTO, Ontario (Hanlan's Point Chapter): Members and guests from the Society for International Hockey Research and Canadian Football Society met with Bill Humber's "Spring Training for Baseball Fans" class at Seneca College. Each group made a presentation, while Humber discussed 19th-century baseball in Canada and a Horsehide Trivia quiz was held.
Meetings were also held in Hamden, Connecticut, and Metuchen, New Jersey.
In addition, Project COBB — a member of SABR's Chartered Community — celebrated SABR Day with a special feature on keeping score at baseball games in Great Britain during the 1890s.
---
Originally published: February 21, 2011. Last Updated: March 10, 2021.
https://sabr.org/wp-content/uploads/2011/02/SABR-Day-2011-NYC7-scaled.jpg
1707
2560
jpomrenke
/wp-content/uploads/2020/02/sabr_logo.png
jpomrenke
2011-02-21 13:00:30
2021-03-10 02:30:35
SABR Day Attendance Nearly Doubles in Size in 2011