SABR Digital Library: Baseball: The Fan's Game, by Mickey Cochrane
Add a classic baseball book to your collection with the newest title in the SABR Digital Library: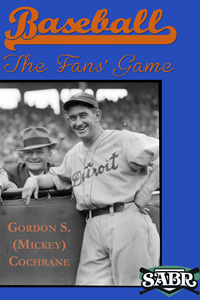 Baseball: The Fans' Game
By Gordon S. (Mickey) Cochrane
ISBN (e-book): 978-1-933599-57-1, $5.99
244 pages
In 1939, John Kieran, a famous sportswriter for The New York Times, said of Baseball: The Fans' Game: "Frankly, this is the best book on baseball that I ever read." It remains one of the best and the SABR is proud to have made it available. SABR first published a paperback replica of the original Funk & Wagnalls 1939 edition in 1992, adding an introduction by Mark Alvarez at that time. Now, an e-book edition has been made available for for all in digital formats. 
Cochrane's book is wonderful for two reasons. First, its tone is real, a true rarity among player-written tomes. Although it's not an autobiography, you'll get a real sense of Mickey Cochrane's personality here, with remarkably little piffle. Second, it's full of nuggets that any baseball fan will treasure. Just look at the topics listed in the table of contents: 
I. BECOMING A PROFESSIONAL

The Chronicle of a Major Leaguer in the Making, from College Campus to the Big Show—The Value of Minor League Training

II. WHAT MAKES A PLAYER

Fundamentals of Sound Baseball—Hitting, Fielding, Throwing and Running—The Importance of Confidence—Slumps and How Some Were Broken—Pointers for Outfielders 

III. LET'S LOOK AT THE LINE-UP

Fundamentals of Catching—Some Sound Pitching Advice—Footwork and the Line-Up

IV. DEFENSE

The Battery and Its Relation to the Defense—The Benefits of a Good Double-Play Combination—Strategy on the Defense—Some Stories of Babe Ruth

V. BATTING

Cobb's System of Batting-Guess Hitting and Sign Stealing—Cultivating Ability to Take a Strike—Attacking Strategy

VI. HIT-AND-RUN, THE BUNT, SIGNS

Defensive Strategy Versus the Big Inning—The Hit and-Run and the Big Inning—Stealing Signs and How Some of the Greatest Signal Burglars Work

VII. HANDLING PITCHERS

Getting the Most Out of Your Stuff—Training Pitcher—The Pressure of a Pennant Race on a Staff-Breaking Down the Effectiveness of an Opposing Pitcher 

VIII. STRATEGY AND PSYCHOLOGY

Importance of the Bull Pen In Winning-Team Tactics—When to Lift a Pitcher—Type of Relief to Have Ready-Essentials of Good Pinch Pitching—"Jockeying" which Started a Losing Streak 

IX. A WORD FOR THE FANS

The Fans Always Write—When Does a Fan Own a Ball Club?—All-Star Teams

X. EPILOGUE

A City Goes Crazy over a Championship Ball Club—What Makes for Success in Baseball—Never Make the Same Mistake Twice
SABR members, get this e-book for FREE!
About the SABR Digital Library

For 40 years, SABR and its members have led the way in publishing the best baseball historical and statistical research. Our publications program is shifting to take advantage of new methods of publishing. Not only will we continue to publish new books like CAN HE PLAY? A Look At Baseball Scouts and Their Profession (released in December 2011); OPENING FENWAY PARK IN STYLE: The 1912 World Champion Red Sox (May 2012); Detroit Tigers 1984: What A Start! What A Finish! (December 2012); Sweet '60: The 1960 Pittsburgh Pirates (April 2013); Inventing Baseball: The 100 Greatest Games of the 19th Century (July 2013), and Thar's Joy in Braveland: The 1957 Milwaukee Braves (May 2014), which showcase the best efforts of SABR's members, chapters and committees, but new technology makes it possible for us to bring out-of-print titles like RUN, RABBIT, RUN: The Hilarious and Mostly True Tales of Rabbit Maranville (February 2012), GREAT HITTING PITCHERS (March 2012), NINETEENTH CENTURY STARS (August 2012); Batting (January 2013) and The Fenway Project (September 2013) back again. Books will be available in digital formats as well as paperbacks produced by "print on demand" (POD).
Stay tuned throughout the year for new (and old!) titles that we'll be adding to the SABR Digital Library. SABR members will get discounted rates for all Digital Library publications. If you're not a member, click here to join SABR.
To view all books in the SABR Digital Library, visit SABR.org/ebooks.
Having trouble downloading our e-books? To view PDF files on your computer, click here to download the free Adobe Reader software. Having trouble downloading e-books to your Kindle, Nook, Sony Reader or iPad? Click here for additional help.
---
Originally published: June 18, 2014. Last Updated: August 5, 2020.
https://h2j7w4j4.stackpathcdn.com/wp-content/uploads/2014/06/cochrane_ebook_cover_200.jpg
300
200
jpomrenke
/wp-content/uploads/2020/02/sabr_logo.png
jpomrenke
2014-06-18 14:35:37
2020-08-05 20:11:10
SABR Digital Library: Baseball: The Fan's Game, by Mickey Cochrane