SABR Digital Library: From Spring Training to Screen Test: Baseball Players Turned Actors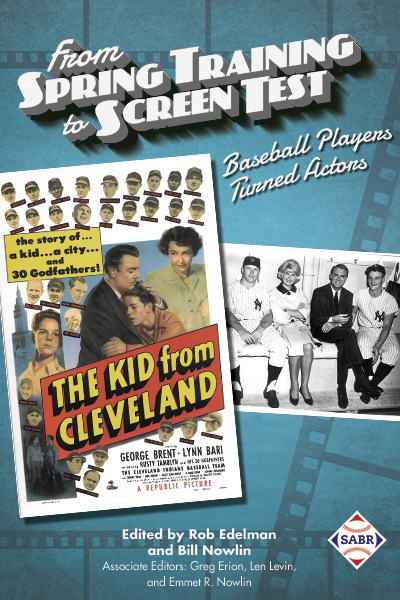 Just in time for the Academy Awards, SABR's book of baseball's "matinee stars" is now available from the SABR Digital Library to add to your collection:
From Spring Training to Screen Test: Baseball Players Turned Actors
Edited by Rob Edelman and Bill Nowlin
Associate Editors: Greg Erion, Len Levin, Emmet R. Nowlin
ISBN (paperback): 978-1-943816-71-2, $19.95
ISBN (e-book): 978-1-943816-70-5, $9.99
410 pages, 8.5″ x 11″  
For well over a century, stars and supporting players on baseball diamonds have become stars and supporting players in the movies, on Broadway, in vaudeville and, eventually, on television and in concert halls. After all, ballplayers are celebrities. Whether on the field or the stage, they are in the business of entertaining the masses. Not surprisingly, many showbiz luminaries have become baseball enthusiasts. They have invested their time, money, and expertise to be part of the baseball world as team owners and fans.
From Spring Training to Screen Test: Baseball Players Turned Actors includes essays by 43 SABR members that connect baseball and show biz. Not every ballplayer who ever made an appearance on screen or stage is included; to do so would result in a mini-encyclopedia. The purpose here is to offer a representative selection of those who crossed the lines between professional sports and popular entertainment. Included are biographies of selected individuals from the famous (Gene Autry, Joe DiMaggio, Jim Thorpe, Bernie Williams…) to the forgotten (Al Gettel, Lou Stringer, Wally Hebert, Wally Hood…) There are other select topics, from baseball on television shows and in Coca-Cola commercials to Jim Bouton's casting as "Jim Barton" in his Ball Four TV series and Don Drysdale playing "Don Drysdale" on The Donna Reed Show, Leave It To Beaver, and The Brady Bunch. Those who will relish the privileged peeks at the off-the-field life and times of Mike Donlin and Edward G. Robinson playing Hans Lobert on the big screen in Big Leaguer will surely savor From Spring Training to Screen Test: Baseball Players Turned Actors.
Contributors include: Audrey Levi Apfel, Eric Aron, Lawrence Baldassaro, Russell A. Bergtold, Jay Berman, Michael Betzold, Charlie Bevis, Ron Briley, Bruce Bumbalough, Frederick C. "Rick" Bush, Alan Cohen, Warren Corbett, Rory Costello, Rob Edelman, Greg Erion, Eddie Frierson, John Gabcik, Eric Hanauer, Bill Hickman, Paul Hofmann, Jay Hurd, Don Jensen, Maxwell Kates, Seamus Kearney, Adam Klinker, Ted Leavengood, Bob LeMoine, Len Levin, Bill Nowlin, Emmet Nowlin, Dan O'Brien, Will Osgood, Mark V. Perkins, Richard J. Puerzer, Gary A. Sarnoff, Mark Souder, Jon Springer, Andy Strasberg, Clayton Trutor, Joseph Wancho, Phil Williams, Gregory H. Wolf, and Allan Wood.
SABR members, get this e-book for FREE!
Buy the book
About the SABR Digital Library

For more than 40 years, SABR and its members have led the way in publishing the best baseball historical and statistical research. Our publications program is shifting to take advantage of new methods of publishing. Not only will we continue to publish new books like Can He Play? A Look At Baseball Scouts and Their Profession (released in December 2011); Detroit Tigers 1984: What A Start! What A Finish! (December 2012); Sweet '60: The 1960 Pittsburgh Pirates (April 2013); Inventing Baseball: The 100 Greatest Games of the 19th Century (July 2013); Scandal on the South Side: The 1919 Chicago White Sox (June 2015); The Team That Time Won't Forget: The 1951 New York Giants (December 2015); Nuclear Powered Baseball/The Simpsons (February 2016), Au jeu/Play Ball: The 50 Greatest Games in the History of the Montreal Expos (April 2016); Cuban Baseball Legends (July 2016), Baseball's Business: The Winter Meetings: 1901-1957 (December 2016); Dome Sweet Dome: History and Highlights from 35 Years of the Houston Astrodome (February 2017), No-Hitters (May 2017), Puerto Rico and Baseball (June 2017), and Bittersweet Goodbye: The Black Barons, the Grays, and the 1948 Negro League World Series (July 2017), which showcase the best efforts of SABR's members, chapters and committees, but new technology makes it possible for us to bring out-of-print titles like Run, Rabbit, Run: The Hilarious and Mostly True Tales of Rabbit Maranville (February 2012), Great Hitting Pitchers (March 2012), Nineteenth Century Stars (August 2012); Batting (January 2013); The Fenway Project (September 2013); '75: The Red Sox Team That Saved Baseball (April 2015), and The 1967 Impossible Dream Red Sox: Pandemonium on the Field (June 2017) back again.
Books will be available in digital formats as well as paperbacks produced by "print on demand" (POD).
SABR members will get discounted rates for all Digital Library publications, including many for free. If you're not a member, click here to join SABR.
Stay tuned throughout the year for new (and old!) titles that we'll be adding to the SABR Digital Library. To learn more about SABR Publications, contact Publications Editor Cecilia Tan at ctan@sabr.org.
Having trouble downloading our e-books? To view PDF files on your computer, click here to download the free Adobe Reader software. Having trouble downloading e-books to your Kindle, Nook, Sony Reader or iPad? Click here for additional help.
---
Originally published: February 26, 2018. Last Updated: August 19, 2020.
https://sabr.org/wp-content/uploads/2019/10/Movies-and-Baseball-ST-to-Screen-Test-cover-400x600-1.jpg
600
400
admin
/wp-content/uploads/2020/02/sabr_logo.png
admin
2018-02-26 18:22:51
2020-08-19 19:39:18
SABR Digital Library: From Spring Training to Screen Test: Baseball Players Turned Actors