SABR Digital Library: Scandal on the South Side: The 1919 Chicago White Sox
Add a salacious baseball book to your collection with the newest book from the SABR Digital Library: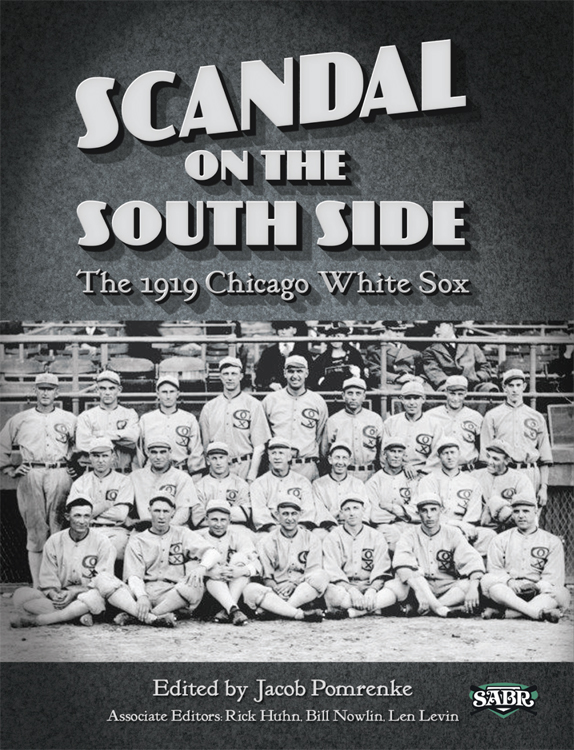 Scandal on the South Side:
The 1919 Chicago White Sox
Edited by Jacob Pomrenke
Associate Editors: Rick Huhn, Bill Nowlin, Len Levin
ISBN (paperback): 978-1-933599-95-3, $19.95
ISBN (e-book): 978-1-933599-94-6, $9.99
8.5″ x 11″, 324 pages
The Black Sox Scandal is a cold case, not a closed case.
When Eliot Asinof wrote his classic history about the fixing of the 1919 World Series, Eight Men Out, he told a dramatic story of undereducated and underpaid Chicago White Sox ballplayers, disgruntled by their low pay and poor treatment by team management, who fell prey to the wiles of double-crossing big-city gamblers offering them bribes to lose the World Series to the Cincinnati Reds. Shoeless Joe Jackson, Buck Weaver, Eddie Cicotte, and the other Black Sox players were all banned from organized baseball for life. But the real story is a lot more complex.
We now have access to crucial information that changes what we thought we knew about "baseball's darkest hour" — including rare film footage from that fateful fall classic, legal documents from the criminal and civil court proceedings, and accurate salary information for major-league players and teams. All of these new pieces to the Black Sox puzzle provide definitive answers to some old mysteries and raise other questions in their place.
However, the Black Sox Scandal isn't the only story worth telling about the 1919 Chicago White Sox. The team roster included three future Hall of Famers, a 20-year-old spitballer who would go on to win 300 games in the minor leagues, and even a batboy who later became a celebrity with the "Murderers' Row" New York Yankees in the 1920s.
All of their stories are included in Scandal on the South Side, which has full-life biographies on each of the 31 players who made an appearance for the White Sox in 1919, plus a comprehensive recap of Chicago's pennant-winning season, the tainted World Series, and the sordid aftermath.
This book isn't a rewriting of Eight Men Out, but it is the complete story of everyone associated with the 1919 Chicago White Sox. The Society for American Baseball Research invites you to learn more about the Black Sox Scandal and the infamous team at the center of it all.
Contributors include: Bruce Allardice, Russell Arent, Steve Cardullo, Brian Cooper, James E. Elfers, David Fleitz, David Fletcher, Daniel Ginsburg, Irv Goldfarb, John Heeg, Rick Huhn, Bill Lamb, Len Levin, Dan Lindner, Adrian Marcewicz, Brian McKenna, Steven G. McPherson, Paul Mittermeyer, Jack Morris, Peter Morris, Rod Nelson, James R. Nitz, Bill Nowlin, Jacob Pomrenke, Kelly Boyer Sagert, Jim Sandoval, Richard Smiley, Lyle Spatz, Steve Steinberg, Brian Stevens, Andy Sturgill, and Gregory H. Wolf.
SABR members, get this e-book for FREE!
Buy the book
About the SABR Digital Library

For 40 years, SABR and its members have led the way in publishing the best baseball historical and statistical research. Our publications program is shifting to take advantage of new methods of publishing. Not only will we continue to publish new books like Can He Play? A Look At Baseball Scouts and Their Profession (released in December 2011); Opening Fenway Park in Style: The 1912 World Champion Red Sox (May 2012); Detroit Tigers 1984: What A Start! What A Finish! (December 2012); Sweet '60: The 1960 Pittsburgh Pirates (April 2013); Inventing Baseball: The 100 Greatest Games of the 19th Century (July 2013); Thar's Joy in Braveland: The 1957 Milwaukee Braves (May 2014); Detroit the Unconquerable: The 1935 Detroit Tigers (December 2014); and Winning on the North Side: The 1929 Chicago Cubs (February 2015), which showcase the best efforts of SABR's members, chapters and committees, but new technology makes it possible for us to bring out-of-print titles like Run, Rabbit, Run: The Hilarious and Mostly True Tales of Rabbit Maranville (February 2012), Great Hitting Pitchers (March 2012), Nineteenth Century Stars (August 2012); Batting (January 2013); The Fenway Project (September 2013); and '75: The Red Sox Team That Saved Baseball (April 2015) back again.
Books will be available in digital formats as well as paperbacks produced by "print on demand" (POD).
SABR members will get discounted rates for all Digital Library publications, including many for free. If you're not a member, click here to join SABR.
Stay tuned throughout the year for new (and old!) titles that we'll be adding to the SABR Digital Library. To learn more about SABR Publications, contact Publications Editor Cecilia Tan at ctan@sabr.org.
Having trouble downloading our e-books? To view PDF files on your computer, click here to download the free Adobe Reader software. Having trouble downloading e-books to your Kindle, Nook, Sony Reader or iPad? Click here for additional help.
---
Originally published: June 11, 2015. Last Updated: March 10, 2021.
https://sabr.org/wp-content/uploads/2015/06/Scandal-on-the-South-Side-1919-WSox-cover-750px.jpg
750
574
jpomrenke
/wp-content/uploads/2020/02/sabr_logo.png
jpomrenke
2015-06-11 12:00:00
2021-03-10 16:01:33
SABR Digital Library: Scandal on the South Side: The 1919 Chicago White Sox