SABR Digital Library: Sweet '60: The 1960 Pittsburgh Pirates
Add a championship baseball book to your collection with the newest title in the SABR Digital Library:
Sweet '60: The 1960 Pittsburgh Pirates
Edited by Clifton Blue Parker and Bill Nowlin
Associate Editors: Ron Antonucci, Clem Comly, and Len Levin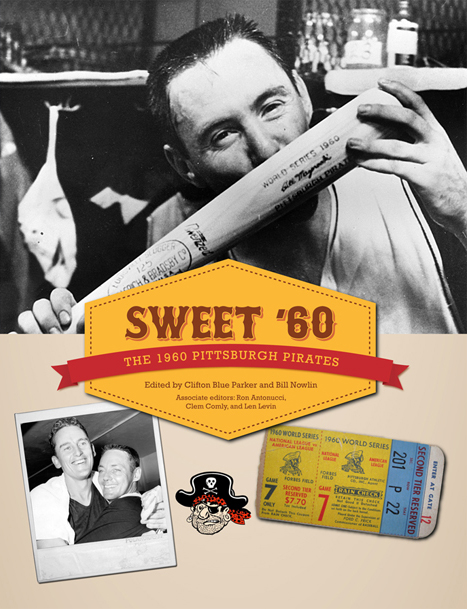 ISBN (paperback): 978-1-933599-489, $19.95
ISBN (e-book): 978-1-933599-496, $9.99
340 pages, 75 photos
Sweet '60: The 1960 Pittsburgh Pirates is the joint product of 44 authors and editors from the Society for American Baseball Research who have pooled their efforts to create a portrait of the 1960 team which pulled off one of the biggest upsets of the last 60 years.
Game Seven of the 1960 World Series between the Pirates and the Yankees swung back and forth. Heading into the bottom of the eighth inning at Forbes Field, the Yankees had outscored the Pirates, 53-21, and held a 7–4 lead in the deciding game. The Pirates hadn't won a World Championship since 1925, while the Yanks had won 17 of them in the same stretch of time, seven of the preceding 11 years. The Pirates scored five times in the bottom of the eighth and took the lead, only to cough it up in the top of the ninth. The game was tied 9–9 in the bottom of the ninth.
At 3:36, Bill Mazeroski swung at Ralph Terry's slider. As Curt Smith writes in these pages: 
"There goes a long drive hit deep to left field!" said Gunner. "Going back is Yogi Berra! Going back! You can kiss it good-bye!" No smooch was ever lovelier. 
"How did we do it, Possum? How did we do it?" Prince said finally, din all around. 
Woods didn't know—only that, "I'm looking at the wildest thing since I was on Hollywood Boulevard the night World War II ended." 
David had toppled Goliath. It was a blow that awakened a generation, one that millions of people saw on television, one of TV's first iconic World Series moments.
With contributions by: Alan Cohen, Alfonso Tusa, Andy Sturgill, Bob Hurte, C. Paul Rogers, Cary Smith, Charles Faber, Clem Comly, Clifton Blue Parker, Curt Smith, Dan Even, Dan Fields, David Fleitz, Dick Rosen, Donald Frank, Gary Gillette, George Skornickel, Greg Erion, Gregory Wolf, Jack V. Morris, James Forr, Jan Finkel, Jim Sandoval, Joe Schuster, Joe Wancho, Joel Goss, Jorge Iber, Mark Miller, Mike Jaffe, Peter Bauck, Rich Westcott, Rob Edelman, Rodney Johnson, Ron Briley, Rory Costello, Skip Nipper, Stew Thornley, Thomas Ayers, Thomas Van Hyning, Tim Herlich, Warren Corbett.
SABR members, get this e-book for FREE!

Buy the book
About the SABR Digital Library

For 40 years, SABR and its members have led the way in publishing the best baseball historical and statistical research. Our publications program is shifting to take advantage of new methods of publishing. Not only will we continue to publish new books like CAN HE PLAY? A Look At Baseball Scouts and Their Profession (released in December 2011); OPENING FENWAY PARK IN STYLE: The 1912 World Champion Red Sox (May 2012); Red Sox Baseball in the Days of Ike and Elvis: The Red Sox of the 1950s (September 2012) and Detroit Tigers 1984: What A Start! What A Finish! (December 2012), which showcase the best efforts of SABR's members, chapters and committees, but new technology makes it possible for us to bring out-of-print titles like RUN, RABBIT, RUN: The Hilarious and Mostly True Tales of Rabbit Maranville (February 2012), GREAT HITTING PITCHERS (March 2012), NINETEENTH CENTURY STARS (August 2012) and Batting (January 2013) back again. Books will be available in digital formats as well as paperbacks produced by "print on demand" (POD).
Stay tuned throughout the year for new (and old!) titles that we'll be adding to the SABR Digital Library. SABR members will get discounted rates for all Digital Library publications. If you're not a member, click here to join SABR.
To view all books in the SABR Digital Library, visit SABR.org/ebooks.
Having trouble downloading our e-books? To view PDF files on your computer, click here to download the free Adobe Reader software. Having trouble downloading e-books to your Kindle, Nook, Sony Reader or iPad? Click here for additional help.
---
Originally published: April 2, 2013. Last Updated: August 5, 2020.
https://sabr.org/wp-content/uploads/2013/04/Sweet_60_cover_510.jpg
609
467
jpomrenke
/wp-content/uploads/2020/02/sabr_logo.png
jpomrenke
2013-04-02 15:31:47
2020-08-05 19:36:44
SABR Digital Library: Sweet '60: The 1960 Pittsburgh Pirates