SABR Digital Library: The Fenway Project
Here's a unique book, now reissued as an e-book from the SABR Digital Library, to add to your baseball collection: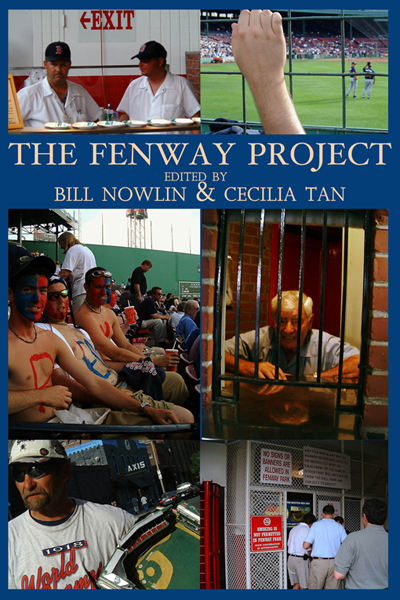 The Fenway Project
Edited by Bill Nowlin and Cecilia Tan
ISBN (ebook): 978-1-93359-950-2, $6.99
ISBN (paperback): 1579400914, $9.95
177 pages, 8.5″ x 11″
On June 28, 2002, more than six hundred members of the Society for American Baseball Research descended on Fenway Park for an interleague contest between the hometown Boston Red Sox and their National League rivals, the former Boston — now Atlanta — Braves, during SABR's 32nd national convention.
Sixty-four of these avid fans, historians, statisticians, and game enthusiasts recorded their experiences for this book, The Fenway Project. Some wrote from privileged views such as inside the Green Monster's manual scoreboard, the Braves clubhouse and the broadcast booth, while others took in the essence of Fenway from the grandstand or bleachers. The result is a fascinating look at Major League Baseball, the Red Sox and their colorful history, the charms and challenges of Fenway Park, and the allure of being a baseball fan.
Including articles on Red Sox/Boston Braves history and the City Series, The Fenway Project combines historical background as only SABR can deliver it with this fascinating "one night at the ballpark" as recorded by 64 observers on the spot. From the man who sang the National Anthem (SABR member Joe Mancuso) to the woman who threw out the first pitch (SABR President Claudia Perry), from a man in the bleachers to a woman in the press box, readers of The Fenway Project will see the game from all angles. 
Includes contributions by: Jean Hastings Ardell, Phil Bergen, Steve Bennett & The Bennett Family, Bob Brady, Steven Wolfgang Brooks, Bob Buege, Anne Campbell, Jeff Campbell, Jim Campbell, Jimmy Campbell, Gene Carney, Ken Carpenter, R. Chamberlain, Randall Chandler, Will Christensen, Richard Cohen, Dick Dahl, Eric Enders, Joe Favano, F.X. Flinn, Michael Freiman, Roy Gedat, Rich Gibson, Irv Goldfarb, Rich Klein, Francis Kinlaw, R.J. Lesch, Glenn LeDoux, Daniel Levine, Howard Luloff, Joseph Mancuso, Peter Mancuso Jr., Skip McAfee, Lawr Michaels, Wynn Montgomery, Andy Moye, Bill Nowlin, Paul Parker, Mark Pattison, Claudia Perry, Fred Peltz, R. Plapinger, Jim Prime, Denis Repp, Susan Riggs, John T. Saccoman, Ryan M. Saccoman, Anthony Salazar, Jim Sandoval, Lyle Spatz, Michael Spatz, Steve Steinberg, Cecilia Tan, Stew Thornley, Scott C. Turner, Zack Triscuit, Lewis Trott, Jeff Twiss, Jay Walker, Angela Jane Weisl, Peter Winske, Saul Wisnia, John Zajc, and Andrew Zinner.
SABR members, get this e-book for FREE!
Buy the book
About the SABR Digital Library

For 40 years, SABR and its members have led the way in publishing the best baseball historical and statistical research. Our publications program has shifted to take advantage of new methods of publishing. Not only will we continue to publish new books like CAN HE PLAY? A Look At Baseball Scouts and Their Profession (released in December 2011); OPENING FENWAY PARK IN STYLE: The 1912 World Champion Red Sox (May 2012); Red Sox Baseball in the Days of Ike and Elvis: The Red Sox of the 1950s (September 2012); Detroit Tigers 1984: What A Start! What A Finish! (December 2012); Sweet '60: The 1960 Pittsburgh Pirates (April 2013); The Year of the Blue Snow: The 1964 Philadelphia Phillies (July 2013); and Inventing Baseball: The 100 Greatest Games of the 19th Century (July 2013), which showcase the best efforts of SABR's members, chapters and committees, but new technology makes it possible for us to bring out-of-print titles like RUN, RABBIT, RUN: The Hilarious and Mostly True Tales of Rabbit Maranville (February 2012), GREAT HITTING PITCHERS (March 2012); NINETEENTH CENTURY STARS (August 2012), Batting (January 2013); and Memories of a Ballplayer: Bill Werber and Baseball in the 1930s (March 2013) back again.
Books will be available in digital formats as well as paperbacks produced by "print on demand" (POD).
SABR members will get discounted rates for all Digital Library publications, including many for free. If you're not a member, click here to join SABR.
Stay tuned throughout the year for new (and old!) titles that we'll be adding to the SABR Digital Library. To learn more about SABR Publications, contact Publications Editor Cecilia Tan at ctan@sabr.org.
Having trouble downloading our e-books? To view PDF files on your computer, click here to download the free Adobe Reader software. Having trouble downloading e-books to your Kindle, Nook, Sony Reader or iPad? Click here for additional help.
---
Originally published: September 25, 2013. Last Updated: August 5, 2020.
https://sabr.org/wp-content/uploads/2013/09/The_Fenway_Project_ebook_cover_400.jpg
600
400
jpomrenke
/wp-content/uploads/2020/02/sabr_logo.png
jpomrenke
2013-09-25 15:04:27
2020-08-05 19:52:46
SABR Digital Library: The Fenway Project