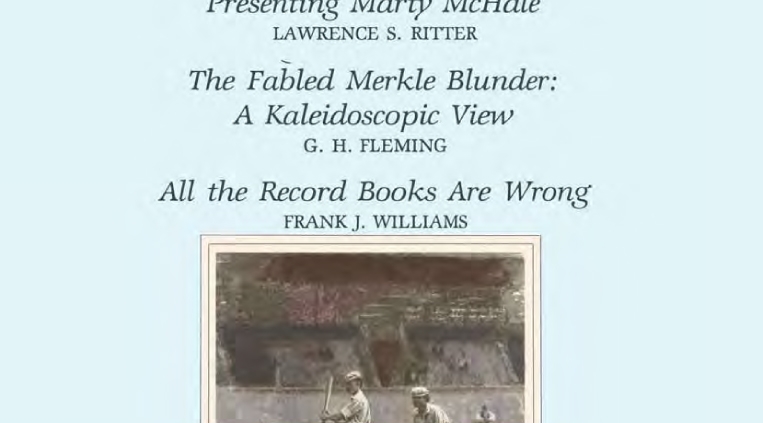 SABR Digital Library: The National Pastime: Premiere Issue (Replica Edition)
Add a landmark baseball journal to your collection with the newest entry from the SABR Digital Library:
The National Pastime: Premiere Issue (Replica Edition)
Edited by John Thorn
ISBN (paperback): 978-1-933599-80-9, $9.95
ISBN (ebook): 978-1-933599-81-6, $4.99
92 pages, 8.5″ x 11″

Back in 1982, the Society for American Baseball Research was still young, barely a decade past its founding, and had grown to some 1,600 members. One of their number, a "defrocked English Lit guy poking around in journalism," suggested to the Board of Directors that SABR, and the world, might benefit from a publication along the lines of American Heritage, only about baseball. Before long that member, John Thorn, found himself at the helm of the newly christened periodical, The National Pastime: A Review of Baseball History.
The very first issue included names we think of today as luminaries in the field of baseball history and analysis: Harold Seymour, Lawrence S. Ritter, Pete Palmer, David Voigt, Bob Broeg, and more. Over the years the significance of that flagship issue has only grown, while the inventory has dwindled. SABR is pleased to present a replica edition here, with the addition of a new preface by John Thorn, now the official historian of Major League Baseball.
Click here to read articles from this issue online at SABR.org.
This issue includes:
Nate Colbert's Unknown RBI Record by Bob Carroll
Nineteenth-Century Baseball Deserves Equal Time by Art Ahrens
Dandy at Third: Ray Dandridge by John B. Holway
How Fast Was Cool Papa Bell? by Jim Bankes
The Field of Play by David Sanders
Ladies and Gentlemen, Presenting Marty McHale by Lawrence S. Ritter
Remembrance of Summers Past by Bob Broeg
The Merkle Blunder: A Kaleidoscopic View by G. H. Fleming
A Tale of Two Sluggers: Roger Maris and Hack Wilson, by Don Nelson
Baseball's Misbegottens: Expansion Era Managers by David Voigt
The Early Years: A Gallery by Mark Rucker and Lew Lipset
The Egyptian and the Greyhounds by Lew Lipset
All the Record Books Are Wrong by Frank J. Williams
Goose Goslin's Induction Day by Lawrence S. Ritter
The Great New York Team of 1927—and It Wasn't the Yankees by Fred Stein
Modern Times: A Portfolio by Stuart Leeds
Books Before Baseball: A Personal History by Harold Seymour, Ph.D.
Ballparks: A Quiz by Bob Bluthardt
Runs and Wins by Pete Palmer
Baltimore, the Eastern Shore, and More by Al Kermisch
David and Goliath: Figures by Ted DiTullio
Double Joe Dwyer: A Life in the Bushes by Gerald Tomlinson
John Thorn is the Official Historian of Major League Baseball, an honor that reflects his incomparable contributions to baseball history. In partnership with Pete Palmer, he created The Hidden Game of Baseball and Total Baseball: The Official Encyclopedia of Major League Baseball, not only a complete record of the game's statistical history, but one that included sabermetric analysis. Thorn served as senior creative consultant to Ken Burns's Baseball, and in 2011, he published Baseball in the Garden of Eden: The Secret History of the Early Game, tracing baseball's American origins back to the 18th century.
SABR is the Society for American Baseball Research, a group of over 6,000 enthusiasts about the game of baseball whose research interests range from the game's history to statistical analysis, records, cultural impact, and more. The BioProject is a SABR effort to research, write, and publish biographies of every player — and every person — ever connected with organized baseball. Anyone with a love of baseball can join SABR and become a part of these efforts.
SABR members, get this e-book for FREE!
Buy the book
About the SABR Digital Library

For 40 years, SABR and its members have led the way in publishing the best baseball historical and statistical research. Our publications program is shifting to take advantage of new methods of publishing. Not only will we continue to publish new books like CAN HE PLAY? A Look At Baseball Scouts and Their Profession (released in December 2011); OPENING FENWAY PARK IN STYLE: The 1912 World Champion Red Sox (May 2012); Detroit Tigers 1984: What A Start! What A Finish! (December 2012); Sweet '60: The 1960 Pittsburgh Pirates (April 2013); Inventing Baseball: The 100 Greatest Games of the 19th Century (July 2013), Thar's Joy in Braveland: The 1957 Milwaukee Braves (May 2014), and Van Lingle Mungo: The Man, The Song, The Players (October 2014), which showcase the best efforts of SABR's members, chapters and committees, but new technology makes it possible for us to bring out-of-print titles like RUN, RABBIT, RUN: The Hilarious and Mostly True Tales of Rabbit Maranville (February 2012), GREAT HITTING PITCHERS (March 2012), NINETEENTH CENTURY STARS (August 2012); Batting (January 2013) and The Fenway Project (September 2013) back again.
Books will be available in digital formats as well as paperbacks produced by "print on demand" (POD).
SABR members will get discounted rates for all Digital Library publications, including many for free. If you're not a member, click here to join SABR.
Stay tuned throughout the year for new (and old!) titles that we'll be adding to the SABR Digital Library. To learn more about SABR Publications, contact Publications Editor Cecilia Tan at ctan@sabr.org.
Having trouble downloading our e-books? To view PDF files on your computer, click here to download the free Adobe Reader software. Having trouble downloading e-books to your Kindle, Nook, Sony Reader or iPad? Click here for additional help.
---
Originally published: December 3, 2014. Last Updated: August 5, 2020.
https://sabr.org/wp-content/uploads/2014/12/The_National_Pastime_No1-cover.jpg
1000
763
jpomrenke
/wp-content/uploads/2020/02/sabr_logo.png
jpomrenke
2014-12-03 22:42:04
2020-08-05 20:25:09
SABR Digital Library: The National Pastime: Premiere Issue (Replica Edition)