SABR Digital Library: Winning on the North Side: The 1929 Chicago Cubs
As we get ready for SABR 45 this summer in Chicago, add a Windy City baseball book to your collection from the SABR Digital Library: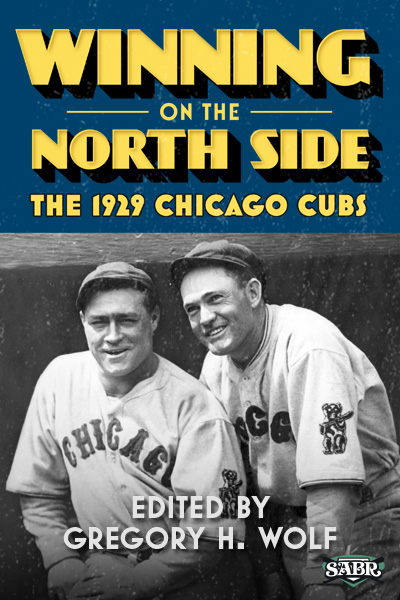 Winning on the North Side: The 1929 Chicago Cubs
Edited by Gregory H. Wolf 
ISBN (e-book): 978-1-933599-88-5, $9.99
ISBN (paperback): 978-1-933599-89-2, $19.95
8.5″ x 11″, 314 pages
"The best team I ever played on was McCarthy's twenty-niners. It was strictly power all the way. No tricky baseball." — Cubs first baseman Charlie Grimm
SABR's newest e-book celebrates the 1929 Chicago Cubs, one of the most exciting teams in baseball history. Bashing their way to the pennant by crushing their opponents in a high-scoring era, skipper Joe McCarthy's North Siders were an offensive juggernaut, leading the majors with 982 runs scored. Future Hall of Famers Hack Wilson, '29 NL MVP Rogers Hornsby, and Kiki Cuyler, along with Riggs Stephenson formed one of the most potent quartets in baseball history, collectively scoring 493 runs and knocking in 520. As awe-inspiring as the Cubs offense was, their pitching was almost as good. Charlie Root, Guy Bush, and Pat Malone anchored a staff that finished second in team ERA and led the league in shutouts.
The Cubs' magical season came to an ignominious conclusion when they faced Connie Mack's Philadelphia Athletics in the World Series. Long before the "lovable loser" moniker was attached to the Cubs, Chicago's crushing defeat in five games helped craft the narrative of fateful losses.
The Society for American Baseball Research (SABR) invites you to read the life and baseball stories of all the roster players and the coaching staff and relive an important part of baseball history. Also included are biographies of club owner William Wrigley, visionary executive Bill Veeck Sr., and Margaret Donahue, the first female executive in baseball history. A summary of the regular season and World Series, as well as essays on the 1929 Athletics, Wrigley Field, Catalina Island, and fate of the Cubs after 1929 round out this volume. With contributions from 26 members of the SABR BioProject, this book is a riveting account of one of the most memorable teams in Chicago sports history.
Contributors include: Bob Buege, George Castle, Greg Erion, Scott Ferkovich, Dan Fields, David Fletcher, Ernie Fuhr, Joseph Gerard, Chip Greene, Nancy Snell Griffith, Zachary Michael Jack, William H. Johnson, Norm King, Russ Lake, Len Levin, Gary Livacari, John McMurray, Paul Mittermeyer, Jack Morris, Peter Morris, Bill Nowlin, James L. Ray, Paul Rogers, Tom Schott, Fred Taylor, and Gregory H. Wolf.
SABR members, get this e-book for FREE!
Buy the book
About the SABR Digital Library

For 40 years, SABR and its members have led the way in publishing the best baseball historical and statistical research. Our publications program is shifting to take advantage of new methods of publishing. Not only will we continue to publish new books like CAN HE PLAY? A Look At Baseball Scouts and Their Profession (released in December 2011); OPENING FENWAY PARK IN STYLE: The 1912 World Champion Red Sox (May 2012); Detroit Tigers 1984: What A Start! What A Finish! (December 2012); Sweet '60: The 1960 Pittsburgh Pirates (April 2013); Inventing Baseball: The 100 Greatest Games of the 19th Century (July 2013), and Thar's Joy in Braveland: The 1957 Milwaukee Braves (May 2014), which showcase the best efforts of SABR's members, chapters and committees, but new technology makes it possible for us to bring out-of-print titles like RUN, RABBIT, RUN: The Hilarious and Mostly True Tales of Rabbit Maranville (February 2012), GREAT HITTING PITCHERS (March 2012), NINETEENTH CENTURY STARS (August 2012); Batting (January 2013) and The Fenway Project (September 2013) back again.
Books will be available in digital formats as well as paperbacks produced by "print on demand" (POD).
SABR members will get discounted rates for all Digital Library publications, including many for free. If you're not a member, click here to join SABR.
Stay tuned throughout the year for new (and old!) titles that we'll be adding to the SABR Digital Library. To learn more about SABR Publications, contact Publications Editor Cecilia Tan at ctan@sabr.org.
Having trouble downloading our e-books? To view PDF files on your computer, click here to download the free Adobe Reader software. Having trouble downloading e-books to your Kindle, Nook, Sony Reader or iPad? Click here for additional help.
---
Originally published: February 5, 2015. Last Updated: August 5, 2020.
https://sabr.org/wp-content/uploads/2015/01/1929-Cubs-cover-400x600.jpg
600
400
jpomrenke
/wp-content/uploads/2020/02/sabr_logo.png
jpomrenke
2015-02-05 09:00:00
2020-08-05 20:45:55
SABR Digital Library: Winning on the North Side: The 1929 Chicago Cubs