SABR member Bill Humber to be inducted into Canadian Baseball Hall of Fame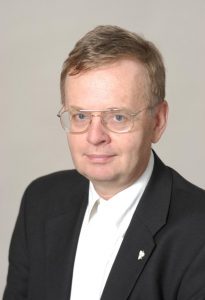 SABR member Bill Humber, Canada's premier baseball historian, will be inducted into the Canadian Baseball Hall of Fame in 2018 along with former Montreal Expos superstar Pedro Martinez and Toronto Blue Jays center fielder Lloyd Moseby. A ceremony will be held on June 16, 2018, at the Hall of Fame grounds in St. Marys, Ontario.
"Each of this year's inductees has had a tremendous influence on baseball in this country," said Scott Crawford, the Canadian Baseball Hall of Fame's director of operations. "Pedro Martinez and Lloyd Moseby are two of the most successful and beloved stars to have played for major league teams in Canada and Bill Humber's commitment to promoting the history of the game in this country has been unparalleled."
On top of the countless presentations about Canadian baseball history that he has done across North America, Humber has also authored several groundbreaking books on the topic, including Cheering for the Home Team (1983), Let's Play Ball: Inside the Perfect Game (1989), The Baseball Book and Trophy (1993) and Diamonds of the North: A Concise History of Baseball in Canada (1995).
The Bowmanville, Ontario, resident was also instrumental in the formation of SABR's Toronto-based Hanlan's Point Chapter and he played a central role in the organization of Toronto's first SABR Convention in 1981. He is also the only Canadian to have served on SABR's Board of Directors, having done so in 1982 and 1983 and then again in 1989.
In 1979, he founded a course called "Baseball Spring Training for Fans" at Seneca College which continues to this day. He has taught the course since its inception. In 1989, he was the driving force behind the "Let's Play Ball: Inside the Perfect Game" exhibit at the Royal Ontario Museum, which celebrated 150 years of Canadian baseball history.
For his contributions, Humber was made an honorary inductee into the Saskatchewan Baseball Hall of Fame in 2004 and is a recipient of the Queen's Golden Jubilee Medal, which is awarded to Canadians who have made outstanding and exemplary contributions to their communities or to Canada as a whole. Humber also serves on the selection committee for Canada's Sports Hall of Fame and for the Clarington Sports Hall of Fame, and in 2006, he was elected to the Black Ice Hockey and Sports Hall of Fame in the writers category. He continues to be a regular contributor on baseball matters to radio and TV shows throughout Canada and the U.S.
"Researching the roots of Canadian baseball, sharing those stories, and celebrating long lost heroes, has been a lifelong passion for me, so to join them in this special place is both an honour and a humbling experience," said Humber after being informed of his induction.
To learn more about the Canadian Baseball Hall of Fame's Class of 2018, visit BaseballHallofFame.ca.
---
Originally published: February 1, 2018. Last Updated: February 1, 2018.
https://sabr.org/wp-content/uploads/2020/03/research-collection4_350x300.jpg
300
350
admin
/wp-content/uploads/2020/02/sabr_logo.png
admin
2018-02-01 13:00:32
2018-02-01 13:00:32
SABR member Bill Humber to be inducted into Canadian Baseball Hall of Fame