SABR member Craig Brown launches 19th-century baseball uniform database
Much of what we know about the history of baseball uniforms we owe to Marc Okkonen. A public relations consultant, freelance artist and writer professionally, Okkonen exhaustively cataloged major league uniforms for his groundbreaking book, Baseball Uniforms of the 20th Century: The Official Major League Baseball Guide, and the Baseball Hall of Fame's companion website, Dressed to the Nines.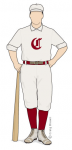 But his research begins with the formation of the American League in 1901. That leaves a large void in early baseball history when it comes to the history of uniforms.
SABR member Craig Brown of Decatur, Georgia, an active member of the Magnolia Chapter, recently launched a new website called Threads of Our Game that displays original uniform designs for a variety of professional and college teams in the 19th century. Brown's research covers the years 1856 through 1900, and he is on the lookout for a more complete visual record of baseball's earliest years.
"The site is designed for baseball historians to submit their local knowledge and expertise," Brown said. "I am looking for the SABR community to send in corrections or any new information about old uniforms. There's a lot of great research already completed and published, and I am hoping Threads can gather in all that is uni-related."
Brown's website was featured last month in a post by SABR member Paul Lukas at Uni-Watch.com:
Here's a sampling of worthwhile tidbits:

The earliest teams all wore long pants, because knickers didn't come along until the 1868 Reds.
Other milestones singled out on the site include the first team name to appear on a jersey, the first city name to appear on a jersey, and the first team with separate home and road unis.
The party line has long been that the first team to wear vests was the 1940 Cubs, but it looks like that honor actually belonged to the 1867 New York Mutuals. (And as an aside, that same team had a really interesting uniform three years later.)
What have we here — a Brooklyn team with untucked jerseys!
And here's another Brooklyn team, this one with argyle socks.
One more from Brooklyn: a team with what appears to have been a bolo hat!
Attention U. of Maryland fans (or anyone else who likes the Maryland state flag): You'll dig the chest emblem worn by the 1872 Lord Baltimore team.
As you've probably noticed by now, most of these teams wore some combination of point collars, chest pockets, chest bibs, neckties, and other unlikely-seeming accessories. Things were very, very different back then.

I could go on, but you're better off exploring the site on your own.
To learn more or help contribute, visit threadsofourgame.com or contact Craig Brown.
---
Originally published: August 18, 2014. Last Updated: August 18, 2014.
https://sabr.org/wp-content/uploads/2020/03/research-collection4_350x300.jpg
300
350
jpomrenke
/wp-content/uploads/2020/02/sabr_logo.png
jpomrenke
2014-08-18 18:38:00
2014-08-18 18:38:00
SABR member Craig Brown launches 19th-century baseball uniform database