SABR Member Paul Dickson Honored by Baseball Reliquary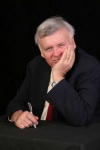 SABR member Paul Dickson was announced Monday as the recipient of the 2011 Tony Salin Memorial Award by the Baseball Reliquary, a Southern California-based nonprofit dedicated to fostering an appreciation of American art and culture through the context of baseball history.
The Tony Salin Memorial Award — named in honor of the baseball historian, researcher, and Reliquarian who passed away in 2001 — was established in 2002 to recognize individuals for their commitment to the preservation of baseball history. Reliqary director Terry Cannon is also a member of SABR.
From Cannon's press release:
Dickson is the author of nearly 60 nonfiction books and hundreds of magazine articles. Although he has written on a variety of subjects from ice cream to kite flying to electronic warfare, he now concentrates on writing about American language, 20th century narrative history, and baseball. Born in Yonkers, New York, Dickson graduated from Wesleyan University in 1961 and was honored as a Distinguished Alumnae of that institution in 2001. After graduation, he served in the U.S. Navy and later worked as a reporter for McGraw-Hill Publications. Since 1968, he has been a full-time freelance writer, contributing articles to various newspapers and magazines, including The New York Times, Los Angeles Times, The Washington Post, Smithsonian, Esquire, The Nation, and Town & Country, and has authored numerous books.

His baseball titles include The Hidden Language of Baseball: How Signs and Sign Stealing Have Influenced the Course of Our National Pastime; The Joy of Keeping Score: How Scoring the Game Has Influenced and Enhanced the History of Baseball; Baseball's Greatest Quotations (which came out in a new and expanded edition in 2007); Baseball: The Presidents' Game; and The Worth Book of Softball: A Celebration of America's True National Pastime. His most recent baseball books are The Unwritten Rules of Baseball: The Etiquette, Conventional Wisdom, and Axiomatic Codes of Our National Pastime and The Dickson Baseball Dictionary: Third Edition, which were both published in 2009; and Baseball Is . . .: Defining the National Pastime, published in 2011.

Originally published in 1989, The Dickson Baseball Dictionary ranks as the author's most popular book. The most authoritative and comprehensive guide to baseball terminology ever compiled, The Dickson Baseball Dictionary was awarded the 1989 Macmillan-SABR Award for Baseball Research (now called the McFarland-SABR Baseball Research Award) and has been hailed as "a staggering piece of scholarship" (Wall Street Journal) and "absorbing and enlightening reading" (Sports Illustrated). An expanded second edition came out in 1999, followed by a third edition in 2009 with more than 10,000 entries and double the size of the original. Dickson is currently working on his first biography, scheduled for publication in 2012, which is tentatively titled The Life and Good Times of Bill Veeck – The Man Who Changed Baseball.

A resident of Garrett Park, Maryland, Dickson is a founding member and former president of Washington Independent Writers and a member of the National Press Club. He is a contributing editor at Washingtonian magazine, has served as a consulting editor at Merriam-Webster, and currently is sports editor with Dover Publications. More information on Paul Dickson can be found at www.pauldicksonbooks.com and www.baseballdictionary.com.
The Tony Salin Memorial Award will be formally presented to Dickson at the Shrine of the Eternals 2011 Induction Day on Sunday, July 17, 2011 at the Donald R. Wright Auditorium in the Pasadena Central Library, Pasadena, California. The festivities will include the induction of the 2011 class of electees to the Baseball Reliquary's Shrine of the Eternals: Maury Wills, Pete Gray, and Ted Giannoulas (The San Diego Chicken).
To learn more about the Baseball Reliquary, visit its website at http://www.baseballreliquary.org.
---
Originally published: May 16, 2011. Last Updated: May 16, 2011.
https://sabr.org/wp-content/uploads/2020/03/research-collection4_350x300.jpg
300
350
jpomrenke
/wp-content/uploads/2020/02/sabr_logo.png
jpomrenke
2011-05-16 14:54:06
2011-05-16 14:54:06
SABR Member Paul Dickson Honored by Baseball Reliquary