SABR Nine: Jacques Doucet, the Voice of the Montreal Expos for 33 years
For 33 years, Jacques Doucet was the radio voice of the Expos, handling play-by-play duties on the French network. From Jarry Park to Olympic Stadium, Doucet witnessed most of the highs and lows spanning the existence of the Expos franchise. In recognition of his remarkable career, in 2004 he received the Jack Graney Award presented by the Canadian Baseball Hall of Fame (an award parallel to Cooperstown

Editor's note: This interview was originally published in the SABR Bulletin in 2005.
By Ryan Chamberlain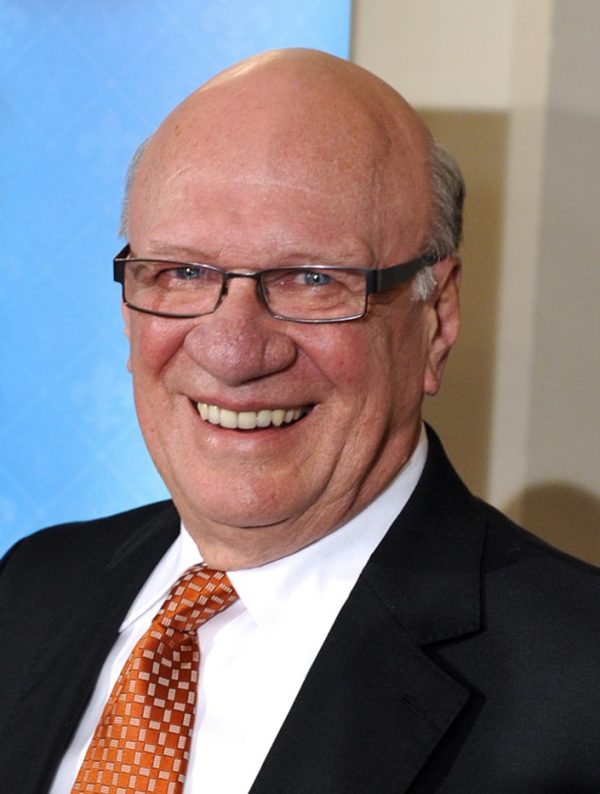 For 33 years, Jacques Doucet was the radio voice of the Expos, handling play-by-play duties on the French network. From Jarry Park to Olympic Stadium, Doucet witnessed most of the highs and lows spanning the existence of the Expos franchise. In recognition of his remarkable career, in 2004 he received the Jack Graney Award presented by the Canadian Baseball Hall of Fame (an award parallel to Cooperstown's Ford Frick Award). And, as his career as a major league announcer began with the Expos, so did it end when the Expos left Montreal and he officially retired.
But as many SABR members know, "retirement" does not necessarily mean "rest." In March of 2005 Doucet became the official spokesperson of Encore Baseball Montreal, an organization that works to promote and help develop baseball, amateur and professional, while allowing baseball fans to discover the rich baseball heritage of North America. As a SABR member, he has been part of the new Quebec chapter formed in February 2005. But it's not all work in his retirement. "My second passion after baseball is fishing … I've got four grand kids now and they all love fishing," said Doucet.
As many members prepare to head north in the coming months to experience Canadian baseball culture at the annual convention, it is only fitting that this month we feature one of the great voices of Canadian baseball in this edition of the SABR Nine.
1. How did you get your start in baseball broadcasting?
About halfway through the first season in '69, the Expos were looking for somebody to pinch-hit for one of the two announcers who was leaving the radio booth to go to the TV booth. And they had tried a couple of guys and it didn't seem to be working … and I was traveling with the ball club and one of the two members of the broadcast suggested that I pinch-hit. I had announced just briefly in 1964 while I was at La Presse … the newspaper was on strike. And during the six-month layoff I did radio broadcast for football with one of the local stations. But that was my only experience, really. I had worked as a script writer for French CBC, so people around the business knew that my French was pretty good. At first I did not do any play-by-play. … I was the [color] analyst. At one point after three or four broadcasts, the guy who was doing the play-by-play says after the third inning, "For the next three innings, here's Jacques Doucet." I said, "What!?" He never talked to me about it [beforehand]. He was also a sportswriter, so he was doubling up. He was working for a morning newspaper, I was working for an afternoon newspaper, so he did have to write a little bit. So maybe it was a chore for him to do the whole nine innings of broadcasting. What helped me was that I was working for an afternoon newspaper so I didn't have a deadline breathing down my neck after each game. So doing the broadcast once a week did not really impair on my ability to do my newspaper or sportswriter's work.
2. Who was your biggest influence?
I had hoped to get a job in hockey but it did not materialize. But there was talk in Montreal of the possibility of major-league baseball coming to the city. I told my boss, "If this happens, baseball is mine." So in the spring of 1968, I was covering a six-day bike race at one of the local arenas, when the guy that was announcing said, "Ladies and Gentlemen, we just heard out of Chicago that the National Baseball League has awarded two franchises, one to San Diego and the other to Montreal!" Obviously, the bikers were competing on that track. .. and the fans just went wild … and the bikers had no idea what the hell was going on because most of them were from Europe. So they started pedaling like crazy because they thought the fans wanted some action. I left the arena in a hurry and drove to the newspaper at La Presse and I walked into the sports department and I told my editor, "This beat is mine." And I got it. I played baseball and football when I was in school. But my dad, when I was growing up in the eastern townships, was a teacher and moonlighted as a sportswriter. He took me every Sunday during the summer to the local stadium where they had some decent baseball. Although I only realized after I got the offer from the Expos that my dad did at one point announce some hockey and baseball on the local station in the little city where I grew up in Granby, Quebec.
3. Does translating an American baseball game to a different language and culture present any unique problems?
Well a lot of people forget that there was baseball in Quebec before the Expos. For a long, long time the Montreal Royals were a farm team of the Dodgers. They were very, very popular in Montreal and were one of the top franchises in International League history. [In terms of translating the game into French] We did improve on the language over the years. I can recall, in maybe 1969, that the local brewery that was our main sponsor with the Expos, O'Keefe Brewery … had a kind of symposium of sportswriters all across the province and we all sat down, everybody, and established a kind of French vocabulary for most of the American terms. But, over the years, we did polish on that … but that [symposium] was the stepping stone, if I may use the expression. The national network, the French CBC, they carried the World Series games in 1952. I remember watching the World Series with my dad every Fall. The only problem I had is that my dad was a Yankee fan and I was a Dodger fan.
4. Early in the Expos history, you were the official scorer for Expos, what were some of the challenges you faced during that period?
I enjoyed it. I had a pretty good teacher, he was from Chicago .. James Enright, he's dead now. He was working at the Chicago Tribune. I remember chit-chatting with him and he gave me some pretty good pointers on how to be efficient as an outfield scorer. I was always open to suggestions. But also, if I felt that my ruling on the play was correct, I stood by it no matter if a player or a manager would try to influence my decision, which did happen from time to time. My first year we [the Expos] had a third baseman by the name of Coco LaBoy … he was 29 years old and a rookie … he hit the ball to left field … and I can't remember who was playing left field for the Padres, but the guy mishandled the ball. I mean he ran in and the ball went over his head or something like that and I called it "E7." Coco was in the running for the Rookie of the Year award and after the game [Expos manager] Gene Mauch got me in his office and said, "Jacques, you know, that left fielder is not a hall of famer … " and I said, "Hey, listen, that ball was catchable … does he play in the majors?" And he said, "Yes, why?" And I said, "A major leaguer should have caught that ball."
5. You were involved in almost every Expos game since the teams inception, what were some memorable moments for you?
As a sportswriter, of course, the first game ever at Shea Stadium … that was an unbelievable emotion. And then the first game in Montreal against the Cards. I remember my boss was next to me in the press box and he was crying! It was the first time ever that major league baseball had crossed the border. I was lucky enough that after only ten days as a beat writer for major league baseball I witnessed my first "no hit, no run" game by Bill Stoneman in Philadelphia at old Connie Mack Stadium. My boss was waiting for me when I got back to the office and said, "You lucky, son-of-bi***." Then as a broadcaster, I had the privilege to broadcast two perfect games … the one by Dennis Martinez and the one by David Cone of the Yankees against the Expos. I also broadcasted another perfect game that was taken off the record book by Pedro Martinez against the Padres. I don't know how many no-hitters … I'd have to look it up. Those games were unbelievable. Naturally, the 1981 championship series between the Expos and the Dodgers for the national league eastern division championship. … That was quite an experience.
6. Do you get asked about the infamous "Blue Monday" game much?
Yes I do, and my answer is always the same: Yes, Steve Rogers gave up that home run but they forget that he beat Steve Carlton twice just the week before! know it's tough to bring in a starter as a reliever, but I mean he was the ace of the staff.
7. Is it true that you taught French lessons to some of the Expos players and coaches?
Yes, for awhile the Expos management asked me if I would give French lessons to the players when we were on the road and it was fun. I used to teach it phonetically because you didn't have time to do it too extensive grammatically. A lot of the Latin boys like Dennis Martinez and others really enjoyed it … they were regulars. We used to have about a one-hour course per city we were visiting. They would lease a suite or a ball room or something like that and supply me with a blackboard … stuff like that. We used to get seven or eight guys who would show up on a fairly regular basis and I would teach them words to get along if they went to a gas station, or a supermarket … or something like that. It was basic.
8. You called games in both Jarry Park and Olympic Stadium. What memories do you have of both and which ballpark did you prefer?
Well, I would say Jarry Park was the most fun on account of the closeness of the fans. We were close to the action the action and everything but it was not really suited for major league baseball. It was a minor league park that was upgraded and the salaries were pretty low at the beginning so it was fun. But we only had about 27,000 seats, I remember … 7,000 of those were bleachers. And, if you were seated beyond third base or first base you could develop a stiff neck watching the game. Of course, moving to Olympic Stadium gave us larger crowds, but we were far from the action broadcasting-wise … fanwise also. And although they spent millions on trying to upgrade the situation … bring the action closer to the fans … it was never really a baseball stadium. It's too bad … especially because the roof was not installed in the beginning. When it was installed, the roof had already begun to rot because it was in storage for about ten years. It's a pity, because for the few times that it did work it was quite an experience seeing the roof get up and get down. But Olympic Stadium was never really a true major-league baseball stadium. The slopes of the seating was not conducive for the fan to be close to the action. I know Mayor Jean Drapeau at that time applied a lot of pressure on our then owner Charles Bronfman to move to Olympic Stadium … although there had been talk just before we did move that Mr. Bronfman could build his own stadium … but it did not materialize.
9. In your experience, have you seen any difference in the way Canadians respond to baseball in contrast to Americans?
Not really. Maybe in Montreal the fans are more interested in a winner. They don't look at the sport event as a big happening as much as they do in the States. Maybe because at Olympic Stadium there was no outdoor parking spaces where everyone has a tailgate party like they have in the States. I remember being in San Diego in '84 … the Tigers played the Padres for the World Series and some fans in San Diego spent a week in the parking lot without even getting into the stadium. In Montreal you could not get that kind of activity prior or after a ball game because there was no outdoor parking lots because everything was indoors or in side ball.
---
Originally published: April 11, 2005. Last Updated: April 11, 2005.
https://sabr.org/wp-content/uploads/2020/03/research-collection4_350x300.jpg
300
350
admin
/wp-content/uploads/2020/02/sabr_logo.png
admin
2005-04-11 16:22:00
2005-04-11 16:22:00
SABR Nine: Jacques Doucet, the Voice of the Montreal Expos for 33 years