Scouts on screen: An interview with "Trouble With The Curve" screenwriter Randy Brown
Editor's note: This article first appeared in the SABR Scouts Committee's October 2012 newsletter.
By Rob Edelman
Trouble With the Curve is not a movie for sabermetricians. While it underscores the essential role that scouting plays in the process of sniffing out and evaluating wannabe professional ballplayers, it is unambiguously old-school in its portrayal of its central character: a veteran scout who spurns stat sheets and computers as replacements for eyes, ears, and instincts.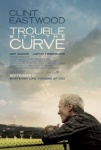 Released in September 2012, exactly one year after the screen version of Moneyball, the film features 82-year-old Clint Eastwood as Gus Lobel, an aged — rather than aging — scout who toils for the Atlanta Braves and treks from small town ballpark to small town ballpark in search of baseball talent. Gus is described as "one of the best scouts baseball has ever seen," and he understands that "good scouts are the heart of the game." He is crotchety, to be sure, as a number of other recent Eastwood characters have been, but his mind remains sharp even as his eyesight is failing.
To Gus, an artist is neither Rembrandt nor Van Gogh nor Picasso, but a pitcher who can "paint the corners." He disdains sabermetrics — he observes that "anybody that uses computers don't know about the game" — and he is prideful of his ability to "spot talent from an airplane." Yet the mere sound of a ball coming off a bat will tell him all he needs to know about a hitter's ability. Gus is, indeed, a true baseball lifer. While visiting his late wife's grave, he even declares, "May the lord grant you extra innings."
One of the villains in Trouble With the Curve is Gus's polar opposite: Phillip Sanderson (Matthew Lillard), a surly new-breed scouting exec who is contemptuous of Gus and his instincts. Sanderson doesn't see the purpose of going to a ballpark and observing a prospect. All he needs is his computer and a handful of statistics. As the scenario plays itself out, Sanderson is proven to be oh, so wrong. Among the ballplayers, the central heavy is Bo Gentry (Joe Massingill), a high school slugger who is being scouted by Gus. The egocentric Gentry bullies his teammates and, to his eventual regret, chides a fellow student by calling him "peanut boy" because he hawks peanuts in the stands.
Another character who plays a significant role in Trouble With the Curve is Mickey (Amy Adams), Gus's tough-minded daughter, a high-powered lawyer who is hoping to earn a partnership in her firm — even though, clearly, she knows her baseball and belongs by Gus's side, scouting talent. But there are long-simmering issues between father and daughter that need to be resolved. Then there is Johnny (Justin Timberlake), a former hot pitching prospect who was signed by Gus, but who blew out his arm after seeing limited time in the majors. Johnny now is scouting for the Boston Red Sox — and his presence makes for a convenient love interest for Mickey.
Randy Brown is the screenwriter of Trouble With the Curve. It is his first produced feature film, and he was interviewed on October 4, 2012, a couple of weeks after the film's premiere.
Rob Edelman: Can you tell me a bit about yourself? When did you first become interested in baseball?
Randy Brown: I grew up in Northern California. My baseball background is Little League, Pony League, and a little high school baseball. In Pony League, I played shortstop and, when I was thirteen, fourteen, fifteen, I was a baseball nut. But then I began getting into school plays, and decided I wanted to be an actor. So I stopped playing baseball. I knew I wasn't going to be a major leaguer, and so I set my sights on acting.
After high school, I did some community theater in the Bay area. Then I moved to New York City to be an actor. I studied at the HB (Herbert Berghof) Studio, did some commercials, did a little soap work, (and then) I moved to L.A. When I was still acting, I wrote my first script. It was a romantic comedy. It didn't sell, but it was well received by those who read it. So there was potential for me as a writer. I went to UCLA and took some extension writing classes. I (eventually) wrote episodes of the TV series The Sentinel and Twice in a Lifetime, and did rewrite work.
Edelman: How did you get into screenwriting? And what is the genesis of Trouble With the Curve?
Brown: I've written probably ten scripts and twenty drafts — maybe more. I want to emphasize that Trouble With the Curve was not my first script. I chose this subject because, well, I just know baseball. As a kid, I'd read the box scores every day and I knew baseball trivia. But what really inspired me more than anything else was Jerry Maguire (the 1996 film which stars Tom Cruise as a sports agent). That's one of my favorite movies.
As for the story's setting, my parents were from the South, from North Carolina and Mississippi. So I have southern roots in my DNA. I became familiar with Asheville (North Carolina) and the surrounding area, and that's where I set the movie.
I originally envisioned Trouble With the Curve as a romantic comedy about two scouts who were going after the same player. But in the writing, it eventually became more of a father-daughter story.
Edelman: While watching Trouble With the Curve, I kept thinking that, in its way, this film is the anti-Moneyball. In Moneyball, the old-school scout is shown to be outdated. The hero is the 'new breed': the college grad who majored in economics and uses Bill James-style statistical analysis to evaluate players. Yet it is just the opposite in Trouble With the Curve. Did you have Moneyball in mind when you wrote the screenplay?
Brown: Not at all. I wrote the script about ten years ago, before Moneyball was published and certainly before it was made into a film. For years, (the script) was sitting in a drawer. But then, a few years back, I read an article in the L.A. Times, a profile of an old scout for the (Los Angeles) Dodgers who was much like Gus in that he was an 'old school' guy. I got a little nervous; I was hoping that someone wasn't going to read this article, get it in his head that it might make a film, and write a screenplay of his own. This is the sort of thing that goes on all the time here in L.A.
But at the same time, this article only added to my admiration of a scout like Gus. So I took (the script) out last year, did some work on it, and got it to Malpaso (Clint Eastwood's production company).
So my film was not written as an answer to Moneyball. Moneyball was a dynamite movie — great for what it was. But I think that there is a place in baseball for both (approaches to scouting prospects). The case may be made for technology; the use of technology is important. But the human element cannot be replaced.
To me, this is a no-brainer. If (scouting) was just about the Moneyball approach, why doesn't every team do that? Why doesn't every team use the technology in the way that (Oakland A's General Manager) Billy Beane does? Why isn't it duplicated by all the other teams? Why isn't who you are putting on the field only based on statistical analysis?
For after all, if the A's (of the early 2000s) didn't have their three pitchers … If they didn't have (Mark) Mulder, (Barry) Zito, and (Tim) Hudson, are we having this conversation about Moneyball? What Billy Beane did was bold and innovative. But without those three pitchers … The A's did not accomplish what they did without the three pitchers. This I don't think was (emphasized) in Moneyball. In other words, (a team's success) will be based on more than the statistical angle.
Edelman: How did you research? Did you speak with real-life scouts? Did you hit the road with them?
Brown: I spoke to some scouts on the phone. No road trips; I didn't travel with them. I'm embarrassed to say I don't remember names. I spoke with one of the local (Los Angeles) Angels (of Anaheim) scouts a few years ago, and one who was with the Braves. The Angels' scout was a former player. (Later on, Brown recalled that his contact was Darrell Miller, who spent parts of five seasons with the then-California Angels in the mid-1980s and now is director of Major League Baseball's Urban Youth Academy.) So was the Braves guy; he played minor league ball, and he was around during the film's shoot. (ed. note: Malpaso's Jessica Meier reported that this scout was Brian Bridges.)
They were extremely helpful to me — and my hunch is that their experiences as ballplayers made them better talent evaluators. If you've done it yourself, you're gonna understand it better than someone who hasn't (played ball). And also, while I was writing the screenplay I was looking for an angle, for something having to do with evaluating a ballplayer that might go unnoticed by most scouts. Now sure, scouts sit around and talk, and a subject just might be what might be overlooked. And I asked, 'What would be missed most often by a scout in judging talent?' An answer was that a prospect might have a problem if the scout noticed that his hands drifted (while he was at the plate). So I had my angle. I was able to incorporate this into the story, in relation to Gus and his daughter and their scouting of Bo Gentry.
Edelman: Tell me about Bo. Is he just an egomaniacal ballplayer, a convenient villain, or is he meant to represent the 21st century ballplayer who is as interested in signing endorsement deals as hitting baseballs?
Brown: The answer is both. I needed an antagonist, so I created Bo. But there is the other issue … Bo's (obsession with) endorsements is my commentary on the commercialization of pro athletes. I don't want to pass judgment here, but I had (a certain former Bay Area ballplayer) in mind when I was creating Bo. I just thought of the attitude that some of the superstar athletes have. All of this was combined in my creation of Bo.
Edelman: And speaking of how characters come to be created: Is the character of Gus based on a specific individual, or is he a combination of individuals?
Brown: Gus is a completely fictional character. He is not based on any real-life person. My scouting contacts were strictly for research and authenticity.
Edelman: Now regarding authenticity, were you going for this while writing the script? Did you want to explore the real-life struggles and issues relating to scouting? Were you primarily interested in making an entertaining film? Or was it a combination of both?
Brown: I did my best to be as true to the scouts as I could be. But if I was just interested in telling the story of the scouting profession, (the film) would be a documentary. If you want to get a (Hollywood) movie made, it's got to be entertainment. Even a story that's based on real people or events has got to be dramatized, and even fictionalized, in order to make it entertaining. But I did as much research as I could, because a sense of accuracy was important. And Clint also researched the part. He also spoke with scouts.
I also want to mention the character of Jack here. Jack becomes a scout just so that he can stay in the game. And also, he hopes that this will be a stepping stone for him. (In this regard), scouting becomes an avenue that will allow ex-ballplayers to stay in the game.
But make no mistake about it: Scouting is not a glamorous job. It is hard work. It is long hours spent on the road. But for guys like Gus — a guy who is a true scout, and a purist — scouting is a way of life, a lifetime pursuit. Gus is a true baseball man, and this is a point that I wanted to get across in the story.
I certainly hope that scouts who see the movie will be entertained — and will feel that at least some of what they see on screen is accurate, and shows scouts in a positive light.
Edelman: Do you have anything to add about the scouts we see with Gus at the various ballgames? Are they meant to represent anything, or are they just local color?
Brown: At most games, there will be more than one scout. I wanted Gus to be seen with his peers, guys who travel from town to town to check out prospects. It can be said that you have the brotherhood of players. Well, you also have the brotherhood of scouts.
Edelman: Now speaking about the one scout that is the center of the film, did you have Clint Eastwood in mind for the role of Gus?
Brown: When I was writing the script, Paul Newman was still with us. I had him in mind, but I knew that it would be unlikely that he would do it. But to eventually get Clint Eastwood, well … the fact that he wanted to do it was gigantic.
Edelman: While watching the film, and learning that Gus's daughter was named Mickey, I was wondering if this character was named for a baseball Mickey — Mantle, perhaps, or Cochrane. But this question was answered for me when Mickey explains that she was, indeed, named for Mantle, who is her father's favorite player. Any comment?
Brown: I named the character 'Mickey' just for that reason. Some girls are called 'Mickey,' which is short for 'Michelle. Given who Gus is, and given that Mickey Mantle was Gus' favorite, it is completely logical that his daughter would be called 'Mickey.'
Edelman: Is there any reason why you chose to make the character of Mickey a woman, rather than a man? Does this in any way relate to Clint Eastwood's late-career propensity for offering portrayals of strong women, which he does in another sports film, Million Dollar Baby?
Brown: This character already was in the script before Clint saw the script. I wanted a strong female character in the story. I heard from Robert Lorenz, the film's director, who has worked for Malpaso for many years and who reads all of Clint's material. He told me that this was something that (Clint) hadn't done before. He was not referring to the baseball angle, but to a father-daughter relationship.
Edelman: There are no scouts in the Baseball Hall of Fame. You have, of course, players and umpires and executives, and you have awards for journalists and broadcasters. But no scouts. Do you think they belong in the Hall?
Brown: Absolutely. Without a doubt. (Atlanta Braves President) John Schuerholz told me that he's been lobbying to have a scouts' section. I have no idea when or if this ever will happen.
Edelman: What does it feel like to write dialogue and then hear it recited by the likes of Clint Eastwood, Amy Adams, John Goodman, Justin Timberlake?
Brown: I wish I could describe it in words better than 'surreal' and 'unreal.' But that's what it was. It's hard to believe. I live in L.A., and driving around and seeing billboards with Trouble With the Curve and Clint Eastwood's name on them … I just have to pinch myself. I was at a Dodgers game last night. They were playing the Giants, who are my favorite team, and the film's ads were everywhere. Every wish I ever could have imagined has happened.
Edelman: And finally, here is a trivia question: In what Clint Eastwood movie does he get to swing a bat in a baseball game?
Brown: I really don't know. Thunderbolt and Lightfoot?
Edelman: No, this film dates from the late 1950s. It's titled Lafayette Escadrille, and it's the story of a famous French flying squadron of the World War I era that was manned by American flyers. One of them, a supporting character, is played by Eastwood and, in one scene, the boys play baseball — and you get to see the Eastwood character with the bat.
Brown: I'll have to check that one out …
To read Rob Edelman's sidebar article, "Eyes Versus Stats," download the SABR Scouts Committee's October 2012 newsletter here.
ROB EDELMAN teaches film history at the University at Albany. He is the author of "Great Baseball Films," a frequent contributor to John Thorn's "Base Ball: A Journal of the Early Game," and he has written on baseball and baseball films for dozens of publications. His article, "Baseball Scouts in the Movies," appears in "Can He Play: A Look at Baseball Scouts and Their Profession" (SABR, 2011), edited by Jim Sandoval and Bill Nowlin. To learn more about the SABR Scouts Committee, click here.
---
Originally published: October 31, 2012. Last Updated: October 31, 2012.
https://sabr.org/wp-content/uploads/2020/03/research-collection4_350x300.jpg
300
350
jpomrenke
/wp-content/uploads/2020/02/sabr_logo.png
jpomrenke
2012-10-31 16:49:18
2012-10-31 16:49:18
Scouts on screen: An interview with "Trouble With The Curve" screenwriter Randy Brown