Seamheads.com updates Negro Leagues Database with 1941 stats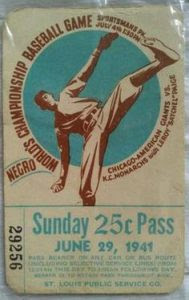 We are pleased to pass along this update from SABR member Gary Ashwill at Seamheads.com on August 6, 2016:
For the second year in a row, the Negro Leagues' best player, Josh Gibson, played in the Mexican League instead of with the Homestead Grays. For the standings at least, it didn't matter as Homestead finished first for the fifth consecutive year. The Grays were a very veteran team by 1941. Thirty-three year old first baseman Buck Leonard was the MVP of the NNL, with an AVE/OBP/SLG of .354/.477/.696 in 198 Plate Appearances. The pitching was led by also thirty-three year old Ray Brown, who went 11-5 with a 2.85. Most amazingly, the "10th man" in the lineup, forty-five year old third baseman Jud Wilson, hit .444/.515/.633 in 106 PA's.

Just as in 1940, 2nd and 3rd place in the NNL belonged to the Baltimore Elite Giants and the Newark Eagles. With Josh Gibson out of the league, the best NNL catcher was Baltimore's nineteen year old Roy Campanella, who hit .345/.418/.644 in 100 PA's. Left fielder Bill Hoskins hit .367/.413/.669. On the mound veteran Bill Byrd was 8-3 with a 2.02 ERA for Baltimore. In contrast to Homestead, Newark had an extremely young team. Twenty-two year old short stop Monte Irvin hit .401/.450/.639 in 169 PA's while twenty-four year old Leon Day moved away from regular pitching, splitting his time between centerfield and second base, and hitting .320/.367/.524.

Over in the Negro American League, the Crawfords franchise was now completely gone, while the Cleveland Bears moved south to become the Jacksonville Red Caps. But at the top of the league, it was once again the Kansas City Monarchs, who like the Grays had the league's best overall record for the fifth year in a row. And while the Negro Leagues were missing one big star in Gibson, they got one back, with Satchel Paige returning to the Monarchs after several years of injury and contract issues. The thirty-five year old Paige overall went 5-0 with a 2.15 ERA in 37 innings and struck out a league leading 25% of batters faced. But Paige wasn't the Monarchs' best pitcher – that would be Hiton Smith, the 'relief pitcher' who went 7-0 with a 1.42 ERA in 50 innings. Smith also batted .435/.480/.609 in 26 PA's. Right fielder Ted Strong hit .325/.456/.602 while center fielder Willard Brown batted .321/.378/.550.

The Birmingham Black Barons, who finished second, were beginning to build a good, young team to challenge the Monarchs. Twenty-three year old first baseman Lyman Bostock led them with .378/.410/.541 at the plate.
Read the full article here: http://seamheads.com/blog/2016/08/06/negro-leagues-db-update-1941-nnl-nal/
To view the award-winning Seamheads Negro Leagues Database, visit http://www.seamheads.com/NegroLgs/index.php
Related links:
---
Originally published: August 11, 2016. Last Updated: July 16, 2020.
https://sabr.org/wp-content/uploads/2020/03/research-collection4_350x300.jpg
300
350
admin
/wp-content/uploads/2020/02/sabr_logo.png
admin
2016-08-11 14:17:17
2020-07-16 16:57:38
Seamheads.com updates Negro Leagues Database with 1941 stats