The Sporting News Baseball Player Contract Cards Collection is now available online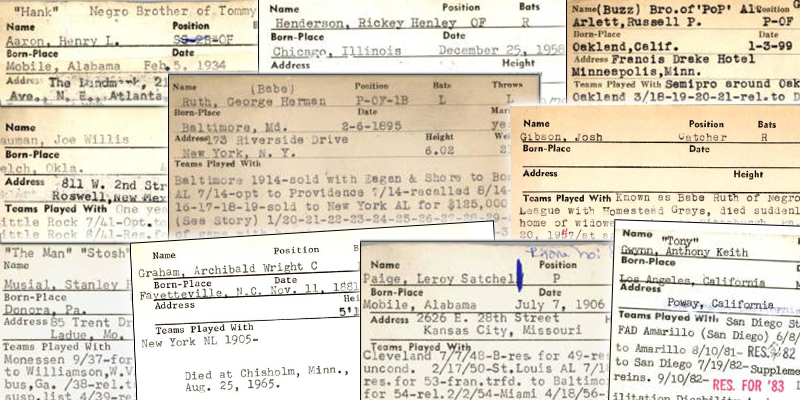 DECEMBER 9, 2019 — The Society for American Baseball Research (SABR) and the LA84 Foundation are pleased to present The Sporting News Baseball Player Contract Cards Collection, an important primary source for information about the lives and careers of nearly 180,000 professional baseball players.
These index cards, maintained over a 105-year period beginning in 1886 by clerks at the weekly sports newspaper The Sporting News (TSN), contain a record of each ballplayer's basic demographic data and their contract status. Sometime in the early 1990s, the current player records were computerized and the index cards were no longer maintained. In addition to players, another 10,000 cards document umpires and team executives.
Click here to browse or search the collection online at LA84.org.
This collection — which includes Hall of Famers Henry Aaron, Stan Musial, and Tony Gwynn to lesser-known players like Buzz Arlett and Moonlight Graham to Negro League legends like Josh Gibson and Satchel Paige — is particularly valuable to anyone conducting player biographical research. The TSN cards are also a rich repository of long forgotten stories with information that may not be available elsewhere, especially on players who spent their entire careers in the Minor Leagues.
TSN donated the cards to SABR in 2013 and digitization efforts were led by F.X. Flinn through a partnership with LA84, using the Online Computer Library Center's (OCLC) ContentDM software. Flinn, who has served on the SABR Board of Directors since 2001, devoted more than 1,200 hours to this project over the past six years. The digitization efforts sought to render the data on each card line by line, and to pick out the player name and birthdate to match up with the biographical databases SABR has provided to researchers and which are available online at Baseball-Reference.com and through the Chadwick Register on GitHub.
Thanks to Shirley Ito, Wayne Wilson, and the LA84 Board of Directors; SABR's Board of Directors; Steve Gietschier, Tom Hufford, Rod Nelson, and Bill Nowlin for all their help in making this collection available.
To learn more about The Sporting News Baseball Player Contract Cards Collection, visit LA84.org or contact F.X. Flinn.
---
Originally published: December 9, 2019. Last Updated: June 18, 2020.
https://sabr.org/wp-content/uploads/2020/03/research-collection4_350x300.jpg
300
350
admin
/wp-content/uploads/2020/02/sabr_logo.png
admin
2019-12-09 01:01:12
2020-06-18 07:58:00
The Sporting News Baseball Player Contract Cards Collection is now available online