Stats discussion captures Venezuelan audience at first SABR event
MARACAIBO, Venezuela — A sunny afternoon of 110 degrees was enough to heat up a discussion in baseball-crazed Venezuela on Friday, November 15, 2013. This time it was not on a public square, a local café or even a ballpark.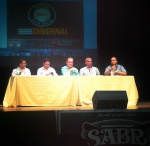 The first SABR event of the newly created Luis Castro Chapter was held at the auditorium of Universidad Rafael Urdaneta in Maracaibo, where over 500 fans, communicators and enthusiast gathered to share thoughts on today's game on "Perspectivas del Béisbol" (Baseball Perspectives) with an All-Star panel of locally recognized faces of the game for ESPN in Latin America.
Panelists included Ernesto Jerez and Luis Alfredo Alvarez, the Spanish baseball voices for the network; José Luis Mora, executive of Tiburones de La Guaira of the Venezuelan League and ESPN analyst for Venezuelan Baseball; and Augusto Cárdenas, baseball beat writer for local newspaper Panorama. It was hosted by Leonte Landino, baseball producer for ESPN Deportes and Chair of SABR's Luis Castro Chapter.
The vibrant baseball talk extended for almost four hours and the highlight was the different visions and how new stats are perceived. While Mora and Landino embraced sabermetrics and use new stats for their day-to-day assignments, Jerez, Alvarez and Cardenas had a more traditional approach giving more weight to basic stats and baseball intangibles on the field like leadership and experience from high-caliber baseball players.
"You can't manage and measure baseball based on WAR," said the veteran broadcaster Jerez, who considers himself a baseball purist.
However, he was openly in favor of expanding the use of instant replay in baseball and was a hard critic of the umpiring issues during the past World Series which he called for ESPN.
Fans participated in the talk providing opinions and exchanging arguments with panelists.
"A manager can't have a book or a computer with stats to make a decision in the middle of the game; that is not part of baseball," said Omar Hernández, a fan who took a traditional standpoint.
Landino argued that whether people like it or not, advanced stats are part of today's game and are being considered for in-game decisions.
"You can agree or not, but each manager has his own approach and most of them along with the coaching staff are using sabermetrics to support and back up their game decisions," Landino said.
The main topic of the afternoon were the different views and how they all comprise the industry of the game.
"The result and essence of a baseball game is the same for everyone, what's different is the angle and how is viewed by every person depending the area of this huge industry" Landino said. "Jerez sits for hours to read game notes and analyze stats so he can provide these tips during his play by play. He has to study this to have all of this information fresh on his mind to call a game.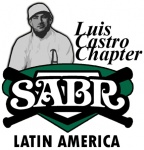 "Luis Alfredo does the same but applies his analytics to explain certain situations of the game. Jose Luis uses all the possible tools in today's game to help make a front office decision and also tries to separate his executive role with the on-air analyst gig, while Augusto is still looking for the hardcore breaking news and now goes beyond the pure chronicle to add his own journalistic voice. All of these activities are considered when a baseball game is produced for TV to create the most compelling possible content for the ultimate fan's experience."
Jerez and Alvarez talked about their experiences though the years with ESPN and how the coverage scenario has changed since they both started calling games for the international network and many countries in 1997.
"We started bringing the stories of success of our players to our audience and that became the main difference of our coverage. Once the Spanish production was added, that made a huge difference in how a baseball game is brought in Spanish to Latin America," said Alvarez, who has covered all baseball events for the network and was the first Venezuelan to join ESPN in 1993.
Jerez brought up the social media elements and how fans interaction drives the game, discussions and opinions. "Interactivity now makes it fun and capture audiences," he said. "It helps us driving our conversations, we didn't have that back in the day."
The audience gave Jerez an standing ovation when he performed his trademarked home run call: "A lo profundoooo y no, no, no, no, no … díganle que no a esa pelota!"
Augusto Cardenas talked about the differences in covering baseball for a local market and how to bring a different perspective from other media outlets.
"As a journalist, I am conscious of who is reading my story on the daily paper," Cardenas said. "Our goal is to find compelling stories for our market that other outlets might not consider relevant. This market, Maracaibo, is filled with baseball information. Sometimes we share news with local outlets in the US, for example when we cover a local idol, Carlos González, we exchange information with newspapers in Denver. We can do this in this age of technology and information."
For Jose Luis Mora, the baseball industry is providing more and more opportunities in all areas.
"It's a new ballgame, it's a multinational industry," he said. "Professionals from many areas are approaching baseball. It goes beyond the media or the front offices. Specially in these countries of the Caribbean where the game never ends, you have MLB since February until the World Series and then in October we have the Winter Leagues where there's lots of local providers to make all happen."
"You can reach the big leagues in many areas, not just playing," he added.
The Luis Castro Chapter is looking to expand this series of panels and conversations in other territories. The Dominican Republic, Colombia and Mexico are potential sites for upcoming events to provide opportunities for fans and industry leaders to share thoughts on current issues of the game.
To learn more about the Luis Castro Chapter, click here.
---
Originally published: December 2, 2013. Last Updated: December 2, 2013.
https://sabr.org/wp-content/uploads/2020/03/research-collection4_350x300.jpg
300
350
jpomrenke
/wp-content/uploads/2020/02/sabr_logo.png
jpomrenke
2013-12-02 15:28:57
2013-12-02 15:28:57
Stats discussion captures Venezuelan audience at first SABR event