Submit your creative writing for SABR's Turnstyle baseball arts journal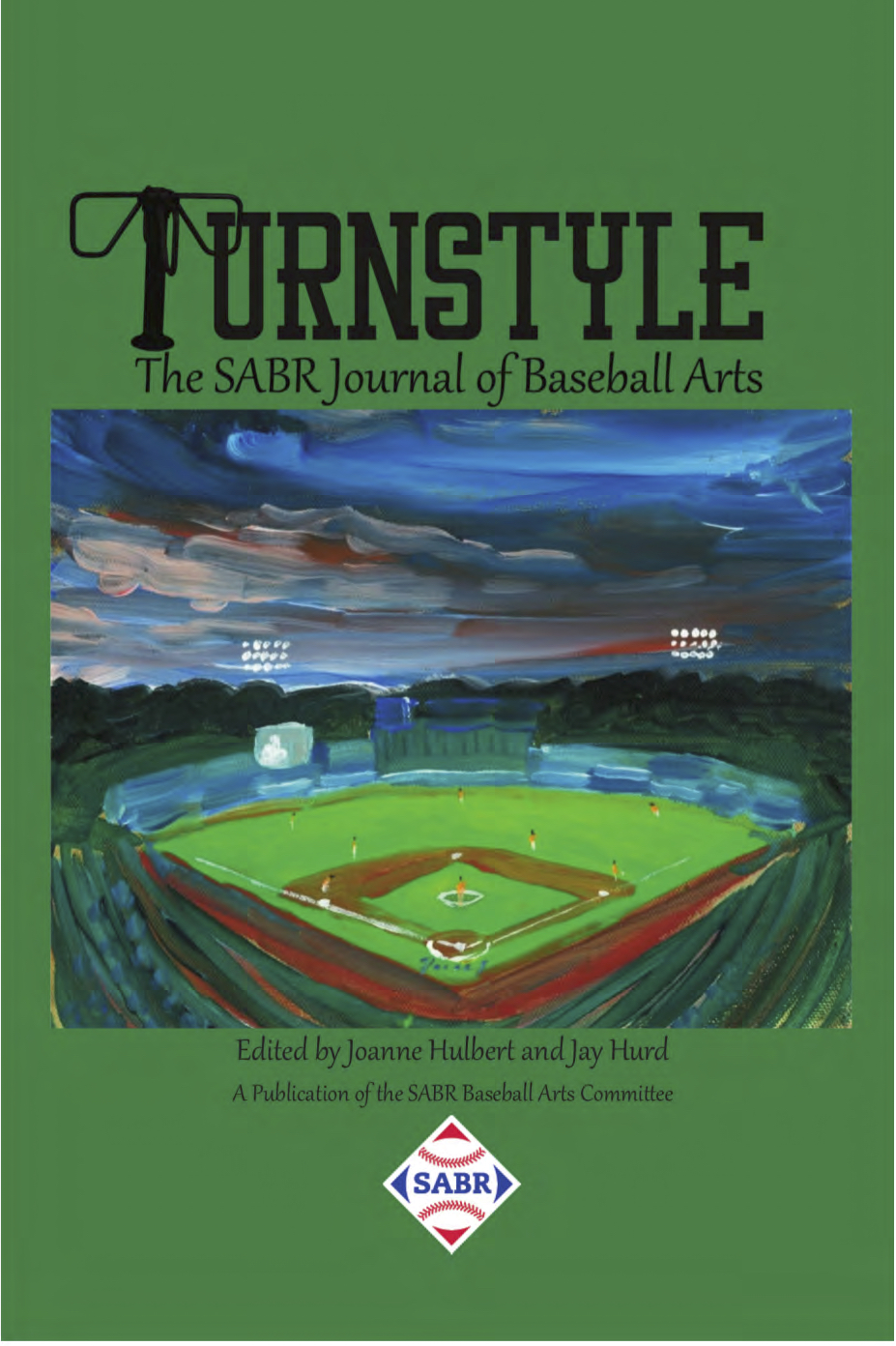 Ever since baseball has been played, there has been literature written about the National Pastime. Today, there is no less an outpouring of baseball art and literature, as has been seen from the beginning of the great and glorious game.
SABR's Baseball and the Arts Committee looks forward to presenting the second edition of Turnstyle: The SABR Journal of Baseball Arts, an offering of baseball art and literature, before the SABR 50 convention this summer in Baltimore. The deadline for submissions for Volume 2 is June 30, 2020. We're seeking any form of creative baseball writing: poems, short stories, articles.
What has been written in the past stands as inspiration for us to return the favor and chonor them with our own contemporary work. In order to inspire, amuse, entertain and enlighten and celebrate the writers, artists, poets, musicians and others of the past and present, below you can find a bit of grand and glorious literature from a century ago which we hope will inspire you to try your pen and hand at creating your own baseball classic.
We hope this offering of baseball literature will inspire you to come up with your own masterpiece. The challenge will be steep, for the writers from the 19th century and from the Deadball Era are a mighty formidable bunch! However, please do try and submit your baseball masterpiece to the Turnstyle editors:
Click here to download your free e-book edition or get 50% off the paperback edition of Turnstyle, Volume 1.
---
A Triple Play in the Hot Stove League
Sporting Life, December 24, 1910
Old Cyrus Poler's store was full, the crops that year had paid, when the bunch fell to discussin' base ball they'd seen and played. "I can't see," says Cy, while wrappin' some prunes in old newspapers: "read last night 'bout tricky plays, cuttin' third and other capers. I can't see, as I wuz sayin'; thought it helps if they're not caught: I don't think the chance worth takin', not unless the umpire's bought. Now I like to see some hittin', like to see them work the squeeze.
Hiram, wish you'd chase young Abe home, else I won't have any cheese. Like to see good fieldin' stunts, outfielders make good plays; I think that 'ero McCarthy, he certainly earned a raise. What did he do? Now let me see; in one game, too, I heard, he caught three flies, threw three men out, a-comin' in from third.
What's that, Abe, you don't understand just how that play is made? I reckon you're the oldest here, 'twas different when you played. Now look here, Abe, it's simple; a fielder ketched a fly; a man on third, he hikes fer home, but say; one thing I'd like to know about; that gosh-durned triple play. I've read about it many times but still I have a doubt; just how a player by hisself, at once puts three men out."
"Well," Squire Blinkens started in, "I never seen it did, but in my last week's 'Sporting Life' we read one, me and Syd. Where was it Syd that happened? Yes, down New Hampshire way. A fellow named O'Hagan wuz playin' first that day. Nobody out and two on base, next up a good safe sticker; the runners took a great big lead to get the scores in quicker. The batter popped a little bunt, it looked a sere safe hit; O'Hagan came a tearin' in and ketched it in his mitt. The runners had been tearin' round, for that they had not reckoned, O'Hagan touched first base and beat the other back to second. But Si, you used to play the game, you tell us more about 'em, you used to say how you played left and how you used to clout 'em."
"Well," Silas Hunter started in, "I'm feeling' mighty bad, just thinkin' of them triple plays and of the chance I had. Was playin' down in Texas then, our outfield it was rough, a great big woods behind us, boys, I tell you it was tough. And that day 'twas a red-hot game for we wuz playin' Austin, and they'd a fellow in the box who throwed afore for Boston. They couldn't hit our pitcher safe, he kep' his curves well mixed; their twirler had us guessin' though we scored one in the sixth. Things had been comin' all our way, till they in that ninth innin', with no one out, got two on base, it looked as if they'd be winnin'! Our shortstop, he made two low throws to get both men he'd out'er, the next man up on Austin's list was Brown, the home-run swatter. As soon as I seen who it wuz, back toward that woods I goes, the first ball that was pitched to him he hits her on the nose. It started sailin' towards them trees, the same way I wuz speedin' and think' how I'd like to stop them scores that they wuz needin'. 'Bout that time thought I'd look around, the ball was right above me, I shoved my gloved hand up, it stuck, then felt something shove me. Well, boys, just right in front of me a doggoned bear was settin' — I've seen a hundred in ten flat, I had that beat, I'm bettin'; and he wuz mad because I left, he wanted to embrace me, and just to show how bad he felt, he started in to chase me. The coachers had been yellin' out, hey get back on your bases, but when they saw me and my friend the whole bunch left their places.
"A cowboy who'd come to the game and seen that I wuz tirin' just slid down from his seat and pulled a great big shootin' iron. He took good aim and fired once, the bear dropped on his face and I wuz just about a foot or two from second base. I touched that bag — now please don't laugh — to first then I did run; you see that made the three men out, besides the game wuz won. The papers tho' came out and said we'd beat them by a hair, and Hunter had a triple play assisted by a bear."
---
Originally published: January 24, 2020. Last Updated: June 18, 2020.
https://sabr.org/wp-content/uploads/2020/03/research-collection4_350x300.jpg
300
350
admin
/wp-content/uploads/2020/02/sabr_logo.png
admin
2020-01-24 17:55:01
2020-06-18 08:00:52
Submit your creative writing for SABR's Turnstyle baseball arts journal