TCU's Jake Guenther named 2019 Collegiate Baseball Player of Year by SABR Dallas-Fort Worth chapter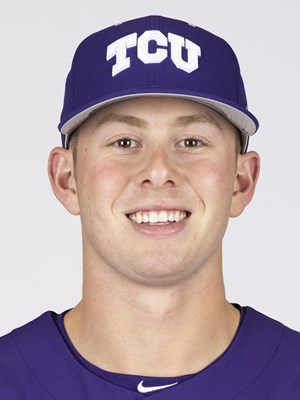 DALLAS — TCU's Jake Guenther has been selected as the 27th annual Howard Green SABR Metroplex Collegiate Player of the Year Award recipient, while East Texas Baptist's Casey Combs was named the eighth annual SABR Metroplex Carroll Beringer Award College Division Player of the Year by SABR's Ernie Banks-Bobby Bragan DFW Chapter in 2019.
The prestigious collegiate baseball awards honor the memory of longtime DFW SABR president Howard Green and former big league pitching coach Carroll Beringer, who was a great supporter of college baseball in the area.
Jake Guenther, a junior first baseman from Oshkosh (B'Gosh), Wisconsin, was the 2019 Big 12 Conference Newcomer of the Year. Though he was limited late in the season by an injury, he still led coach Jim Schlossnagle's Horned Frogs with a .345 batting average and .462 on-base percentage, which both ranked third in Big 12 individual stats. He also slugged 10 home runs, batted in 42 runs and had an OPS of 1.038.
He set a school record by reaching base in his first 50 games in a TCU uniform and helped the Frogs gain an at-large berth in the NCAA Baseball Championship regionals.
Guenther, who was chosen in the seventh round of the 2019 Major League Baseball Draft by the Tampa Bay Rays, started 56 of the 58 games he played in and also registered time in right field and as a designated hitter. The 6-4, 230-pound first team All-Big 12 Conference choice was honorable mention All-America and starred at both Sacramento (California) City College and Oshkosh West HS before arriving in Fort Worth in 2017. He was redshirted in '18 before moving into a regular's role in 2019.
The Wisconsin resident was Sacramento City's 2017 Male Athlete of the Year and first team All-California Intercollegiate Community College after pitching and playing first base at Oshkosh West. He was recruited heavily by Wisconsin-Oshkosh to play basketball but chose the diamond path instead.
Casey Combs, a 6-2, 195-pound, senior from Southlake, Texas and Southlake Carroll HS, is very familiar with the SABR Beringer Award. His older brother Conner Combs captured the 2016 Beringer Award, and the standouts are the sons of former Baylor and MLB standout pitcher Pat Combs, who is an analyst on Fox Sports baseball broadcasts.
Combs was named to two All-America first teams (D3baseball.com, American Baseball Coaches Association) in '19, was the West Region Player of the Year (D3baseball.com, ABCA), the American Southwest Conference Player of the Year, and a CoSIDA Academic All-America third team selection.
The Southlake stalwart also earned All-ASC first team honors and was on the D3baseball.com Team of the Week. He was a two-time ASC Hitter of the Week and was named 2018-19 American Southwest Conference Athlete of the Year for all sports.
The 27th-round pick of the Miami Marlins in the '19 MLB draft topped as the Tigers with a .417 batting average, 68 hits, 48 RBI, and 19 stolen bases while tying for the team homers' lead with 13. He had a career-high 11-game hitting streak from March 8-23 and had a career-tying-best five hits against Louisiana College on April 26 in ASC activity.
Combs was 2018-19 ETBU Male Athlete of the Year and helped the Tigers to their third 30-victory season in four years and third place in the ASC regular-season standings. His career statistical line included a .332 batting average, 160 hits, 106 runs, 120 RBI, 28 doubles, 19 home runs, 39 stolen bases, and 47 runners thrown out from his catcher's post.
They join the likes of previous SABR awardees such as Texas Rangers star Hunter Pence (Major League Baseball All-Star) as well as Michael Choice of UTA, TCU's Brandon Finnegan, Scott Malone and Lance Broadway as well as DBU's Drew Holder, Brandon Harper, Evan Bigley, Jason Krizan, Brandon Koch, and Boomer Collins, among others.
Previous winners of the Howard Green SABR Metroplex College Baseball Player of the Year have been Scott Malone, TCU, 1993; Jason Parsons, Dallas Baptist, 1994; Johnny Issom, Texas Wesleyan, 1995; Karl Chatman, Dallas Baptist, 1996; Brandon Harper, Dallas Baptist, 1997; Royce Huffman, TCU, 1998; Cody Sundbeck, Dallas Baptist, 1999; (co) Jon Browder, Dallas Baptist; Pat Hannon, Texas Wesleyan, 2000; Mike Hall, Texas Wesleyan, 2001; Terry Trofholz, TCU, 2002; Clayton Jerome, TCU, 2003; Hunter Pence, UT Arlington, 2004; Lance Broadway, TCU, 2005; Drew Holder, Dallas Baptist, 2006; Sam Demel, TCU, 2007; Evan Bigley, Dallas Baptist, 2008; Matt Otteman, UT Arlington, 2009; (co) Michael Choice, Texas-Arlington; Matt Purke, TCU, 2010; Jason Krizan, Dallas Baptist, 2011; Boomer Collins, Dallas Baptist, 2012; Duncan McAlpine, Dallas Baptist, 2013; (co) Brandon Finnegan, Preston Morrison, TCU, 2014; Brandon Koch, Dallas Baptist, 2015; (co) Darick Hall, Dallas Baptist; Luken Baker, TCU, 2016; Austin Listi, Dallas Baptist, 2017; Devlin Granberg, Dallas Baptist, 2018; Jake Guenther, TCU, 2019.
Carroll Beringer Award winners include: Chase Brown, UT Dallas, 2012; Elvin Rodriguez, Northwood, 2013; Jake Howeth, Texas Wesleyan, 2014; Brandon George, UT Dallas, 2015; Conner Combs, East Texas Baptist, 2016; Luis Roman, Texas Wesleyan, 2017; Kiki Menendez, Texas Wesleyan, 2018; Casey Combs, East Texas Baptist, 2019.
For more information, please contact Bo Carter at bcarter@footballfoundation.com or (214) 418-6132.
---
Originally published: August 6, 2019. Last Updated: August 6, 2019.
https://sabr.org/wp-content/uploads/2020/03/research-collection4_350x300.jpg
300
350
admin
/wp-content/uploads/2020/02/sabr_logo.png
admin
2019-08-06 07:00:00
2019-08-06 07:00:00
TCU's Jake Guenther named 2019 Collegiate Baseball Player of Year by SABR Dallas-Fort Worth chapter