The Top 40 Baseball Storylines Of The SABR Era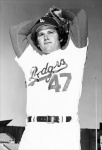 In conjunction with the Society for American Baseball Research's 40th anniversary in August, we conducted a survey to determine the top baseball storylines in the SABR Era — from our founding in 1971 to today.
Here are the results:
Top baseball storylines in the SABR Era
1. The introduction of free agency (1975-76)
2. The Steroid Era (1990s-2000s)
3. Hank Aaron hits 715th career home run, breaking Babe Ruth's record (1974)
4. Designated hitter introduced in American League (1973)
5. Cal Ripken plays in 2,131st consecutive game, breaking Lou Gehrig's record (1995)
6. 1994 labor dispute ends season, cancels World Series (1994)
7. Influx of international players in Major League Baseball
8. The Pete Rose saga: Hit King banned for life (1989)
9. Wild card/three-division realignment (1994)
10. Evolution of relief pitching: The rise of the closer (1980s-1990s)
The rest of the top 40 storylines for our 40th anniversary, as chosen by SABR members:
Decline in number of African-American players in major leagues
Expansion of MLB teams from 24 to 30
Metal bats introduced, widely used in amateur baseball
MLB loses status as America's No. 1 sport to NFL
Ownership controversies (Finley, Steinbrenner, Schott, McCourt)
Revenue earned by major league teams explodes
Sabermetrics gains wide acceptance
Stories of women/minorities in baseball begin being told
1971: Pittsburgh Pirates field first all-black starting lineup
1973: George Steinbrenner buys New York Yankees, value of team rises to nearly $1 billion
1975: Carlton Fisk's home run wins Game 6 of World Series
1981: Labor dispute forces split season, extra round of playoffs
1982: Rickey Henderson breaks single-season stolen base record, then career record
1986: Bill Buckner's error in Game 6 of World Series
1988: Kirk Gibson's home run wins Game 1 of World Series
1980s-1990s: Popular resurgence of minor league baseball
1990s: Rise of Bud Selig as owner-turned-commissioner
1990s: Ken Griffey Jr. becomes most recognizable face in the game
1990s: Rebirth of New York Yankees dynasty
1997: Interleague play introduced
1998: Mark McGwire and Sammy Sosa: The Great Home Run Chase
1999: Offices of American League/National League presidents eliminated
1990s-2000s: Building of dozens of new major league stadiums
2000s: Universal TV/radio/Internet access to MLB games
2001: Baseball's role in response to 9/11
2001: Barry Bonds breaks single-season home run record, then career
2004: Boston Red Sox win World Series, first in 86 years
2005: Baseball returns to Washington, D.C.
2006: World Baseball Classic introduced
Visit http://sabr.org/40years for more coverage of our 40th anniversary — including an updated history of the organization, a multimedia look at every SABR national convention, a timeline of SABR's progress and our members' achievements, and much more.
This page was last updated August 10, 2011 at 2:50 pm MST.