Wancho: This was no Greasy kid stuff
Editor's note: This article first appeared in the SABR Deadball Era Committee's February 2016 newsletter. To learn more about the Deadball Era Committee, click here.
By Joseph Wancho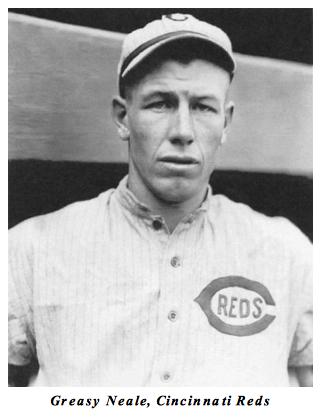 You may be able to visualize the scene from your very own living room: "I'll take 'Hall of Fame' for $400 Alex." Alex asks, "I was an outfielder on a World Series winning team, coached in the Rose Bowl, coached back-to-back championship teams in the NFL, and was inducted into the Pro Football Hall of Fame." The contestants stare blankly and offer no response. Alex says "We were looking for Earle "Greasy" Neale. Pick again."
One question that comes to mind is where on earth did William and Rena Neale's boy receive such a nickname? "There was a boy I grew up with in Parkersburg, W. Va., and he was a kind of Huckleberry Finn. His parents didn't pay him much mind or discipline him in any way. He wasn't too particular about his appearance, and one day I called him 'Dirty Face' or 'Dirty Neck' or some such thing, and he got even by calling me 'Greasy,' because I had worked for a time as a grease boy in a rolling mill. The other kids picked it up, and it stayed with me for life. Of course, some sportswriters wrote that the nickname referred to my elusiveness as a ball carrier in football and a base runner in baseball. But it was that boy back home who gave me the name," explained Neale.[fn]Gerald Holland, Sports Illustrated, August 24, 1964.[/fn] Later in his life, Neale was hired as an assistant football coach at Yale University. The "high-brow set" at the New Haven campus did not approve of his moniker. "No point in changing now just because I'm in the Ivy League," said Neale.[fn]The Sporting News, November 17, 1973, 46.[/fn]
Neale left Parkersburg High School after the ninth grade to take a job in the steel mills. However, he returned to school after two years. The school's football team did not have a coach, and Neale, being the oldest squad member, took the reins of the team. He found that he had an aptitude for coaching and enjoyed mentoring the younger boys on the team.
Greasy Neale enrolled at West Virginia Wesleyan College via a football scholarship in 1912. He was noted for his fast, slashing running ability whether it was at his familiar end position on the gridiron or stealing bases on the diamond. But at West Virginia Wesleyan College he was also a cage star. He scored 139 baskets one season, outstanding in an era when offensive play on the hardwood was slow and methodical. But baseball was his first and true love and he never lost sight of his dream of playing professionally. His participation in football and basketball was just a means to keep in shape and bide his time until baseball season came around.
Neale signed on with Class C London of the Canadian League. He knocked around the minor leagues, until the trail took him back to his home state of West Virginia, and Class B Wheeling in 1915. A friend of Neale's named Jack Lewis wrote a letter to Cincinnati Reds owner, Garry Herrmann. Lewis recommended that Herrmann take a look at Neale. Greasy was tearing up the Central League with his bat, on the way to batting .351. Hermann dispatched a scout to Wheeling to take a look at Neale. The reports were favorable on the left-handed hitting outfielder and the Reds signed him. But Neale had caught the coaching bug, and while he was about to embark on his major league career, he also started his career coaching football. His first coaching job was at Muskingum (OH) in 1915, after he wrapped up the baseball season at Wheeling.
Greasy broke into the majors in 1916, becoming the starting left fielder for Cincinnati. Buck Herzog was the Reds skipper, and according to Neale, Herzog was his favorite manager. "A lot of fellows didn't like Buck, but I played better ball for him than anyone," said Neale. "He handled me perfectly. One day, I went to bat four times without even getting a semblance of a hit. I barged into Tommy Griffith's territory, pulled a fly ball away from him and dropped it. I charged in on a ground ball and it went through me for three bases. I overthrew third base for my third error of the afternoon. I was feeling pretty low about it, but after the game Buck put his arm around my shoulders and told me that my misplays came from trying too hard and not to worry about any of them. Now can you understand why I played my heart out for him?"[fn]Arthur Daley, New York Times, April 28, 1943.[/fn]
Unfortunately for both Neale and Herzog, Buck was replaced in mid season after posting a 34-49 record. He was sent to the New York Giants on July 20 along with catcher Red Killefer in exchange for outfielder Edd Roush, pitcher Christy Mathewson, and infielder Bill McKechnie. The sun was setting on Mathewson's brilliant career, and his acquisition was made so that he could take Herzog's place in the dugout. Roush, a budding star was inserted into center field. The move did not sit well with Neale. Although he was just a rookie, he felt that he had earned the right to play center field. Whenever a fly ball went out to left-center, Neale would never holler that he was going to make the catch. Sometimes he would make the play, other times he wouldn't. Roush had to learn to be able to watch the ball and Neale at the same time in order to decide his course of action: go after the baseball, or cut behind Greasy to let him take it. This went on for about three weeks. "I want to end this Roush," Neale told him. "I guess you know I've been trying to run you down ever since you got here. I wanted that center field job for myself, and I didn't like it when Matty put you out there. But you can get a ball better than I ever could. I want to shake hands and call it off. From now on, I'll holler."[fn]Lawrence Ritter, The Glory of Their Times: The Story of the Early Days of Baseball Told by the Men Who Played It (New York: Macmillan, 1966), 210.[/fn]
If Neale thought that he was being slighted by his new manager, he may have been hasty. Mathewson was well aware of the talents of the young outfielder. "Ambition and headwork," Mathewson answered when asked about Neale's best attributes. "This kid's always on the job, and wants to improve himself and there's action under his cap. He studies his position and never makes the same mistake twice. Watch his batting next year, for example. He'll be a greatly improved hitter."[fn]Baseball Magazine, February 1917, 572.[/fn] Mathewson knew what he was talking about as Neale's batting average climbed 32 points from .262 his rookie year to .294 his sophomore year. With Griffith in right, Roush in center, and Neale in left field, the Reds had a formidable outfield. Roush and Neale both had good speed on the base paths, as one or the other led the team in stolen bases over the next few years.
Neale was the Reds' starting right-fielder in 1919. His batting average tumbled to .242. It would seem almost improbable that Neale led the team in hitting in the World Series that year, batting .357 and collecting 10 hits. Yet he did and no other Cincinnati player came even close to him. Perhaps it went largely unnoticed because his hits were of little consequence. Three of his safeties came in the 9-1 shellacking of the White Sox in Game 1. While three more hits came in a Game 6 loss to Chicago. Although the Sox may have been the favorites to win the series, the Reds were no pushover. Roush led the National League in hitting with a .321 average. Jake Daubert, Larry Kopf, and Heinie Groh were more than capable batsman. The pitching staff was led by Dutch Ruether, Hod Eller, and Slim Sallee. The three starters won a combined 60 games. But it was not so much that the Reds won the World Series. As history has taught us, members of the Chicago team conspired to throw the Series. The White Sox may as well have put a bow around the World Championship and handed to the Reds as if they were a Secret Santa.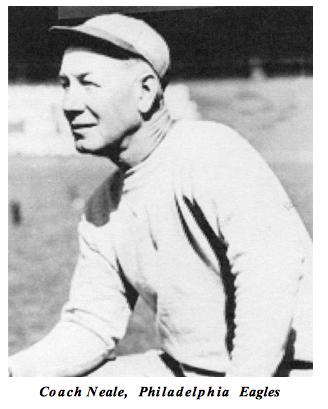 "I hit .357. Got a triple off little Dick Kerr, the honest pitcher," Neale told a group one evening at a cocktail party. "Matter of fact, I think they were all honest after that first game. The ones in on the deal didn't get the payoff they were promised. The rest of the games were straight, I am convinced. Series went eight games, you know."[fn]Holland, above.[/fn] Neale could never be convinced that the fix was in for all eight games.
Cincinnati slipped to third place in 1920. Neale had a so-so year, batting .255, but his 29 stolen bases were a career high. He had been shifted to right field and led NL right fielders in putouts with 342. Still, the Reds packaged Neale and pitcher Jimmy Ring together and sent them to the Philadelphia Phillies for pitcher Eppa Rixey. But during the spring, Neale struck a secret deal with the Phillies, whereby Neale would be paid $6,000 at the end of the season. However after appearing in only 22 games, the Phillies waived Neale. Cincinnati claimed him and scoffed at the $6,000 contract. Greasy appealed to Commissioner Landis, and the Reds were on the hook, ultimately compensating Neale for the full amount.
Neale was again on the Reds roster in 1922, although he played sparingly. He did appear in three games in 1924, but at 32 years old, his major league career was over. Neale played in 768 ballgames, batting .259 for his career. He totaled 72 doubles, 50 triples, 200 RBI, and 139 stolen bases. Neale's career fielding percentage was .972. But Neale was also keeping busy in the off-season as a collegiate football coach. He returned to his alma mater to coach at West Virginia Wesleyan (1916-1917), and thereafter led teams at Marietta (1919-1920), Washington & Jefferson (1921-1922), and Virginia (1923-1928). Neale doubled as the baseball coach at both Marietta and Virginia.
Neale had success on the college level. In 1917, his WVW squad was a three-touchdown underdog to interstate foe West Virginia. But Neale's boys executed their single-wing offense to perfection and blanked the Mountaineers, 20-0. His 1921 team at Washington and Jefferson went undefeated, topping traditional powers Pitt, Syracuse, and Detroit. Although there were other teams who were undefeated that year (Cornell, Penn State, and Lafayette), it was a surprise to most when the invitation to the 1922 Rose Bowl was extended to the Washington & Jefferson Presidents. Their opponent was the University of California Golden Bears, who were installed as 14-point favorites. Sportswriter Jack James of the San Francisco Examiner remarked "All I know about Washington and Jefferson is that they are both dead."[fn]http://www.washjeff.edu/rose-bowl-replay.[/fn]
The Presidents could only afford to send 11 players on the trip west. Although not many gave the Easterners much of an opportunity, outside of W&J that is, Neale was extremely confident. "Nobody gave us a chance," Neale said later. "But I knew what we could do. I told everyone Cal wouldn't score on us. They just laughed."[fn]Norman L. Macht, Football's Last Iron Men (Lincoln, Nebraska: University of Nebraska Press, 2010), 27.[/fn] The game ended in a scoreless tie. A 35-yard touchdown run by the Presidents' Wayne Brenkert was called back because of an offsides call. The game was notable for other reasons: Charles West became first African-American quarterback to play in the Rose Bowl and Herb Kopf (whose brother Larry had been a teammate and roommate of Neale's with the Reds) was the first freshman to appear in the Rose Bowl.[fn]http://www.washjeff.edu/rose-bowl-replay.[/fn]
Neale left college football for a brief hiatus, returning to major league baseball in 1929. "Branch Rickey gave Billy Southworth the managerial post (with the St. Louis Cardinals), and Billy wanted me as his coach. I gave up a good football job to help him, but Southworth was not quite ready for the big time and we only lasted three months. Billy was in a spot in those days because he had to boss a bunch he'd played with — Frisch, Hafey, Bottomley, Wilson and the rest. Later, when he returned to the Cards, he was set for it."[fn]Daley, above.[/fn]
West Virginia University was the next stop for Neale. After three years (1931-1933) in Morgantown, Neale accepted the position of backfield coach for the Naval Academy (1934-1940) under Ray "Ducky" Pond. Neale used the single-wing style offense, where the plays used deception (reverses, double-reverses, and misdirection plays) and did not rely on a passing game.
Greasy entered the NFL in 1941, coaching the Philadelphia Eagles for 10 years. Neale was no stranger to professional football. When he was with the Reds in the late teens, he played pro football on Sundays during the off season. Although the Reds had a strict policy forbidding their players from participating in other sports, Neale played under the name "Foster" to get around the team rules. Of course, Neale/Foster was not fooling anyone and the Reds just looked the other way. He played/coached for Canton and Ironton. The legendary Jim Thorpe was the coach of the Canton Bulldogs, and occasionally played, as well. In 1917, Thorpe was also a member of the Cincinnati Reds as a spare outfielder.
From 1944 to 1949, the Eagles, who were in the Eastern Division, finished in second place three times and won the division three times. Neale never hid the fact that he would take ideas from other coaches. After Chicago dismantled Washington 73-0 in the NFL 1940 Championship game, Neale bought the game film for $156. He studied George Halas' T Formation, and made adjustments to fit his personnel. Neale is also credited with using man-to-man defense on pass plays and developing the present-day 4-3 defense alignment. "I think I was a success as a coach because I wasn't afraid to borrow something that worked for someone else," said Neale. "People in the stands never asked you where you got it. They only want to know if you got it."[fn]The Sporting News, November 17, 1973, 46.[/fn]
The Eagles lost the 1947 Championship Game to the Chicago Cardinals, 28-21. Philadelphia got their revenge the following year, shutting out the Cards 7-0 in 1948. They followed that up with another shutout, blanking the Los Angeles Rams 14-0, thus becoming the only NFL team to win back-to-back titles by shutting out their opponents. However a 6-6 record in 1950 led to Neale's dismissal. "It came as a shock," said Greasy. "We went 6-6, but we lost a total of five games by 18 points. I guess you have to have a championship team every year to satisfy them."[fn]Bill Braucher, Miami Herald, February 17, 1969, 1D.[/fn]
Greasy Neale was inducted into the College Football Hall of Fame in 1967. He was enshrined into the National Football League Hall of Fame in 1969. Center-linebacker Alex Wojciechowicz was a member of those championship Eagle teams. Like Neale, he is also a member of both football halls of fame. "I believe that Greasy Neale, in his time, was the greatest coach in football," wrote Wojo. "He was the greatest teacher of fair play, a player's coach. He devoted his life to teaching his men not only sports, but also an understanding and appreciation of life itself. Every player who ever has been coached by him retains an abiding feeling of thankfulness to him."[fn]Arthur Daley, New York Times, November 8, 1973.[/fn]
Lifelong Cleveland Indians supporter Joseph Wancho is the chairman of SABR's Minor Leagues Committee.
---
Originally published: February 22, 2016. Last Updated: February 22, 2016.
https://h2j7w4j4.stackpathcdn.com/wp-content/uploads/2020/03/research-collection4_350x300.jpg
300
350
admin
/wp-content/uploads/2020/02/sabr_logo.png
admin
2016-02-22 19:12:46
2016-02-22 19:12:46
Wancho: This was no Greasy kid stuff