Wesley Barrow, New Orleans Negro Leagues legend, honored with new grave marker
By Ryan Whirty
A small but hardy group of city officials, former players, and media members huddled around the freshly painted grave of New Orleans Negro Leagues legend Wesley Barrow on Saturday, April 25, 2015, at New Hope Baptist Church Cemetery in Gretna, Louisiana, to honor a man who managed, mentored and influenced hundreds, if not thousands, of New Orleans-area youth.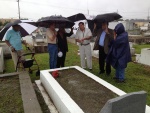 Clutching wind-blown umbrellas and standing in puddles, the group held a brief ceremony dedicating a new grave marker for Barrow's burial spot, which had been unmarked for nearly half a century, since the man known as "the Skipper" died on Christmas Eve in 1965.
A community effort led by Gretna City Councilman Milton Crosby, who played for Barrow on the Black Pelicans, and local journalist and researcher Ryan Whirty strove to raise money to purchase and place the new marker at Barrow's grave. Both were in attendance at the event Saturday.
Also attending the ceremony was Rodney Page, the son of former Negro Leagues promoter and owner Allen Page. Rodney Page donated several hundred dollars toward purchasing the burial marker, and at the event Saturday he spoke of his own memories of playing for Barrow as a youth.
One of Page's favorite stories came when, as a teen, Page threw out a player at home on the fly from the outfield. As Page retold at the ceremony, he had been proud of what he thought was a stellar play. However, Barrow chastised the young Page by barking, "Little Page! Hit the cutoff man!"
Another attendee at Saturday's ceremony was another ex-Black Pelican who played under Barrow, nonagenarian Paul Lewis of LaPlace, who told the group that for Barrow, the most important trait of managing was being a good mentor and role model, lessons Lewis said he took to heart.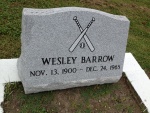 Also among the group gathered Saturday was former Major Leaguer and World Series champion Ron Swoboda, who now works as the New Orleans Zephyrs' color commentator. Swoboda spoke of his encounters with former Negro Leaguers and how important the all-black teams and leagues were prior to and just after the advent of integration begun by Jackie Robinson. After leaving the cemetery, Swoboda hustled to Zephyr Stadium to work Saturday night's Zephyrs game.
Finally, longtime sportscaster Ro Brown, who now works in the athletic department at UNO, also spoke of Barrow's importance to the NOLA community and the impact he and other Negro League figures had on so many youth in the New Orleans area.
The ceremony Saturday was begun with a prayer by Gretna City Councilman Jackie Berthelot and lasted about 30 minutes.
---
Originally published: April 27, 2015. Last Updated: April 27, 2015.
https://sabr.org/wp-content/uploads/2020/03/research-collection4_350x300.jpg
300
350
jpomrenke
/wp-content/uploads/2020/02/sabr_logo.png
jpomrenke
2015-04-27 11:09:56
2015-04-27 11:09:56
Wesley Barrow, New Orleans Negro Leagues legend, honored with new grave marker