Pete Browning: An Overlooked 19th Century Legend (2009)
Editor's note: In 2009, SABR's Nineteenth Century Research Committee selected Deacon White as its Overlooked 19th Century Baseball Legend. This article first appeared in the Fall 2009 edition of the SABR Nineteenth Century Committee newsletter.
By Joe Williams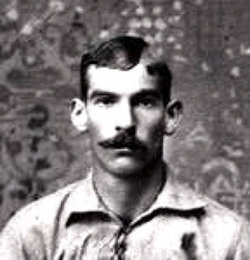 Louis Rogers "Pete" Browning was born during the early stages of the Civil War on June 17, 1861 in Louisville, Kentucky. One of eight children, Browning grew up to become a talented teenage athlete and a star amateur baseball player in Louisville.
When the American Association (AA) began play in 1882, the Louisville Eclipse joined the upstart major league with Browning as its star player. In his first season as a pro, the 21-year-old Browning led the AA in batting average (.378), on-base percentage (.430) and slugging percentage (.510), while also leading his team in runs, hits, doubles, home runs, walks and total bases. This was pretty amazing considering Browning was already deaf from an inner ear condition known as mastoiditis. The malady was uncomfortable and painful.
Browning's days with Louisville of the AA lasted until 1889. During the Browning years, Louisville rarely contended for the league championship despite Old Pete's superior batting. He won another batting title in 1885 (.362) while also leading the league in games (112), hits (174) and on-base percentage (.393). Other than his disappointing 1889 season, when he only hit .256 in 83 games, Browning finished second or third in the batting race in his other four AA seasons with batting averages of .338, .336, .402, and .313. His .402 average in 1887 was the second highest in AA history after Tip O'Neill's .435 average that same season. The 1887 season was also Pete's best season for runs (137), hits (220), triples (16), RBI (118) and stolen bases (103).
In 1890, Browning, like many other stars of the day, joined the rebel Players League. Playing for the Cleveland Infants, Pete won his third batting title with a .373 average and also led the league in doubles with 40.
Browning's final seasons were in the National League. He split time with Pittsburgh and Cincinnati in 1891, batting .317, which was good for third in the league. He again split time with two teams in 1892, playing for Cincinnati and his hometown Louisville Colonels. He returned to Louisville for the 1893 season and hit .355 in a limited role before finishing up his major league career with St. Louis and Brooklyn the following year. His career .341 batting average and .403 on-base percentage are among the best in baseball history.
Often referred to as tall and lanky, the Gladiator was a colorful character and his legacy is surrounded by legends and myths. He called his eyes "lamps" and was said to stare into the sun to improve them. He named his bats after biblical figures, thought that there were only so many hits in each bat, and retired the bats once the hits were no longer in them. Of course the most widely know legend has to do with the Louisville Slugger line of bats. Browning was often referred to as the Louisville Slugger in his day. According to bat-maker Hillerich & Bradsby legend, the first custom made bat made by the now-famous firm was for Browning in 1884. This is most likely not true but it is part of baseball lore forever.
Browning's life came to an end on September 10, 1905. His inner ear condition, along with his well-documented alcoholism, played a large part in his early death at age 44. Browning's final resting place is Cave Hill Cemetery in Louisville.
Visit the following websites for more information on the career and life of Pete Browning:
Author's note: In 2007 Philip Von Borries published the first biography of Pete Browning. The book is titled: "American Gladiator: The Life and Times of Pete Browning." The book is available from Booklocker.com in paperback ($14.95) and e-book formats ($10.95).