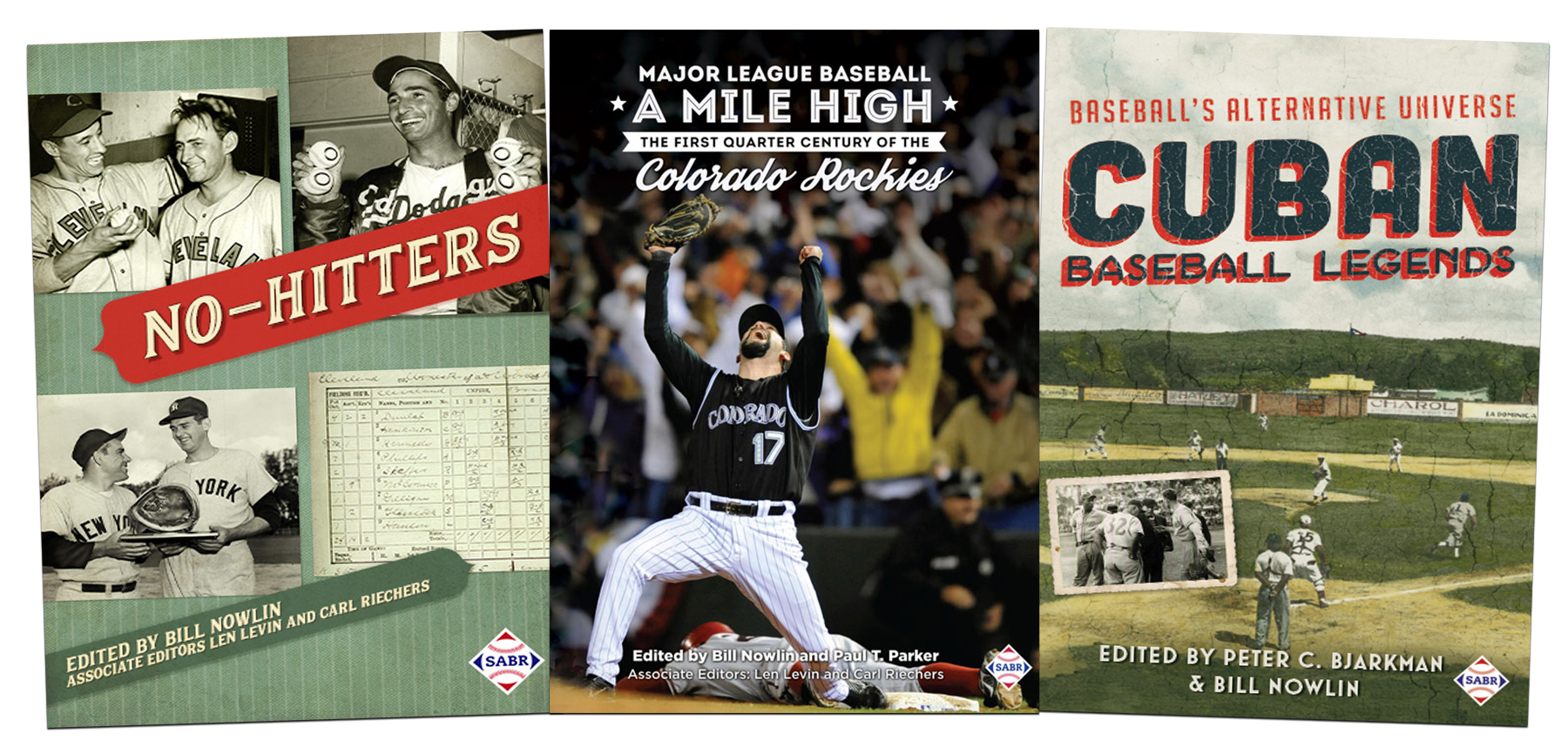 Become a SABR Publications Patron and support our efforts to preserve and share baseball history by reading and donating our publications. Your gift will help grow and transform the future of SABR publications which will include SABR's traditional books and research journals, the expansion and improvement of SABR.org, and the launch of SABRcast with Rob Neyer. Each patron level includes a donation of SABR books to a library; you may also elect to have all of your books donated instead of having some delivered to your door.
Click here to make your contribution online and choose your Patron level.
If you would prefer to donate to SABR via check, please send your check and a brief note describing the purpose of your donation to:
SABR
Cronkite School at ASU
555 N. Central Ave. #416
Phoenix, AZ 85004
Please note: Fulfillment of your book orders may take up to 6-8 weeks through Amazon Kindle Direct Publishing.
To learn more about SABR's Donation Program, visit SABR.org/donate. For details, contact Ben Rose at brose@sabr.org or (602) 496-1465.
---
UPDATE: August 1, 2019 — We would like to extend our sincere gratitude to all Friends of SABR — our generous donors — for becoming SABR Publications Patrons and supporting our efforts to donate SABR books to libraries, schools, and nonprofit organizations. We have officially achieved the $25,000 goal which has been matched by SABR Director Bill Nowlin!
More than 100 SABR members have become Publications Patrons and collectively contributed the resources to donate more than 330 SABR books and a total of nearly $55,000!
The SABR Publications Patron campaign is ongoing (although gifts will no longer be matched).
Donate today and join our list of Publications Patrons below:
|   |   |   |
| --- | --- | --- |
| Dean Abelon |   | Lewis Levey |
| Mark Armour |   | Ira Levine |
| Lon Babby |   | David Low |
| Perry Barber |   | Peter Mancuso |
| John Bauer |   | Peter Marcus |
| Jeremy Beer |   | Jeff Meder |
| Michael Bender |   | Sheldon Miller |
| Barry Bengtsson |   | Chris Moyer |
| Robert Bergeson |   | Steve Murphy |
| Mike Berry |   | Jim Myers |
| Thomas Biblewski |   | David Newman |
| Dick Bily |   | Andrew North |
| Mark Bonino |   | Bill Nowlin |
| Ken Carrano |   | Jim Odenkirk |
| Centre for Canadian Baseball Research |   | Gary Olson |
| Irwin Chusid |   | Virgilio Partida |
| Karl Cicitto |   | Dave Paulson |
| Warren Corbett |   | Laura Peebles |
| Richard Cuicchi |   | Pat Phillips |
| Ted Curtis |   | Peter Pierce |
| Debbi Dagavarian-Bonar |   | Mel Poplock |
| Rick Dempsey |   | Kent Putnam |
| John Dewan |   | Carl Rhoads |
| Reid Duffy |   | Willam A. Rogers |
| Mark Dugo |   | Tom Rogers |
| Jonathan Epstein |   | Mike Romano |
| Jim Finke |   | James Rook |
| Scott Fischthal |   | Jon and Wendy Rose |
| Kenneth Fisher |   | Ben Rose |
| Jack Flynn |   | Harry Rothgerber |
| Ed Fong |   | Bob Sawyer |
| Sean Forman |   | Jeff Schwartz |
| Irv Goldfarb |   | Lynda Singer |
| Steven Greenes |   | Steve Sisto |
| Jeff Hauer |   | Curt Smith |
| Emily Hawks |   | John Stahl |
| Leslie Heaphy |   | Alec Stais |
| William Hickman |   | Steve Steinberg |
| Karen Holleran |   | Rick Swift |
| David Holtz |   | John Thorn |
| Tom Hufford |   | Tom Tuttle |
| David Hughes |   | Marlene Vogelsang |
| Joanne Hulbert |   | MJ Volkovitsch |
| Martin Jatlow |   | JR Wildridge |
| Anne R. Keene |   | Chris Williams |
| Robert Kenney |   | Jeffrey Wood |
| Bill Lamb |   | Mark Yecies |
| Tom Larwin |   | Jack Zerby |
| Harry Lesser |   | Don Zminda |
| Allison Levin |   |   |