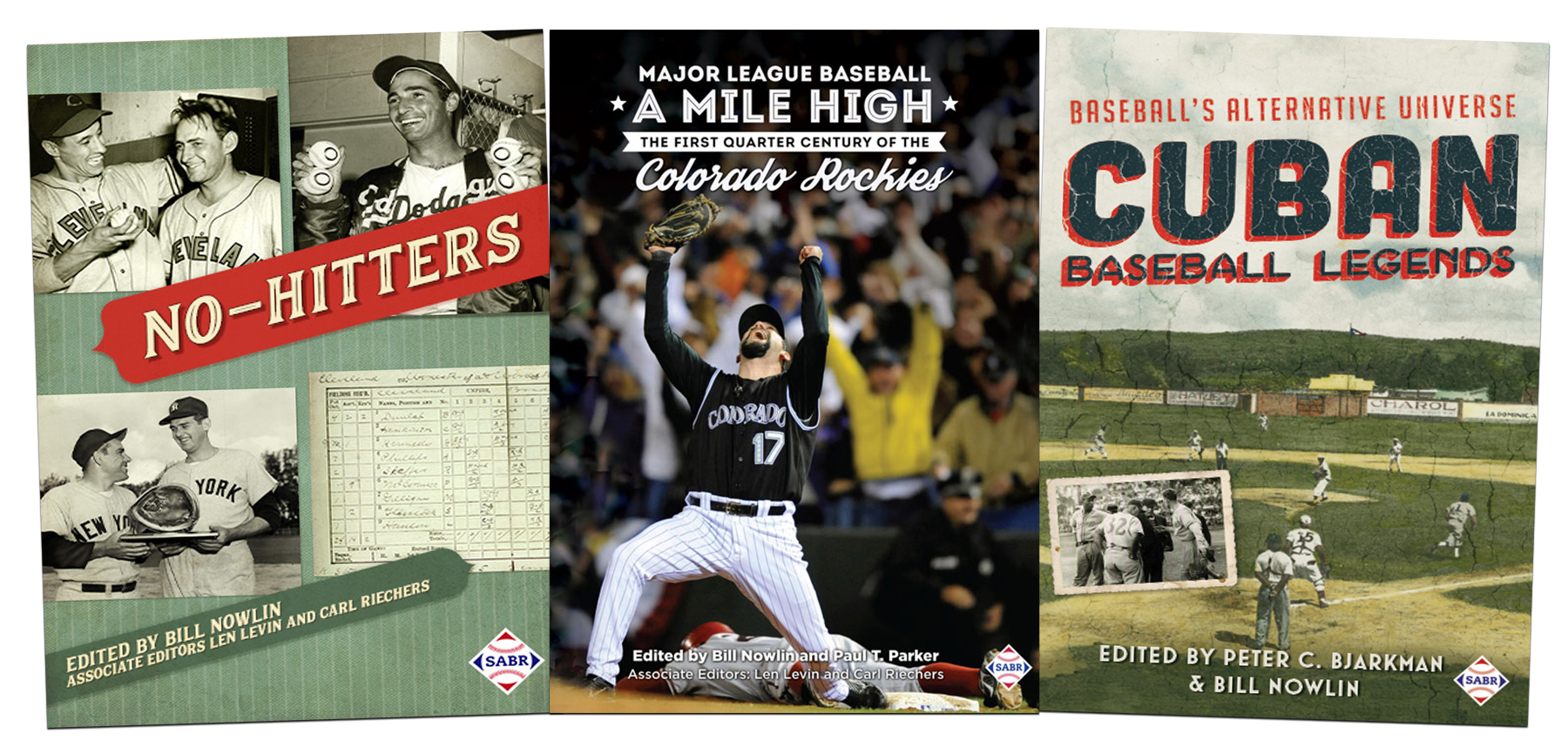 Become a SABR Publications Patron and support our efforts to preserve and share baseball history by reading and donating our publications. Your gift will help grow and transform the future of SABR publications which will include SABR's traditional books and research journals, the expansion and improvement of SABR.org, and the launch of SABRcast with Rob Neyer. Each patron level includes a donation of SABR books to a library; you may also elect to have all of your books donated instead of having some delivered to your door.
All donations, up to $25,000, will be matched dollar-for-dollar through the generosity of SABR Director Bill Nowlin.
Click here to make your contribution online and choose your Patron level.
If you would prefer to donate to SABR via check, please send your check and a brief note describing the purpose of your donation to:
SABR
Cronkite School at ASU
555 N. Central Ave. #416
Phoenix, AZ 85004
Please note: Fulfillment of your book orders may take up to 6-8 weeks through Amazon Kindle Direct Publishing.
To learn more about SABR's Donation Program, visit SABR.org/donate. For details, contact Ben Rose at brose@sabr.org or (602) 496-1465.
---
UPDATE: May 24, 2019 — If you have considered becoming a SABR Publications Patron, now is the time as your gift will count DOUBLE through SABR Director Bill Nowlin's generous matching gift. Join the growing list of Publications Patrons in this philanthropic effort, and help us reach our goal of $50,000.
Only two spots remain at the Platinum Patron level. Contact Ben Rose to become a Platinum Patron today and receive these benefits as a token of our gratitude: 10 SABR books delivered to your door, 10 SABR books donated to a library, school, or nonprofit organization of your choice, autographed copies of Rob Neyer's Power Ball and Jane Leavy's The Big Fella, an official SABR commemorative bookmark, and more.
To date, we have raised the resources to donate 170 books to libraries, schools, and nonprofit organizations. In just three weeks, 58 Publications Patrons have contributed $33,800!
Donate today and join our list of Publications Patrons below:
|   |   |   |
| --- | --- | --- |
| Mark Armour |   | Allison Levin |
| Lon Babby |   | Peter Mancuso |
| Perry Barber |   | Steve Murphy |
| John Bauer |   | David Newman |
| Jeremy Beer |   | Jim Odenkirk |
| Michael Bender |   | Virgilio Partida |
| Robert Bergeson |   | Dave Paulson |
| Ken Carrano |   | Laura Peebles |
| Irwin Chusid |   | Pat Phillips |
| Karl Cicitto |   | Mel Poplock |
| Wayne Corbett |   | Carl Rhoads |
| Richard Cuicchi |   | Willam A. Rogers |
| Ted Curtis |   | Tom Rogers |
| John Dewan |   | James Rook |
| Jonathan Epstein |   | Jon and Wendy Rose |
| Scott Fischtal |   | Ben Rose |
| Sean Forman |   | Steve Sisto |
| Steven Greenes |   | Curt Smith |
| Jeff Hauer |   | John Stahl |
| Emily Hawks |   | Alec Stais |
| Leslie Heaphy |   | Rick Swift |
| William Hickman |   | John Thorn |
| David Holtz |   | Marlene Vogelsang |
| Tom Hufford |   | MJ Volkovitsch |
| David Hughes |   | JR Wildridge |
| Anne R. Keene |   | Chris Williams |
| Bill Lamb |   | Jeffrey Wood |
| Tom Larwin |   | Jack Zerby |
| Harry Lesser |   |   |