American Women Play Hardball in Venezuela: Team USA battles invisibility at home, is celebrated abroad, and faces gunfire at the Women's World Cup
This article was published in the Spring 2012 Baseball Research Journal.
A prevailing American cultural attitude holds that "girls can't play baseball." This belief makes it difficult for female baseball players to find a game, a team, a league, or encouragement to learn to play. Women have played for nearly two centuries in the United States, and still are greeted with incredulity: "Do you mean softball? I didn't know girls played baseball!" Of the major American sports, baseball is the only one that continues to enforce a segregation so complete that girls are directed to an "equivalent" sport. Softball is a "parallel universe" that precludes the choice to play baseball for most American girls.1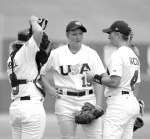 Yet generation after generation of women, from the late eighteenth century when baseball first arrived in the United States, to the USA Baseball National Team today, have refused to relinquish the nation's diamonds. Many play Little League Baseball until they are twelve, but to continue to play with adolescent boys in otherwise single-sexed leagues is so daunting that many girls quit or turn to softball. The allure of college scholarships fuses the talent pipeline to softball for aspiring athletic girls. The girls who do play hardball are so isolated that many are unaware of each other's existence. One teenaged rookie player on the USA Baseball National Team marveled at finally being able to play baseball with other girls: "Oh my gosh it was extraordinary. I have never had an experience like that in my life. I've never played with a group of girls who have the same passion for baseball—not softball—as me."2
Yes, there is a US women's national baseball team, made up of women who refuse to quit playing the game. The journey of Team USA 2010 from USA Baseball's National Training Complex in Cary, North Carolina, to the fourth biennial Women's World Cup Baseball Tournament in Caracas, Venezuela reflects the challenges they still face: invisibility at home; the difficulty of finding a team to play on from childhood on; lack of time for the national team to practice together before facing international competition; and most challenging of all, the lifelong pressure on girls to play softball instead of baseball.3
Since 2004, USA Baseball, operating out of its expansive, pastoral National Training Complex in Cary, North Carolina, has sponsored a women's team chosen every two years, and sent to the biennial Women's Baseball World Cup Tournament to face teams from around the globe. USA Baseball exists primarily to showcase the best amateur boys and men in international tournaments.4 They sponsor and fund a range of boys' youth teams and the elite NCAA collegiate baseball team, which includes the nation's most promising draft picks for professional baseball. For the women, Team USA holds a very different meaning. It is a brief interlude lasting a little more than two weeks every two years, and is the only nationally validated elite-level baseball available to them. For the women, playing on Team USA is akin to being in the Olympics: the highest achievement available in their baseball careers. But unlike Olympians, they remain unknown in the United States.
In 2010 thirty-two women were selected from throughout the United States at six regional tryouts,5 invited to the National Training Complex in Cary, and then culled to a team of 20 players in four grueling, 12-hour days in the August heat. They had only four more days to get to know each other before they flew to Caracas, Venezuela on August 10, to face ten teams, including the powerful Team Japan, whose members play as a team all year round.6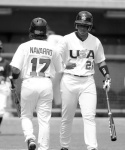 When the 20 women who made the final cut arrived in Caracas for the fourth Women's World Cup Tournament on August 12, baseball-crazy Venezuela greeted them with television cameras, paparazzi, lights, and microphones. A brass band burst into song, the players were showered in American flags, presented with flowers, and ushered into a press conference. Treated as interlopers all their lives in the States, in Venezuela Team USA was greeted like a major league team arriving for the World Series. The press conference for the Americans ended only when Team Cuba stepped off their plane. As Cuban flags began to appear in the reception area, the Americans were directed onto a bus, surrounded by a police and milatary escort, including members of the Venezuelan National Guard armed with AK-47s and wearing bullet-proof vests, and followed by an ambulance. USA Baseball had also sent two private security officers to travel with the team.
On the second day of play in the tournament, the need for security became shockingly apparent. The shortstop on the Hong Kong team, Cheuk Woon Yee Sinny, was shot in the leg during a game against the Netherlands. All play was halted while the incident was investigated. The American team was placed in lock-down in their hotel rooms for 48 hours until Venezuelan authorities and tournament officials determined that the shooting was accidental: a gun had been discharged into the air from outside the stadium, and the bullet had, freakishly, landed in the shortstop's leg.
The American players responded with a combination of concern for the wounded Hong Kong player, panic that the tournament would be cancelled, and fear that they might also be targets if they took the field again. Seventeen-year-old pitcher Marti Sementelli captured the general sense of dread: "We played one game, and they're saying we don't know if we're going to continue! We worked so hard. My heart was like 'I don't want to go home! We just started becoming a team. And we're going to be told that this tournament's over?'"
Seventeen-year-old Ghazaleh Sailors declared she would prefer to stay and risk being shot than miss the rest of the tournament: "If I'm going to die, I don't want to die like an old lady in a hospital bed. I'll die doing what I love."7 Tamara Holmes, a thirty-six-year-old Oakland firefighter, veteran of the team, and a former Silver Bullets professional baseball player, was less sanguine about dying with her cleats on: "I remember Ghaz saying 'Well if I have to die at least it will be playing baseball.'….I'm looking at her and I'm like, 'Later for you! I'm not going to get shot over this...!'"
Veteran catcher Veronica Alvarez was confident it was a one-time incident that did not pose a threat to the ballplayers. After being assured that the Hong Kong player would recover, she wisecracked, "If I knew it was only going to be a gunshot to the leg, I would have taken it. I'd take it if I got a little ESPN action!"8
Hong Kong withdrew immediately to accompany its wounded teammate home. The American coaches asked their players to decide whether they wanted to continue or to withdraw. Many of the other teams, including Australia, Canada, and Puerto Rico, awaited the Americans' decision. If the United States withdrew from the tournament, chances are the Women's World Cup 2010 would have been cancelled.
But the American women were not ready to go home. Their stress and pent-up energy was released on the field as play resumed and they promptly hit four out-of-the park home runs in three games. American left fielder Tamara Holmes hit two grand slams, including a 360-foot shot over the left-field fence against Team Canada. Malaika Underwood hit a line drive out of the park against Korea.
The most dramatic game of the tournament, however, was the one all Venezuela had awaited, their home squad against the United States. Although the official crowd was announced at 14,500 fans, a capacity crowd, more than 16,000 filled Jose Perez Stadium  and thousands more had to be turned away. The USA-Venezuela game was televised in prime time in a country that loves its baseball. The Venezuelans turned out in force to watch their women play.
For American girls accustomed to playing before a handful of family members and friends, the spectacle of thousands of fans in a major league stadium was electrifying. Second baseman Malaika Underwood remarked, "The crowds were amazing. None of us had ever played in front of that many people before. And it was not just fifteen thousand sitting on their hands: they were all screaming and yelling the entire game. It was a great experience. The local support was astounding."9
USA center fielder Tara Harbert described it as a moment of vindication in a lifetime of neglect: "They loved us. They all knew our names, they all knew we played baseball.  And then you come back to America and people are like 'Oh, you play softball?' We had sixteen thousand people at our game versus Venezuela… it was a dream come true. Even though they were cheering for Venezuela, in my mind they were cheering for us. Down there we were stars, and we come back here and you barely make ends meet, no one knows who you are.  I feel like, 'Oh my God, I want to go back!'"10
The Americans lost to Venezuela in what was, to them, a heartbreaker. They took an early lead: the Venezuelans were unable to hit American pitcher Marti Sementelli's curveball. Then the coach made a pitching change after four innings. Relief pitcher Anna Kimbrell struggled, hitting three batters and walking one. Momentum shifted, and the crowd, which had grown quitet, roared back to life. The American team succumbed to the noise and pressure. Catcher Veronica Alvarez felt helpless watching the game turn: "As a catcher looking out, I saw our team crumble. I'm trying to calm them down, but what can you do? They don't hear each other, there's so much chaos. The crowd went crazy, the bases were loaded, a run scored. Then she walked another. Our team crumbled."11
The Americans lost their momentum after that game, and settled for the Bronze medal. Japan won gold and Australia silver. Both Japan and Australia make baseball available to girls and women from childhood through high school. Their national teams are chosen a full year before the tournaments, with both "A" and "B" teams so they can practice. Team USA veteran Malaika Underwood says the USA must adopt the same strategy in order to remain competitive:
If we are serious about having a women's team that can compete with Japan, we need to be able to play more often together. We know who we have to beat, and we know what they're doing. They're practicing consistently together for five to six days a week and it's not just the month leading up to the tournament. They are doing this throughout the year. If we are going to compete with that machine, we have to do more. We need more time together as a team, and more consistency from a structural perspective.12
There's hope. Ashley Bratcher has been hired as the first director of the women's program for Team USA, and she agrees. Not only has she pushed for a yearly international tournament and more systematic recruiting for the women's national team, she has been instrumental in making the Women's National Team "more than an afterthought of the men's teams."13 Bratcher believes that if Team USA is to succeed in international competition, the players need a chance to practice and play together for more than a few days every two years before a tournament, and girls need the opportunity to learn baseball from a young age.14
The United States must get over its cultural belief that softball is "baseball for girls." If the national team can win bronze with a group of players who had such limited access to baseball, imagine the possibilities if they had the opportunity to develop their skills and learn the intricacies of the game over a lifetime. When girls and women play baseball from Little League to the major leagues, the United States will truly possess a national pastime.
JENNIFER RING is Professor of Political Science at the University of Nevada, Reno. She has published widely on the exclusion of girls and women from the national pastime, including "Stolen Bases: Why American Girls Don't Play Baseball" (2009, University of Illinois Press). She is currently writing " The Shut Out: American Women and the National Pastime," (to be published by the University of Nebraska Press), a book of interviews and oral histories of players and coaches involved with the USA Baseball Women's National Team. Ring has received a SABR-Yoseloff Baseball Research Grant, and grants from the American Women's Baseball Federation and the University of Nevada College of Liberal Arts.
1. Stolen Bases: Why American Girls Don't Play Baseball, 2009. Champagne: University of Illinois Press. I wrote this book about the history of attempts to exclude American girls and women from organized baseball, beginning with the story of the resistance my younger daughter faced. It was legally mandated for her to play Little League in the 1990s, but the cultural barriers she faced weren't very different than what I faced when I was a girl who wanted to play in the 1960s.
2. Clarissa Navarro, Phone Interview, November 2, 2010.
3. This account is based on interviews with the players and coaches of Team USA, 2010, as well as some players from the 2008 team. All players and coaches were approached and invited to contribute shortly after the return of the team from the Women's World Cup Tournament in Venezuela, August 10–23, 2010. Interviews were either in person, or by phone.
4. USA Baseball is the National Governing Body of amateur baseball in the United States and is a member of the United States Olympic Committee (USOC). The organization selects and trains the World Baseball Classic Team and World Cup Team (and all other USA Baseball Professional Teams); the USA Baseball Collegiate National Team; the USA Baseball 18U, 16U and 14U National Teams; and the USA Baseball Women's National Team, all of which participate in various international competitions each year. USA Baseball also presents the Golden Spikes Award annually to top player in college baseball. www.USABaseball.com and www.GoldenSpikesAward.com.
5. Regional tryouts were held in late June, and over the July 4th weekend in Phoenix, San Francisco, Chicago, Orlando, New London Connecticut, and Cary, North Carolina. This was a well-intentioned effort to reach out to all available ballplayers. Problems with the plan included the fact that not all the coaches could be present at all of the tryouts, which were spread across the country; and outreach efforts were only marginally effective.
6. Previous tournaments have been held in Edmonton, Canada (2004), Taipei, Taiwan (2006), and Matsuyama, Japan (2008) The twelve teams in the 2010 Women's World Cup were: USA, Japan, Canada, Australia, Venezuela, Cuba, Puerto Rico, South Korea, India, Hong Kong, Chinese Taipei, and The Netherlands.
7. Ghazaleh Sailors, Phone Interview, September 15, 2010.
8. Veronica Alvarez, phone interview, November 15, 2010.
9. Malaika Underwood, phone interview, September 9, 2010.
10. Tara Harbert, phone interview, September 21, 2010.
11. Veronica Alvarez, phone interview, November 16, 2010.
12. Malaika Underwood, phone interview, September 9, 2010.
13. Malaika Underwood, phone interview, September 9, 2010. "Ashley did a phenomenal job. She made us feel more like a USA baseball team than ever before. Not just a second thought to the boys' teams."
14. Ashley Bratcher, phone interview, September 29, 2010.