Bo and Dean: A Lifetime of Fun and Friendship
This article was published in the 2011 The National Pastime.
Every time I see his name on a lineup card, I feel like throwing up.
— Mickey Mantle1
Who was the pitcher who made the great Mickey Mantle not want to step into the batter's box? Why Dino of course, Wilmer Dean Chance. Mantle uttered his memorable quote during Chance's remarkable 1964 season. As sportswriter Phil Pepe said, "It's Chance, not CBS, who owns the New York Yankees. Lock, stock and barrel."2 Chance pitched 50 innings against the Yankees that year, allowing only 14 hits and one run, a homer by Mantle. He started five games against the Bronx Bombers, threw four complete games and three shutouts, going 4–0 with a 0.18 ERA. For the record, Mantle went 13–53 against Chance over his career, a .245 average with a .403 OBP and a .415 slugging average, though he did homer three times off Chance.3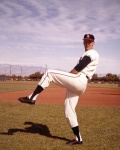 While Chance was a workhorse starter from 1962 though the 1968 season, it was his lasting friendship with bon vivant Bo Belinsky that most people remember him by. The two friends hit it off from the get-go and they are an important chapter in the early history of the Angels.  Although Belinsky and Chance were teammates for only three seasons with the Angels, they had enough fun and adventure for several lifetimes.
Wilmer Dean Chance was born June 1, 1941 in the farming community of Wooster, Ohio, where his family owned a 166-acre dairy farm. When he wasn't milking cows, Chance was playing sports. As a gangly pitcher and basketball forward, he made his name at Northwestern High School. One report said that Chance pitched 18 no-hit games during high school and lost only once.4 The Baltimore Orioles were growing their farm system in those days, and they signed Chance out of high school for $30,000.
Chance pitched for two seasons in the Orioles farm system, for the 1959 Bluefield Orioles of the Appalachian League, a short season Class D league, and and the 1960 Fox Cities Foxes of the Class B Illinois-Indiana-Iowa League, winning a total of 22 games.5 But the Orioles considered Chance brash, so they decided to protect fellow pitcher Arne Thorsland from the draft instead. The Washington Senators selected Chance with the 48th pick during the AL Expansion draft on December 14, 1960. That same day the Senators traded Chance to their fellow expansion team, the Los Angeles Angels, for outfielder Joe Hicks. Thorsland, who later became the best man at Chance's wedding to Judy Larson on January 14, 1961,6 hurt his arm the next spring and did not win another professional game.7
Chance started out the 1961 season with the Angels' Class AAA farm team, the Dallas-Fort Worth Rangers in the American Association. He was a teammate of future Angels' stars Jim Fregosi and Bob Rodgers. All three players would be called up to the Angels later that season.
Chance was 6-foot-3 and weighed 204 pounds. He has blue eyes and brown hair. His hobbies are bowling and basketball. He and Judy had a son, Brett in 1962. The couple later divorced.
____
When one thinks of Dean Chance, the name Bo Belinsky immediately comes up. The two life-long friends met for the first time in Clearwater, Florida, in 1959. When the Angels selected Belinsky from the Orioles in the Rule 5 Draft on November 27, 1961, the two became teammates and roomed together during the 1963 and 1964 seasons.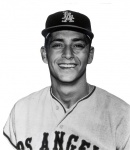 Belinsky was born in New York City December 7, 1936. He grew up poor in Trenton, New Jersey, becoming a pool hustler at a young age, but his strong left arm eventually got him into Organized Baseball. At 6-foot-2 and 191 pounds, Belinsky was movie-star handsome, with a winning personality and charm that made him irresistible to the opposite sex.
The Dodgers were the kings of baseball in Los Angeles in the early 1960s, and the Angels were a brand-new expansion team. Belinsky immediately made a splash by holding out for more money at a poolside press conference. He was soon big news, pushing Sandy Koufax and Don Drysdale off the front pages of the sports section. On May 5, 1962, Belinsky pitched a no- hitter against the Orioles, winning 2–0. He made the acquaintance of gossip columnist Walter Winchell, who attended the game. This was front-page news around the country, making Belinsky a star and putting the Angels on the map. At one point Belinsky and Chance visited the FBI Building with J. Edgar Hoover.8
Belinsky was actually shy, but he trusted Chance from the beginning of their friendship. The two were often seen driving around town in Belinsky's candy- apple-red Cadillac, a gift from a car dealership after his no-hitter. Bo started the 1962 season 5–0 and finished with a 10–11 record.
"Dean and I were a marriage made in heaven or hell," Belinsky later said. "I saw Chance in spring training in 1962 with a wife and kid. Some guys belong with a wife and kid. Dean and me just didn't belong with a wife and kid, especially in Hollywood."9
Chance said of Belinsky, "Nobody made it with girls the way Bo did. I never learned his secret, but I enjoyed trying."10
Bo made the rounds in Hollywood, dating stars including Ann-Margret, Tina Louise, Juliet Prowse, and Connie Stevens. He had a much-publicized engagement with Mamie Van Doren, then broke it off. He married Jo Collins, Playboy's Playmate of the Year in 1965. That marriage ended in divorce and later he married and divorced Weyerhaueser paper heiress Janie Weyerhaueser. The couple had twin daughters during their marriage.11
While Belinsky epitomized the baseball stereotype of a million-dollar arm and a ten-cent head, Chance went on to win the Cy Young Award in 1964. Chance was a workhorse, pitching over 200 innings a season for seven straight years, twice leading the American League in innings pitched. In his sensational 1964 season, he sported a 5–5 record on July 1. A blister contributed to his slow start.12 Starting on July 11, he pitched three consecutive complete-game shutouts and never looked back, going 15–4 the rest of the year.13 His first half ERA was 2.19; his second half ERA was 1.29. Of his 20 victories, five games were decided by 1–0 scores. At the time Chance was the youngest ever to win the Cy Young Award. From 1962 to 1966, a Los Angeles pitcher took the award: Don Drysdale in 1962, Sandy Koufax in 1963, 1965, and 1966, and Chance in 1964.14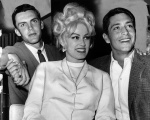 The old gang of Belinsky and Chance broke up when Belinsky was traded to the Phillies after the 1964 season. An incident with sportswriter Braven Dyer led to his departure. Dyer was a 60-year-old sports editor for the Los Angeles Times. In Washington, DC an inebriated Dyer knocked on Belinsky and Chance's hotel room in the middle of the night and demanded to speak with Bo and then challenged him to a fight. Belinsky threw a glass of water into Dyer's face. Punches were thrown and Dyer was found unconscious on the floor with blood coming out of one ear. Dyer was friendly with Angels' General Manager Fred Haney and Bo was soon traded.15 Chance left after the 1966 season when he was traded to the Minnesota Twins. Manager Bill Rigney said of the trade, "I'm not sure we'll find another arm like Dean's, but we had to do something about our first-base situation and overall hitting."16
Chance said, "I'm not surprised to be traded, but I am shocked that the Angels would trade me to an AL club. I'm shocked that they'd run the risk of letting me come back to haunt them."17
In 1967, Chance won 20 games for the second time in his career and was named the American League Comeback Player of the Year.18 He started the final game of the 1967 season for the Twins against the Boston Red Sox and Jim Lonborg. At that point in the season Chance was 4–1 against Boston and Lonborg was 0–3 against the Twins. On August 6, Chance had beaten the Red Sox, 2–0, striking out four and pitching five perfect innings in a rain-shortened game. But on that October Sunday, the Twins led the Red Sox 2–0 heading into the bottom of the sixth inning. Red Sox pitcher Jim Lonborg bunted toward third and reached on an infield hit. Two more singles and a bases-loaded single by Carl Yastrzemski tied the game, 2–2. After a run-scoring fielder's choice, Chance was removed from the game and the Red Sox plated five runs that inning. The Twins rallied in the top of the eighth, but Yastrzemski threw out the Twins' Bobby Allison trying to stretch his run-scoring single into a double. The Red Sox won, 5–3.19
Chance threw a sinking fastball, a sweeping curve, and a slider. He had a good fastball and could also throw a changeup screwball.20 During his delivery he turned his back  to the hitter. Over his career, right-handed batters hit .223 and left-handed batters hit .248 against him.21 He had particularly wonderful control against the Yankees. Author Arnold Hano said that Mickey Mantle had a hard time hitting him because Chance threw pitches low and outside at the knee. At that point in his career, Mantle could not get under the ball. Chance had a swing arm motion, a three- quarters delivery. With his bent-body posture, he never threw pitches above the waist.22
During the 1968 season, a SPORT magazine piece called Giants ace Juan Marichal and Dean Chance the shutout kings. Over their careers, Marichal was 243–142, with 52 shutouts in 457 games started. Chance was 128–115, with 33 shutouts in 294 career starts.23 As of 1967, eight active 100-game starters had been able to average at least one shutout for every 10 starts, led by Marichal with 32 shutouts in 246 starts (.130) and Chance with 26 shutouts in 207 starts (.126).24Chance also started two All-Star games.25
Superman had his Kryptonite and Chance had his share of failure. He led the league in pitcher errors four times, in 1963, 1967, 1968, and 1971.26 He was also unproductive as a hitter. For pitchers who had at least 500 plate appearances during their career, Chance has the lowest batting average at .066. In 662 at bats, he struck out 420 times. He had two doubles in his 44 hits. He did have 61 sacrifice bunts.27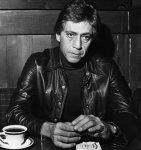 After the 1968 season, Chance hurt his back rushing himself into shape and was never the same pitcher again.28 He finished his career pitching for the Indians, Mets, and Tigers. He was released by the Tigers on October 6, 1971.29 Since his retirement from baseball, Chance has tended to his real estate holdings, worked in a carnival, worked with a poster company, and managed boxer Ernie Shavers. He is president of the International Boxing Association. He is also a world- class gin rummy player.30
Belinsky and Chance remained lifelong friends. Chance refused to attend an autograph show unless Belinsky was invited. In a 1991 interview, Belinsky said that he was at a benefit with Hall of Fame pitcher Steve Carlton when two kids came up and asked for an autograph. "Carlton reached out to sign and one of the kids says, 'No, my dad said to get Mr.  Belinsky's autograph.' 
"I told Steve that he did it the easy way, by winning 300 games. You just try to get all this notoriety on 28 victories. Now that takes a lot of work."31
Through the years, both Chance and Belinsky made peace with God. Belinsky remarked a year before his death, "Can you imagine? I had to come to Las Vegas to discover Jesus Christ." Belinsky worked for the Findlay Management Group and played golf with clients. He was active in the Trinity Life Church. His friend Rich Abajian, a general manager at the car dealership where Belinsky worked, said, "He found Christ, he was active in the church, he read the Bible. He was content."32
After Belinsky's death in 2001, Chance observed, "We made mistakes, tried not to hurt anyone. We were kids in a different time, pitching in a great city. It was like feeling that you had the world at your feet, like it would never end, and I think about those good times a lot and often talked with Bo about them. I can also tell you that if I had a dollar for every time somebody asked me where Bo was and what he was doing, I'd be a wealthy man. Everybody remembered him and I'm just glad he got his life straightened out and he knew in his last year where he was going."33
Chance arranged a memorial service for Belinsky in Dodger Stadium. He also handled the arrangements for his burial in Las Vegas. "Bo was a one-of-a-kind guy and there won't be another one like him," said Chance at the memorial. "He was full of cancer, his heart was bad and his hip was hurting him terribly at the end. He had slipped and fallen and it was really tough on him. But he made his peace with the Lord and he is probably better off today than he was last week. He's not suffering terribly any more."34
The memory of Bo and Dean will live forever in the hearts of Angels fans. They ushered in an era of fun that continued with free spirits Jay Johnstone and Jimmy Piersall. Johnstone later authored three books of humorous baseball anecdotes and Piersall's life story was told in a best-selling book, Fear Strikes Out, which later became a movie in 1957 starring Anthony Perkins and Karl Malden.
TOM NAHIGIAN grew up in the Boston area and remains a fan of the Red Sox, Celtics, and Bruins. A SABR member since 1983, Tom enjoys the baseball writings of Bill James and Roger Angell. He and his wife make their home in Pasadena, California. He enjoys playing Strat-O-Matic Baseball and reads as many baseball books as he can. Tom wrote the essay on Fred Lynn for the SABR Baseball Biography Project.
1. Maury Allen, Bo: Pitching and Wooing, the Dial Press, 1973, 104.
2. Robert Goldman, Once They Were Angels, Sports Publishing LLC, 2006.
4. Ray Robinson, Baseball Stars of 1965, Pyramid Books, 1965.
6. The Sporting News, Baseball Register, 1966
7. Baseball Digest, May 1967, 86.
8. New York Times, 27 November 2001.
9. Los Angeles Times, Sunday, 25 November 2001.
10. Ross Newhan, The Anaheim Angels—A Complete History, Hyperion, 2000.
11. New York Times, 27 November 2001.
12. Robert Goldman, Once They Were Angels, Sports Publishing LLC, 2006.
15. Robert Goldman, Once They Were Angels, Sports Publishing LLC, 2006.
16. Ross Newhan, The Anaheim Angels—A Complete History, Hyperion, 2000.
17. Ross Newhan, The Anaheim Angels—A Complete History, Hyperion, 2000.
18. Ray Robinson, Baseball Stars of 1968, Pyramid Books, 1968.
20. Rob Neyer and Bill James, The Neyer-James Guide to Pitchers, Fireside 2004.
22. Phone call with author Arnold Hano, 10 February 2010.
23. Pete Palmer and Gary Gillette, The 2005 ESPN Baseball Encyclopedia.
24. Allan Roth, Sport Magazine, Inside Facts July 1968.
25. The Sporting News, Baseball Register, 1972.
28. Maury Allen, Bo, Pitching and Wooing, the Dial Press, 1973.
29. The Sporting News, Baseball Register, 1972.
30. Robert Goldman, Once They Were Angels, Sports Publishing LLC, 2006.
31. Los Angeles Times, Sunday, 25 November 2001.
32. Los Angeles Times, Sunday, 25 November 2001.
33. Los Angeles Times, Sunday, 25 November 2001.
34. Associated Press, 25 November 2001.